Lesson Learned from a Church Shooting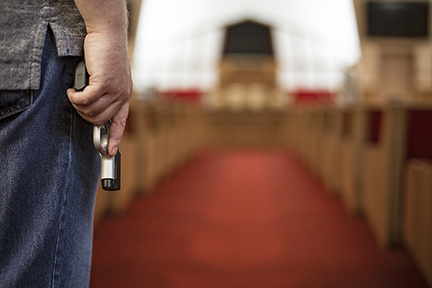 From the Bible
And Cain talked with Abel his brother: and it came to pass, when they were in the field, that Cain rose up against Abel his brother, and slew him (Genesis 4:8).
And Esau hated Jacob because of the blessing wherewith his father blessed him: and Esau said in his heart, "The days of mourning for my father are at hand; then will I slay my brother Jacob" (Genesis 27:41).
And Saul eyed David from that day and forward. And it came to pass on the morrow, that the evil spirit from God came upon Saul, and he prophesied in the midst of the house: and David played with his hand, as at other times: and there was a javelin in Saul's hand. And Saul cast the javelin; for he said, "I will smite David even to the wall with it." And David avoided out of his presence twice. And Saul was afraid of David, because the Lord was with him, and was departed from Saul (1 Samuel 18:9-12).
And Absalom spake unto his brother Amnon neither good nor bad: for Absalom hated Amnon, because he had forced his sister Tamar (2 Samuel 13:22).
"But I say unto you, That whosoever is angry with his brother without a cause shall be in danger of the judgment ..." (Matthew 5:22).
"If ye were of the world, the world would love his own: but because ye are not of the world, but I have chosen you out of the world, therefore the world hateth you" (John 15:19).
Introduction
Hatred is the leading cause of murder, including murders at churches. This is true even when we do not know the roots of that hatred. Sometimes we can identify racial hatred, as in the Emanuel AME Church in 2015, domestic discord as at Sutherland Springs in 2017, revenge for rejection as at YWAM Arvada and New Life Church in 2007, or hatred of religion in general as at Wedgewood Baptist in 1999. Many times this hatred is fueled by mental illness, as at Turner Monumental AME Church in 2003. In Sash, Texas, a hateful disposition was seen, but the roots are unclear.[2][3][4][5][6]
Videocast and Lesson Learned Show Notes
This church shooting incident is discussed by Kris in a videocast on the YouTube channel Sheepdog Church Security Academy (the audio is in a Church Security Roll Call podcast). The link to the Church Shooting Lessons Learned Download, a PDF that can be printed and/or attached to a message to share with others, is available until the next Lessons Learned article. It is in the Comments section.[7]
A Sad Sash Sunday Evening
Sash is an unincorporated community in northern Texas, close to the Oklahoma state line and not too far from Texarkana. In 2005, the population was just over 300. It is centered on Farm-to-Market Road FM100 south of Texas Hwy 409, close to Lake Crockett. About 650 feet from TX409 is Sash Assembly of God. Just south of the church are two houses on either side of the road.
On Sunday, August 28, 2005, several members of the church were outside talking after the evening service, not long before sunset. Among them were James and Diane Armstrong (he was the pastor), Deacon Wes Brown, and Ken and Debbie Wolfe. They were standing in front of the mobile home where the Armstrongs lived.
Their chatter was interrupted by the man who lived across the road. He walked into the parking lot shouting about the church's "persecution." His speech was laced with profanity. The pastor and the deacon asked him to please omit the profanity, since women were present. He continued, so they asked him to leave.
The man did leave, walking back to his house. There he picked up two handguns. Getting into his truck, he drove back to the church, got out and began shooting with a .38, killing the pastor and the deacon. The others scattered as he shot at them. He chased the Wolfes into the trees. Someone called 911.
Back in the truck, the killer drove to TX409, which turned north at the intersection with FM100. A pickup pulling a horse trailer came to the corner and stopped. Two women were returning to their homes from horseback riding. The man pulled up behind and shot at the trailer with his 7mm. The women exited the pickup on the passenger side trying to escape, but he ran to that side and shot them fatally.
The shooter got into his truck and drove south to a café. There he stopped and fired shots at the café and a nearby house, but no one was injured. Deputies were headed north on FM100 from Honey Grove, so the shooter headed for home. There he barricaded himself in the house when law enforcement arrived, holding the deputies at bay with gunfire.
A SWAT team arrived from Paris, TX. They tried to negotiate with the shooter, but he refused to talk. The standoff lasted all night. The last shots from the house were before 5:30 Monday morning, then silence. At 6:00, members of the SWAT team approached the house without being fired upon. They went in and found the killer in a bedroom, dead from a self-inflicted gunshot.
The Troubled Son
The Sash shooter was the youngest of five children. His parents were 32 when he was born in Los Angeles, California. The first sister was 12 years older. His brother, three years older, was the father's namesake, and likely the favored one. Web pages about his parents show them remarrying when the boy was 17, but do not disclose when they were first married or divorced. However, considering the age of the oldest child, this may have actually been a retaking of vows on their 30th anniversary, being mistaken by entertainment media as the wedding itself – the father had become a movie actor in Hollywood. The marriage lasted only 4½ years after that, but the parents are buried together, indicating the separation might not have been hostile.
Little is actually made public about the shooter's life. He had a prosthetic lower right arm. When and how, I don't know. He became an adult during the Vietnam War, and may have served there as did many others his age. Many service members came back missing limbs; however, whether he served did not come up in an online search.
He apparently made a good living rebuilding antique automobile radios. In fact, he had a good reputation for his rebuilds, receiving referrals from customers on car collector websites. He also posted ads to buy radio parts in classifieds for antique autos and auto parts. This activity began before 1995 and continued until the time of the shooting.
The killer lived with his mother in Garland, TX, for some time before she died in 2001. He may have resided in the Los Angeles area before that, since that is where he was born and is where he is buried. In late 2002 or early 2003 he moved to Sash.
In Sash, he had a reputation for being disagreeable. He argued with his next-door neighbor, using obscene language, making threats, and even firing his gun. This neighbor had called police several times and began carrying a handgun while mowing his yard. He believed that if he and his wife had been home at the time of the shooting, they would have been killed. The shooter's disposition was the exact opposite of his father's, who was known for being mild-mannered. We do not know about encounters he may have had with the church before August 28, 2005.
News stories do not relate any disputes he had with the church. Where his property was in relation to the church (his house can be seen from the church parking lot), he may have been able to hear church members talking outside. The way he confronted them on the evening of the shootings indicates that he was offended by whatever he heard. He may have also heard from others what was said inside the church. In any case, it is evident that he had built-up resentment and hatred for Sash Assembly of God. One thing we do not know is what his relationships with other churches was before moving to Sash. What we do know is that in the Sash community he was known for his anger.
Going on
The killer's father died four months later and is buried next to his wife, whom he divorced 31 years earlier. The killer is buried in his native city of Los Angeles.
As in most other places, life goes on in Sash, Texas. Sash Assembly of God is still active, but it does not have a website or a Facebook page. This is really not odd for a small-to-medium size church in a mostly rural area where almost everyone knows everyone else. The sign in front of the church lists Sunday School, Sunday morning and evening services, and a Wednesday night service. The slain deacon is buried in Sash, the pastor in the next county. The pastor's wife died ten years later. Kenneth Wolfe, a survivor of the shooting, is now the pastor.
There is not a word in news stories about security measures. The street view of the church building does not show cameras, which would be prudent for churches in rural settings, but would not have made a difference in this incident.
In an August 29 news photo of the killer's house, the windows and door facing the road were boarded up with strand board, and a big hole was punched through the board over the door. Since then, the front of the house has been repaired, and in the latest street view it appears to be inhabited. As seen in the street view, the café the killer shot at is about a quarter mile south of the church.
The neighbors who had confrontations with the shooter have since moved elsewhere in Texas.
Lesson Learned: Know Your Neighbors
First, a disclaimer. The intention of this section is not to put down the church and its pastor. Consider that attacks on churches were not as much a national concern in 2005 as they are now. Here we are using hindsight to inform our foresight.
"Know your neighbors" seems like too simple a lesson for a church. In a large city, it is not strange to know fewer than half of your neighbors. This is mostly because there are many more people than in a rural setting, and they move in and out more frequently. In small and medium sized cities, you may know more of the neighbors. In lightly-populated rural communities, such as Sash, you may know almost everyone, especially those living close to you.
Knowing your neighbors goes beyond knowing who they are. It pays to know about them and to know their character. For a church, this makes sense in evangelism. Ask the question, "How can we minister to him or her to show the love of Christ in word and deed?" Also ask, "Is there any way we can help this person?" Be aware of any indications of hostility and take necessary precautions. Be willing to conduct a threat assessment if there are any concerns that a neighbor may be a threat.
Knowing the church's neighbors means being open to them, ready to listen. Then they can share their concerns. In Sash, what did the church know about their neighbor across the road? Did the other neighbor tell them about the man's threats and anger? If they did know this, then his outburst when he walked over to the church parking lot would have been a warning.
What could have been done when the angry man walked back to his house? Here are suggestions (these can be applied to someone heading back to his vehicle).
Watch him when he goes to his house (it can be seen). This is especially important if you know that he has previously brandished a gun when angry, even firing shots into the ground or into the air.
If he comes out soon and he is carrying something, get everyone inside the church, lock the doors, and keep watching. Call 911, if you haven't already. If he heads another direction, away from the church, you can relay this info to the 911 operator, but it is important to start the response as soon as possible.
If the subject comes back, keep doors locked and get people away from windows. If there is an intercom to the front door, you may be able to talk with him, trying to de-escalate. At the least, this may buy time until law enforcement arrives.
Summarize it this way:
Practice threat assessment. Know the character and temperaments of the church's neighbors. If there is any indication that hostility may lead to violence, exercise due caution.[8]
Conclusion
Knowing the church's neighbors and other persons in the community helps evangelism, recognition of community service opportunities, and security. Sometimes you will need a threat assessment.
Training Notes
All members of each Church Safety Team need to be trained and certified. This can be done through the Safety Member Certification program. A person taking each of the eight training modules (classes) and passing its certification test will be certified for two years as a Certified Safety Member. Recertification in two years will refresh team members' training and also bring rhem up-to-date on any changes in the program, including changes in use-of-force laws and medical response techniques.
There are three training formats: in-person church-hosted classes (Team Certification), self-paced online training (Individual Certification), and live Zoom classes (Online Events).
The Online Events schedule for the 2022-2023 school year is now in the second quarter. The next class is "Arson and Fire Safety" on January 8, 2023. The related class for this article ("Active Shooter Response") will be taught on February 5 and April 2, 2023.
| | | | |
| --- | --- | --- | --- |
| Color coding: | Related to Article | Completed | Next |
| | | | | | |
| --- | --- | --- | --- | --- | --- |
| | Q1 | Q2 | Q3 | Q4 | Training Module |
| 1 | Sep 11 | Nov 13 | Jan 29 | Mar 26 | Safety Team Fundamentals |
| 2 | Sep 18 | Nov 20 | Feb 5 | Apr 2 | Active Shooter Response |
| 3 | Sep 25 | Dec 4 | Feb 12 | Apr 16 | Deescalating Disruptive Persons |
| 4 | Oct 2 | Dec 11 | Feb 19 | Apr 23 | Protecting Children from Abuse |
| 5 | Oct 9 | Dec 18 | Feb 26 | Apr 30 | Basic Use of Force Laws |
| 6 | Oct 16 | Jan 8 | Mar 5 | May 7 | Arson and Fire Safety |
| 7 | Oct 23 | Jan 13 | Mar 12 | May 21 | Storms and Disasters |
| 8 | Nov 6 | Jan 22 | Mar 19 | Jun 4 | Mass Trauma Emergencies |
Another training source is the Church Security Guide. It has nine articles. The second one, touching on the lesson learned from the 2005 Sash, Texas, church shooting, is "How to Conduct a Risk Assessment."[8][9]
Up Next
The next weekly article is "Gearing Up for Safety" (Equipping the Safety Team and the Church).
References
Sheepdog Church Security Sources
News Stories and Other Online Sources