Lesson Learned from a Church Shooting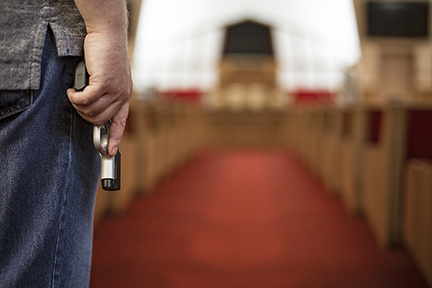 From the Bible
But it came to pass in the seventh month, that Ishmael the son of Nethaniah, the son of Elishama, of the seed royal, came, and ten men with him, and smote Gedaliah, that he died, and the Jews and the Chaldees that were with him at Mizpah (2 Kings 25:25).
*Note: Ishmael pretended fellowship to get close enough to kill Gedaliah and others.
Introduction
This shooting was motivated by racism and enacted through treachery.
Ishmael used treachery to get close enough to kill Gedaliah, taking unfair advantage of his victim's good will. To his peril, Gedaliah had dismissed warnings.
Featured Resources
Responding to an active killer in a church is the topic of "Church Safety Teams and Active Shooter Training," (an article in the Church Security Guide) [1], "Active Shooter Response v4" (a training module in the Safety Member Certification program) [2], and Active Shooter Situation Checklist (a free downloadable resource) [3].
More specific to each article, including this one, are the Weekly Show Notes (Article Summary). Found in the Comments section under the videocast, they are available for one week after the show goes live [4]. You can also download Church Shooting Lessons Learned (this changes each month) [5].
In History
Historically, bias has motivated murder in places of worship. Here are two examples recorded by Flavius Josephus.
Jerusalem, Judea, AD 58 - Felix, the Roman Procurator of Judea and Samaria, arranged for Jonathan, the high priest, to be assassinated in the Temple. This was a personal grudge and was done by stealth.[8]
Later, in AD 68, Zealots and Idumeans stormed the Temple. There the Idumeans killed many priests and worshipers.[9] Even though the Idumeans (Edomites) were now accepted as Jews, there was still mutual animosity (tribalism) going back about 1,900 years.
Background
Emanuel African Methodist Episcopal Church in downtown Charleston, South Carolina, is a historic congregation. Established in 1817 for free Blacks, this church saw the institutionalization of slavery, the Civil War, Reconstruction, and Jim Crow laws. It was an activity center for the Civil Rights movement in the 1950s and '60s.
The pastor of Emanuel AME in 2015 was the Rev. Clementa Pinckney, a winsome man respected by all. He was not only a teacher, preacher, and shepherd of the flock, but a South Carolina State Senator and a promoter and protector of civil rights.
Death Came through the Door
It was a Wednesday evening, June 17, 2015. The early evening activities with dinner and fellowship had ended. Prayer services and the Pastor's Bible study began at 8:00.
A young white male came through a side entrance about this time. He asked the first person he met to see the pastor. Rev. Pinckney came, greeted the visitor warmly, and took him into the classroom. The young man sat down next to him.
At the end of the study, they began prayer. As they bowed their heads and closed their eyes, the young man pulled a .45 pistol from beneath his fanny pack. He first shot Pastor Pinckney, then others. One young man tried to reason with him, but he said, "I have to do this," claiming that Blacks were raping and murdering Whites. That young man and his great aunt were killed. His mother pretended to be dead, lying in her son's blood.
Nine people were shot and killed. The killer told one survivor that she was left to tell others what happened, because he was going to kill himself. Well, his gun jammed, something that has happened to some other church killers (this may be evidence that they don't take care of their weapons), so he left the church and drove away.
About the Killer
As with other mass killers, the assailant at Emanuel AME was a troubled person. Throughout his childhood he shuttled between two divorced parents. He had trouble studying in school along with behavioral and attendance issues, eventually dropping out. He was a drinker and a user of marijuana and hard drugs. His record included arrests for drug use.
Somewhere along the line, he was influenced by White supremacist ideas, especially following the 2012 killing of Trayvon Martin in Florida. He had a web page promoting a return to racial segregation. Considering his record, this has the appearance of assuming significance in a radical cause to compensate for failure in life. He must have had some semblance of a conscience left. He said he had considered changing his mind about the shooting because they had been so kind to him. However, he still went through with it.
After the Gunsmoke Cleared
The killer drove to North Carolina. The next day, someone in Shelby saw a car like the one in news bulletins and noticed the appearance of the driver. She called 911, and Shelby police made the arrest. The suspect was tried and convicted for first degree murder. He was sentenced to death, but this was later changed to life in prison without parole. Through all this, he remains unapologetic.
The killer's stated motive was to provoke a race war, but the massacre had the opposite effect. There was an outpouring of grief for the slain and sympathy for the bereaved, both in South Carolina and across the nation, from all races and political parties.
This mass killing also brought more attention to church security with the question, "How can we keep our people safe when they gather together?" Emanuel AME wanted to remain an open and welcoming community, but they did become more watchful and observant. This highlights the issue of balancing conflicting values.
A negative result of the shooting was racial resentment by some. Two-and-a-quarter years later, on Sunday, September 24, 2017, a church in Antioch, Tennessee, was attacked. The shooter killed one person in the parking lot but was wrestled to the floor by an usher after entering the sanctuary and wounding a few more. A note in his vehicle claimed revenge for the Emanuel AME killings, expecting 10 White people to be killed.
Lesson Learned
Always be watchful. Keep an eye open - literally. That is the primary lesson learned from this tragedy. During the discussion of the Bible lesson, the young visitor was argumentative. This indication of hostility should have alerted a watcher.
In the classroom, the shooter was seated next to the pastor in the front row of circled chairs. Someone else was sitting behind one shoulder. If this person had kept his eyes open when others closed their eyes for prayer, watching the young visitor, he would have seen the gun being pulled out and could have knocked it away before it could have been raised to fire.
Conclusion
Always have someone who is watchful and alert. This is especially true when the situation changes, such as a likely hostile visitor.
There Is More
The theme for April is Emergency Medical and Mass Trauma Events, and the featured affiliate is Mountain Man Medical (M3). The featured M3 products are the Sheepdog Belt IFAK and the Mass Casualty Trauma Kit, both created in consultation with Kris Moloney.
Kris records podcasts and videocasts based on the weekly articles. Subscribe to our YouTube channel, Sheepdog Church Security Academy [6].
Get your Safety Team members trained and certified in the Safety Member Certification program [7].
References
Sheepdog Church Security Resources
History
Flavius Josephus, Antiquities of the Jews, 20.8.5.
Flavius Josephus, The Wars of the Jews, 4.5.1.
News Stories