Lesson Learned from a Church Shooting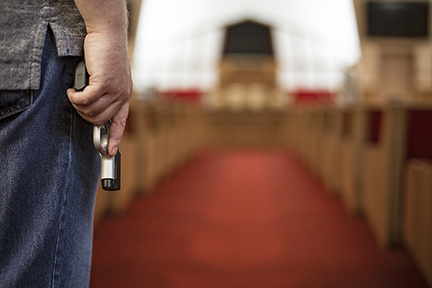 A topic relative to the training module "Active Shooter Response v4" in the Safety Member Certification program.[1]
From the Bible
* This episode in the Bible was in a sense domestic discord provoking murder in a place of worship (the Tabernacle at Nob). King Saul was jealous of his son-in-law and accused the priests of conspiring with him.
And the king said to Doeg, "Turn thou, and fall upon the priests." And Doeg the Edomite turned, and he fell upon the priests, and slew on that day fourscore and five persons that did wear a linen ephod. And Nob, the city of the priests, smote he with the edge of the sword, both men and women, children and sucklings, and oxen, and asses, and sheep, with the edge of the sword. ...
And David said unto Abiathar," I knew it that day, when Doeg the Edomite was there, that he would surely tell Saul: I have occasioned the death of all the persons of thy father's house" (1 Samuel 22:18; 22:22).
Introduction
Domestic violence and mental health are the two leading causative factors in active killer attacks on churches. Many of these incidents have both, with mental illness or a personality disorder generating often-violent domestic discord. The FBC Sutherland Springs shooting stemmed from domestic violence, and the shooter had a long, troubled history indicating a personality disorder and/or mental illness.
Videocast and Show Notes
This Church Shooting article is discussed by Kris Moloney in a videocast (the audio will be in a podcast). You can subscribe to the videocasts.[2] Below the video window is a link to the Lessons Learned Notes (Church Shooting Lessons Learned Download). This link is active for a month - until the next Church Shooting article is posted.[3]
A Targeted Church
It was the first Sunday of November 2017. The pastor of the First Baptist Church in Sutherland Springs, Texas and his wife were in Oklahoma. Their 14-year old daughter was left home so she wouldn't miss school.
The speaker that morning was a visiting preacher who brought his family: five children and his pregnant wife. This Sunday, some in the congregation were elsewhere. Unknown to them at that time, it was just as well.
"Everybody Dies!"
About 11 o'clock, a black pickup truck parked nearby. Twenty minutes later the driver emerged, wearing black clothing, body armor, and a black ski mask with a white skull, and pulled out a Ruger rifle. He shot and killed two persons outside, then began firing at the building, knocking out windows. He entered through a back door.
Inside the sanctuary, when bullets came through the windows, attenders began taking cover, mostly under pews. For most of them, this would be scant concealment and poor cover. The assailant would use his military training to search and destroy his targets. He announced his intent with, "Everybody dies!"
He walked up and down the aisle, looking for targets. In all the noise, babies began crying. According to survivors, the shooter followed their cries. A couple who survived played dead. The service was being recorded, and the video showed how methodical the killer was. More could have been shot, but the shooter heard a shout from outside the front door, which was now open, and went outside to confront whoever it was.
The Chase
Stephen Willeford lived next door. His daughter alerted him to the sounds of gunfire at the church. An NRA instructor, he grabbed his rifle and headed outside. In an exchange of fire, he wounded the assailant who came out to confront him. The killer ran to his truck, got in, and sped away. Willeford ran to a pickup at a stop sign, told the driver that the driver of the black truck had just shot up the church. He got in and they took off in pursuit.
Racing northwest on the highway at 95 mph, they stayed on the tail of the shooter while Willeford called 911, keeping authorities updated on the shooter's location. On a curve, the attacker missed the turn, hit a sign, and careened into a ditch. The pursuers kept the black truck covered until law enforcement arrived.
Arriving officers found the driver slumped over, dead. The medical examiner found three bullet wounds: one in a leg, one in the torso, and one in the head. According to him, the headshot was evidently self-inflicted with a handgun. More weapons and ammunition were found in the truck.
The Toll
Twenty-six persons were killed at FBC Sutherland Springs (two outside) and 20 more were injured. So far, this is the most killed in a church shooting in the United States. The dead included the visiting preacher and his family (eight, including the unborn child), the pastor's daughter, and the killer's grandmother-in-law.
A Misfit Missed
The Sutherland Springs church shooter could be called a misfit.
Early Trouble
The assailant did not grow up in Sutherland Springs, but close to San Antonio. He was suspended many times in high school. Infractions included insubordination, drugs, profanity, and falsification of records. Other students described him as strange, weird, and an outcast, but popular with other outcasts.
One former classmate called him "the first atheist I met." However, another one, who had known him longer, said that in middle school he was involved in church and a believer in God. It appears that somewhere he had turned against God, going downhill from there. This raises some spiritual questions. Young people may be active in church, but not spiritually anchored.
Here also is the question of the development of mental illness. It often becomes more pronounced in adolescence, especially schizophrenia. Then too, certain personality disorders, such as Defiant-Obstructive Disorder, may become more evident during this time. What we are lacking in this case is a reliable professional diagnosis.
* This sounds too much like the Colorado YWAM/New Life shooter.[4]
It was reported that there was a yellow flag on his court records, signifying possible psychiatric issues.
In and Out of the Air Force
After high school, in 2010, the FBC assailant enlisted in the Air Force and was stationed in New Mexico. This was also rocky. Some of the personnel who worked with him said he was in and out of trouble. His record included threatening superiors, smuggling arms onto the base, threatening to kill himself, etc. For a while he was committed to a mental hospital. He escaped, but was caught and returned.
The last infraction was a criminal one, resulting in a court martial. He married in 2011. His wife had a son from a previous relationship. In 2012 he assaulted her and also hit her son, cracking his skull.
A court martial convicted him of domestic abuse with serious injury and sentenced him to 12 months of confinement followed by a dishonorable discharge. This conviction should have barred him from ever buying firearms. However, Air Force personnel failed to submit this to the national database for firearm background checks. Years later, this would tragically come to light.
While the shooter was in confinement his wife divorced him.
Back Home, More Trouble
Now out of the service, the suspect moved back to his hometown. We do not know what his state of mind was at that time, but it would return to a troubled state.
Sometime after returning, he married a young woman who grew up in Sutherland Springs and was a member of the First Baptist Church. Sometimes he attended church there with her and her family. We do not know how often, but it was enough for the members to know him. Whatever their first impression was, they became uneasy with his presence. A hostile relationship developed with his in-laws. He began sending threatening messages to his mother-in-law. The last one was received the morning of the attack. She was not in church that day, but her mother was.
The suspect had been able to buy several guns. As in high school, he again falsified records, answering "No" on the question of disqualifying convictions. Since the court martial had not been submitted to the national database, he passed and got the guns and ammo.
He set up a firing range in a farm field. Neighbors complained about the noise of the shooting. He told someone he wanted to adopt dogs from a shelter to use for target practice.
The last week of October, FBC had a Fall Festival. The suspect came dressed in black and acting strangely. His demeanor made several uneasy.
After the Gunsmoke Cleared
The massacre at FBC Sutherland Springs made news around the world, with articles and reports in English from Britain, Australia, Nigeria, and India, and in local languages from India, Nigeria, and other areas such as East Asia, Africa, and continental Europe. What made it so sensational were the violation of sanctity, the number killed, and the targeting of children and infants. Particularly dismaying was the missed submission of the court martial to the database, which allowed the perpetrator to legally buy weapons and ammunition.
The town of Sutherland Springs and the State of Texas were in shock, even as Uvalde and Texas are now in the wake of a school shooting. Questions were asked of how this happened and how it might have been prevented or mitigated. In hindsight, authorities and media on all political sides agreed that the missing court martial in the Federal database was a contributing factor. There also came a new focus on mental illness and personality disorders.
Families of slain victims sued the U.S. Air Force for negligence.
Rebuilding
The congregation of First Baptist Church received a lot of sympathy and emotional and spiritual support from the Southern Baptist Convention, other Christian groups, and individuals. Contributions also enlarged their building fund, and they built a new sanctuary and educational wing on property they owned on the opposite side of the block. The sanctuary where the shooting took place was cleaned, repaired, and made into a memorial for those who died. They deepened their faith in God, and the congregation grew.
Security
One important change was in security. FBC Sutherland Springs now has a trained security team. Security policies and procedures are in place. The facilities now have security cameras and doors resistant to forced entry. Threat assessment serves both as a security measure and as a window to minister to persons of risk.
Lesson Learned: Assess Threats
The lesson learned from the 2017 Sutherland Springs church shooting is Assess Threats. How is this done? By keeping in touch with local officials, being open to the concerns of church members, and assessing actual and potential threats.
* Note: This is not to criticize church leaders in Sutherland Springs, but to learn from this incident. They learned and now assess threats.
In Touch with Local Officials
By keeping open our lines of communication with local officials - law enforcement, judicial, and social services - we are more likely to receive notification of actual and suspected threats to the security of the congregation. Some of these might be of persons we do not know, but have raised concerns of violence against places of worship in the community. Some may have expressed or hinted at a desire to shoot up a church, perhaps even ours. Social media postings may disclose a leaning toward that activity in a resident of the area. We never know when a heads-up may be a life saver.
Openness to Church Members' Concerns
In Sutherland Springs, a member of the church had been receiving threats from her son-in-law. News stories do not say whether she shared these threats with church leaders. The last threat came the morning of the shooting, but the pastor was out-of-town. Who could she tell of the threat? Persons in the congregation should know that they could report a threat to any of a number of persons. That way, if one of them is not available, someone else is.
Threat Assessment Team
Apparently, this situation had been building up for some time. Several members of the church were uneasy about the man who became the shooter. There was some reason for suspicion, and the pastor was wary. This warranted discussion by a threat assessment team.
Following the Uvalde, Texas, school shooting the governor of Ohio proposed enhanced school security measures. The law he asked the legislature to enact includes mandating threat assessment teams for every school district or school.[21]
A church should have a threat assessment team. This could be formal or informal. A formal team has set members who meet regularly and when needed. In an informal threat assessment team, church leaders discuss concerns when they come up. Meetings should include pastors, ministry leaders, and the church security director.
Acting on a Threat
If church leaders at FBC had known of the threat made that morning, they could have requested law enforcement protection. The Wilson County Precinct 3 Constable's Office is only five blocks away. One or more deputies could have been assigned to watch the church. They could have stopped the shooter when he pulled the Ruger rifle out of his truck. Likewise, with a threat of that level, we can request law enforcement protection.
Conclusion
Church leaders should be ready to receive and confirm threats of violence and take necessary measures. This is the role of a Threat Assessment.
Training Notes
Church safety teams are encouraged to train and certify all their members through the Safety Member Certification program of Sheepdog Church Security. Team Certification (classroom), Individual Certification (online training), and Online Events (live Zoom classes) are the available formats.[1]
There Is More
This is the first of four July articles. The other three are "Face-to-Face with Evil" (Engaging an Active Shooter), "The Who's Who of Child Safety" (Identifying Sexual Offenders), and "Categorically Dangerous" (Hurricane Safety).
References
Sheepdog Church Security Resources
Kris Moloney, "Active Shooter Response v4," Sheepdog Church Security Training Academy, © 2019 [https://sheepdog-church-security.thinkific.com/].
Kris Moloney, Sheepdog Church Security Academy channel, YouTube [https://www.youtube.com/c/SheepdogChurchSecurityAcademy].
Kris Moloney, "Lessons Learned Notes (Church Shooting Lessons Learned Download)," Sheepdog Church Security Academy [https://sheepdog-church-security.ck.page/lessons-learned].
W.G.V., "The 2007 New Life Church Shooting," Articles, Sheepdog Church Security, December 3, 2021 [https://sheepdogchurchsecurity.net/articles/2007-new-life-church-shooting/].
Kris Moloney, "Instructor's Guide," Dealing with Disruptive Persons using Verbal Deescalation v3, Sheepdog Church Security,©2016-2017.
News Stories