Lesson Learned from a Church Shooting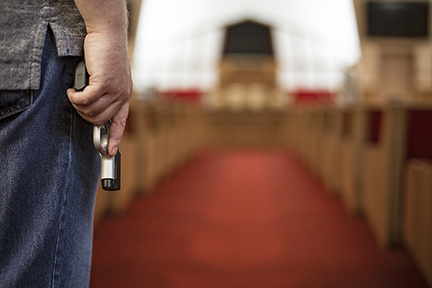 From the Bible
Killing one's own family members is not a new phenomenon. Instances of this are recorded in the Old Testament, with the first case being Cain's murder of Abel.
Be sober-minded; be watchful. Your adversary the devil prowls around like a roaring lion, seeking someone to devour (1 Peter 5:8).
And [Abimelech] went unto his father's house at Ophrah, and slew his brethren the sons of Jerubbaal (Gideon) ... (Judges 9:5a).
Now Absalom had commanded his servants, saying, "Mark ye now when Amnon's heart is merry with wine, and when I say unto you, Smite Amnon; then kill him," ... And the servants of Absalom did unto Amnon as Absalom had commanded (2 Samuel 13:28a, 29a).
Now when Jehoram was risen up to the kingdom of his father, he strengthened himself, and slew all his brethren with the sword, and divers also of the princes of Israel (2 Chronicles 21:4).
But when Athaliah the mother of Ahaziah saw that her son was dead, she arose and destroyed all [her grandsons*] (2 Chronicles 22:10).
*But Joash, the youngest, was rescued by his aunt.
Introduction
There are many news stories of killings in churches, and many more of one person killing members of his or her own family. Both types of killings are in this incident. As with so many other church killings, this is a result of domestic violence and possibly mental illness.
The Incident
It was early Wednesday evening. In a meeting hall at the Arden Arcade campus of The Church in Sacramento (that's the church's name), a church elder brought in three young girls, aged 9, 10, and 13, for a supervised visit with their father. The elder, a family friend, was the court-appointed chaperone for supervised visits. This was according to a restraining order obtained by their mother.
News stories do not tell who arrived first, the father or his daughters, but he had a firearm and shot the elder and his daughters, then himself. The first shot was heard by the pastor, who was upstairs. He ran outside and called 911 at 5:07. Responding deputies found five persons shot. Four were already dead. One received CPR, but died.
The Killer
The father, age 39, had lived with the mother of his children for about thirteen years. The older two daughters were born in Mexico and the youngest in the United States. He became an illegal when he overstayed his visa. ICE had a retainer for him, but California's sanctuary state law kept law enforcement agencies from honoring the retainer unless he had been arrested for certain violent crimes. This is mentioned in the news accounts, since less than a week before the shooting he had been released from jail (for assaulting an officer while being arrested for DUI).
In filing for the restraining order, the mother claimed he had been abusing her for over ten of those years. She suggested that he was mentally unstable, though no professional diagnosis of this has been made public. He had an anger control problem, and the DUI incident indicates this may have been alcohol related. The restraining order specified that he was to not own or possess firearms.
The church's media statement calls all of the family "members" of the church. They had attended for about five years. At the time of the shooting, the father lived in a room in a separate building on the church campus, since he had to leave his residence, and was working at a local restaurant. He had no firearms when he moved in.
The mother was out-of-town at the time of the shooting. We do not know whether she would have gone with her daughters if she had been in town. If so, then she was spared by the circumstance.
The Church
The Church in Sacramento is part of a global non-denominational fellowship with more than 2,000 congregations. It holds services in English, Spanish, and Chinese and considers all born-again believers as members.
The elder who was killed was born in Sacramento and raised in The Church. He attended Bible school in Taiwan, had been educated in California as an engineer and employed by the state. He helped design and build the church building where his life ended. Later, he and his wife served as missionaries in Eastern Europe. The last decade of his life he served as a church elder in his home church. This time included the attendance of the killer and his family.
The Impact
Naturally, there was shock and grief in the Sacramento area. Counselors went to the girls' schools. A Go-Fund-Me account was set up to pay for the funerals. The most significant impacts so far have been (as expressed in editorials) a fresh look at how mental illness is treated in California and considerations for amending the sanctuary state law. It is too early to see what security measures will be made for The Church in Sacramento.
Lesson Learned: Don't let your guard down.
How do we stay on guard? In this case there were a number of things to watch:
When trying to help people, even when we're friends of the family, we need to pay attention to the red flags. Consider serious problems they have, such as alcohol abuse and poor anger management.
The fact that the father was under a restraining order was a red flag. This was because of violent abuse. Many estranged partners have killed their children. Many visitations have been occasions of violence, even when supervised. The risk increases when the subject is suicidal.
The father of the girls did not have a firearm earlier, but someone who doesn't have a gun then can get one later, even illegally, and hide it.

If he came into the meeting room early, he could have hidden the weapon before the others arrived.
If he came in after the others, he could have entered when they weren't looking, holding the gun ready to shoot.

Have backup. Don't go in completely alone. A safety team member or a staff person could observe, being positioned ready to intervene.
The meeting room should have some means of surveillance.

Staff members or safety team members could watch approaches to the room, alert for signs of a weapon.
Monitored cameras would show a firearm being placed for use before the meeting or one being carried to the meeting. Outdoor cameras might be able to show someone bringing a rifle - even a short one - into a building.
Conclusion
It is a multiple tragedy when a person kills family members, a family friend and church elder who is trying to help, and himself, and does it in a church. What lesson can we learn from this recent incident?
Recommended Resources
Recommended resources are Show Notes, the relevant Church Security Guide article, and Safety Member Certification training.
Show Notes (Lesson Learned)
Kris records a videocast on this article and posts it on Sheepdog Church Security's YouTube channel. The audio is put into a podcast. When the videocast and podcast for this article are posted, the link to "Church Shooting Lessons Learned" is beneath the video screen under "Sheepdog Church Security Academy." The notes will be available for a month after the videocast.[1]
Church Security Guide
"Church Safety Teams and Active Shooter Training" is one of nine articles in the Church Security Guide - the tab is on the menu bar of the SDCS website.[2]
Training
Church Safety Teams are advised to have all their members trained and certified through the Safety Member Certification program. The training modules - including "Active Shooter Response v4" - are available in three formats: Team Training (classroom), Individual Training (online), and Online Events (live Zoom classes).[3]
There Is More
This is the first weekly article for May. Following are articles on Active Shooter Response, Basic Use of Force Laws, Sex Offenders Registry, and U.S. LawShield.
References
Sheepdog Church Security Resources
Kris Moloney, Sheepdog Church Security Academy channel, YouTube [https://www.youtube.com/channel/UCTrrcSlOn6zG1ySOHYzQkdQ].
Kris Moloney, "Church Safety Teams and Active Shooter Training," Church Security Guide, Sheepdog Church Security, © 2018 [https://sheepdogchurchsecurity.net/active-shooter/].
Kris Moloney, "Church Safety Teams and Active Shooter Training," Sheepdog Church Security Training Academy, © 2019 [https://sheepdog-church-security.thinkific.com/].
News Stories