Protect My Ministry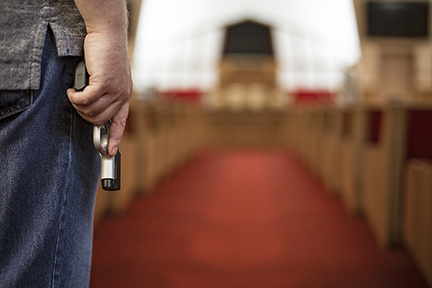 An article based on the training module "Active Shooter Response" in the Safety Member Certification program [1]
From the Bible
But if any man hate his neighbour, and lie in wait for him, and rise up against him, and smite him mortally that he die, and fleeth into one of these cities: Then the elders of his city shall send and fetch him thence, and deliver him into the hand of the avenger of blood, that he may die (Deuteronomy 19:11-12).
Yea, let none that wait on thee be ashamed: let them be ashamed which transgress without cause (Psalm 25:3). [In the NIV, "which transgress" is "who are treacherous"]
From the ends of the earth we hear singing: "Glory to the Righteous One." But I said, "I waste away, I waste away! Woe to me! The treacherous betray! With treachery the treacherous betray!" (Isaiah 24:16).
Introduction
Child custody disputes are often nasty, and some result in criminal acts, such as kidnapping and violence. Often it is one family pitted against another. That's what happened at Mt. Carmel Baptist Church in 2014, and 2¼ years later in Pike County, Ohio. Even after custody is settled, supervised visits can still be perilous times, as in 2022 at The Church in Sacramento.
Videocast Show Notes, and Free Downloads
This church shooting is discussed by Kris Moloney in a videocast on the YouTube channel Sheepdog Church Security Academy. The audio is on a Church Security Roll Call podcast. He draws on his military, law enforcement, and church security experience. Special attention is given to the Lesson Learned.[2][3]
Below the video screen, in the Comments section, is a link to the Lessons Learned Download, the Show Notes (article summary) in a PDF which can be printed or attached to a message to be shared and discussed.
The free downloaded resource is "Active Shooter Situations." Click *HERE* to get it.[4]
The Setting
Mt. Carmel Baptist Church is one of several congregations with the same name in Texas, as well as in other states. This one is on a rural road about half a mile off the better-known Recreation Road 255 (some web pages locate the church on Hwy 255). It is a member of the Southern Baptist Convention. Mt. Carmel does not have a website, but does have a Facebook page. Photos indicate it has over a hundred persons in attendance. It has been live-streaming services since the Pandemic, when the pastor preached the 2020 Easter message from a platform just outside a side door.
Ambush
January 18, 2014 was a Saturday. A supervised visitation was scheduled to be held at the Mt. Carmel Baptist Church in rural Tyler County, Texas. The mother and her family were members of this church. They lived about five miles away. The father, Nathan, and Krystal, his wife of one year, lived at least twice that distance and were members of another church. There had been a custody dispute ever since Nathan's divorce from the child's mother, and even visitations were contested by the mother's family.
The ex-wife's mother brought her 4-year-old granddaughter to the church that morning. There was also present another member of the church who had agreed to be the monitor for the visit. She admittedly did not understand the duties of the position or the stipulations of the visitation. Someone had concerns about the location of the visitation, saying it would be more secure in a public space, but Nathan was sure it would be OK. After all, it was in a church. What could be safer than a church?
A deacon had been there early in the morning, taking care of the property. He left during the visitation on an errand. The scene would change before he returned.
Nathan and his daughter had a good time. She enjoyed playing games with Dada. The grandmother was on her phone, texting her husband.
Time melted away and noon came all too soon. They were several minutes overtime. After saying good-bye to his little girl, Nathan and Krystal headed for the front door. She went out first. Nathan turned to wave one last lime, then went out the door.
As Krystal got to the bottom of the stairs and headed for the car, the ex-wife and the former father-in-law came out of the woods, The grandfather shot and killed Krystal with a rifle as Nathan watched in horror. He ran down the stairs, only to be ambushed with a shotgun by his ex-wife. He did not die immediately. The former father-in-law beat Nathan with the butt of the rifle, then turned it around and finished him off.
The chaperone heard shots and called 911. When the deacon came back, emergency vehicles with lights flashing filled the parking lot.
Filled with Hate and Fear
While Nathan and his first wife were still married, she was using drugs. News accounts did not say when this began, but it was largely responsible for the divorce, which came while their daughter was still a baby. Because of meth use, her parents were made temporary guardians, and the mother was to not live in the same house. This condition was not adhered to, and the mother actually hid the girl from her ex-husband and anyone outside the family. The lack of contact made the girl afraid of her father, Nathan.
Nathan had a good job. When he married Krystal, he got four step-children whom he adored and had a family home ready for his own daughter. He pressed the matter of visitation rights in court, and the court specified supervised visits – not because of what he might do, but to ensure that they took place. The mother's family was fearful that he would now get custody. Not only that, the ex-wife rabidly hated her former spouse.
By the way, the family used to attend church at Mt. Carmel faithfully, but began to come only occasionally. After the shooting, they were in church every Sunday until arrested. The non-attendance may have been because of drug use.
Nathan tried to raise money for legal fees so he could press for custody in court. In social media posts, he described the unstable condition of the mother's family. Besides drug use, this included suspicion of arson for insurance and indications of possible molestation.
We do not now know what safety/security measures, if any, are used by Mt. Carmel Baptist Church.
Going on
Both Nathan and Krystal died at the scene. The killers were gone by the time deputies arrived at the church. The girl's grandmother played the part of being a shocked and sorrowful witness to the crime, going out and seeing the bodies.
Four days after the shooting, the court ordered Child Protective Services to remove Nathen's daughter from her maternal grandparents. This was done for the safety of the child. The child was later placed with Nathan's parents. The family's plot to keep the child backfired.
Knowing the custody and visitation situation, authorities considered the ex-wife and her family as suspects. Finally, deputies had enough reason to warrant an arrest for criminal conspiracy (operating a criminal organization). This included the deacon having seen the former father-in-law close to the church before the murders. The monitor also said that the girl's grandmother was texting her husband at the time, and she overheard part of a conversation with the girl's mother after the shootings.
The ex-wife's brother was an accomplice. He was a lookout during the action, then he put the murder weapons into a bag and dropped them into a pond, which was close to their home.
The family was arrested in March during a traffic stop near the church. For the mother, this was the second arrest. She had been arrested for drug possession in February.
The son, who was 18 at the time, confessed to his part and cooperated, guiding detectives to the pond where the weapons were retrieved. Ballistics and fingerprints were enough evidence to charge the ex-wife and her father with murder. Examination of phone records and texts on the phones revealed that the ex-wife's mother cued her husband and daughter of when the visit was over so Nathan could be ambushed when he left.
The mother confessed to her part in the killings. She and her son were sentenced to prison. The ex-wife was tried for first degree murder in August 2016. The trial was moved to another county. She was convicted and sentenced to life without parole – the victims' families asked that the death penalty not be used.
The father, who had medical issues, was ruled mentally incompetent to stand trial and confined to a state mental hospital. In 2017, he was ruled finally competent, and plead guilty. He too was sentenced to life without parole. All four family members are in prison. The mother will be eligible for parole in 2044. By that time, her son will have finished his sentence.
So far, we do not know what safety/security measures are used by Mt. Carmel Baptist Church.
Lesson Learned: Special Consideration for Special Situations
For Mt. Carmel Baptist Church, this was a special situation. A supervised visitation during a custody dispute is certainly a special situation that needs special consideration. Someone in the church who is security-minded should ask, "What security risks may come with this situation?"
What safety measures could be used in this situation?
Do not assume this is a safe place just because it is a church.
Have Safety Team members on duty. Don't leave this responsibility solely to the chaperone.
Monitor the outdoors.

Use and monitor exterior security cameras. In a setting like Mt. Carmel Baptist's, pay attention to the adjoining woods for any suspicious activity.
Station a team member outside. He or she can see more than will show on the cameras and will be in place to respond to any threat.
Watch for other suspicions things, such as parked vehicles that are occupied, furtive activity in the woods or brush (sneaking around, trying to hide, etc.), persons with concerning behavior, or unexpected sounds.

A team member inside can be alert for any signs of trouble during the visitation.

In the case at Mt. Carmel, the team member could have kindly taken the grandmother to another room per the court's stipulation.
Watch for any indications of aggression by the visiting parent.

Be alert for suspicious objects on the grounds or in the building.
There are other kinds of special situations needing special consideration; for example,
An outdoor event open to the public (such as a fair or community sale),
A funeral for a gang member,
A controversial speaker (especially one who is high-profile), etc.
The danger is not always violence. It may also be fire, hazardous materials, weather conditions, accidents in rented bounce rooms, etc. These also need special consideration of how to keep people safe in those situations.
Conclusion
Special situations may arise which require special consideration to keep people safe. A supervised child-parent visitation is one of them.
Training Notes
Training and practice are needed for effective coordination in an emergency. Members of a Church Safety Team can be trained and certified through the Safety Member Certification program with its eight training modules (classes): Safety Team Fundamentals, Active Shooter Response, Deescalating Disruptive Persons, Protecting Children from Abuse, Basic Use of Force Laws, Arson and Fire Safety, Storms and Disasters, and Mass Trauma Emergencies.
There are three training formats: Team Certification (church-hosted classes), Individual Certification (self-paced online instruction), and Online Events (live Zoom Classes).[1]
The next Online Events class is the last one for the 2022-2023 school year. However, since enrollment is good for a year, students enrolling now can complete the course when the next school year begins in September. If this is not soon enough for them, they can use Individual Certification instead.
| | | | |
| --- | --- | --- | --- |
| Color coding: | Related to Article | Completed | Next |
| | | | | | |
| --- | --- | --- | --- | --- | --- |
| | Q1 | Q2 | Q3 | Q4 | Training Module |
| 1 | Sep 11 | Nov 13 | Jan 29 | Mar 26 | Safety Team Fundamentals |
| 2 | Sep 18 | Nov 20 | Feb 5 | Apr 2 | Active Shooter Response |
| 3 | Sep 25 | Dec 4 | Feb 12 | Apr 16 | Deescalating Disruptive Persons |
| 4 | Oct 2 | Dec 11 | Feb 19 | Apr 23 | Protecting Children from Abuse |
| 5 | Oct 9 | Dec 18 | Feb 26 | Apr 30 | Basic Use of Force Laws |
| 6 | Oct 16 | Jan 8 | Mar 5 | May 7 | Arson and Fire Safety |
| 7 | Oct 23 | Jan 15 | Mar 12 | May 21 | Storms and Disasters |
| 8 | Nov 6 | Jan 22 | Mar 19 | Jun 4 | Mass Trauma Emergencies |
Another training resource is the Church Security Guide with its nine articles (the ninth one relates to this article):
These can be used to prepare for a class, then later to review/refresh.[5][6]
On Deck
The article on deck for next week is "Medic! Medic!" (Responding to Medical Emergencies).
References
Sheepdog Church Security Resources
News Accounts