Lesson Learned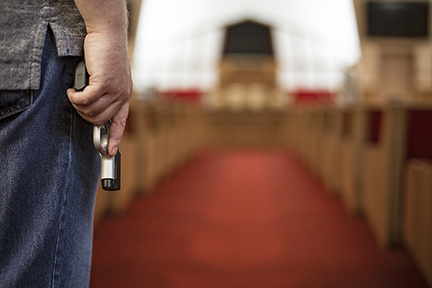 From the Bible
And he changed his behaviour before them, and feigned himself mad in their hands, and scrabbled on the doors of the gate, and let his spittle fall down upon his beard (1 Samuel 21:13).
*Note: For a long time, many people have been afraid of mentally ill persons who are armed. David took advantage of this fear to get out of Gath alive.
As a mad man who casteth firebrands, arrows, and death (Proverbs 26:18).
*Note: Not all mentally ill persons engage in dangerous behavior, but some do.
The Lord shall smite thee with madness, and blindness, and astonishment of heart (Deuteronomy 28:28).
*Note: "astonishment of heart" is also translated as "confusion of mind"
And they come to Jesus, and see him that was possessed with the devil, and had the legion, sitting, and clothed, and in his right mind: and they were afraid (Mark 5:15).
*Note: Mentally ill persons may act like those who are demon-possessed.
Introduction
We still have the phrase "like a madman" in our language. This phrase refers to those with mental illness who act recklessly and/or violently. Sometimes that "madman" is or has been part of our organization. Twice in less than a dozen years, the mentally ill offender in this incident used deadly violence related to a place of worship that had employed him.
Featured Resources
The featured resources are a Church Security Guide article ("Church Safety Teams and Active Shooter Training"), a training module ("Active Shooter Response v4") in the Safety Member Certification program, and a free download (Active Shooter Situation Checklist).
Church Safety Teams and Active Shooter Training
The Church Security Guide is a valuable source of information about making our churches safer. The tab is on the menu bar. The Guide has nine articles about church security:
Introduction to Church Safety and Security
How to Conduct a Risk Assessment
Church Safety Team Basics
Fire Safety in the Church
Preparing Your Church for Natural Disasters
Protection of Children and Vulnerable Adults in the Church
Self Defense Laws, Your Rights and Use of Force
Disruptive Individuals: How to De-escalate the Situation
Church Safety Teams and Active Shooter Training
Each of these articles, including "Church Safety Teams and Active Shooter Training," presents a deep overview of its topic. These are not as thorough as the related training modules, but they will equip the reader to better understand the content of the courses.[1]
Active Shooter Response
The training module "Active Shooter Response v4" is part of the Safety Member Certification program. It begins with considering what an active killer incident is, then goes on to definitions used in the subject area. Following are measures to prepare for a violent intruder (which we hope never happens) and what to do if and when one comes. After this is what to do when the threat has been neutralized.
Church Safety Teams are encouraged to have all their members basically trained and certified. The Safety Member Certification is designed to do just that. Three modes of instruction are available.
Classroom materials (Team Certification) can be used to train the entire team at once. This is perfect for getting a new team up and running. It can also be used for refresher training.
Individual online training (Individual Certification) can be used for a new member being added to the team or for one who cannot attend all the classes.
A newer option is live Zoom classes (Online Training Events). The 2022 Spring Semester is already in progress, and the Fall Semester will begin this summer. Enrollment is up, as this is becoming a popular venue.[2]
Active Shooter Situation Checklist
The free downloadable resources are action points, such as checklists and forms. The Active Shooter Situation Checklist can be printed and places in every classroom (office, too). Beginning with learning that an active killer is in the building, it tells how to evacuate, how to shelter (lockdown), and what to do when the All Clear is sounded.
Click *HERE* to get the Active Shooter Situation Checklist. [3]
One Midweek Morning
It was a Wednesday morning, October 24, 2012. The daily morning prayer service had started at 10:00 in a worship hall with 20 to 25 persons present. Most were staff of World Changers Church International (WCCI). Greg McDowell was leading the service, walking back-and-forth on the platform praying out loud.
A man dressed in suit and tie came in. No one in the foyer of this building took special notice because he was familiar to them - he had been a custodian there. He entered the worship hall and walked to the platform. Most of the people had their eyes closed, but not for much longer.
When the man reached the platform, he didn't say anything but took out a handgun and began calmly firing. Twelve shots hit McDowell, killing him. A woman shouted, "Why you still shooting? He's already down."
The shooter didn't answer her. He just walked out, got into his car, and left.
Later that day, the shooter was spotted at a mall. Mall security called the police, who came and arrested him peacefully in Macy's. It turns out that he was at the mall trying to turn himself in to the mall guards. They thought he was just crazy until someone realized he fit the description of the church shooter. This was actually his second attempt to turn himself in. He'd been turned away from a police station as a nut case.
The Peril of Paranoia
The WCCI shooter paranoid schizophrenic. Eleven year earlier he had shot and wounded a former co-worker in Baltimore. He underwent mental health treatment for a year-and-a-half after pleading guilty to assault with a deadly weapon.
Sometime after this, the man moved to the Atlanta area. While there, he began working as a custodian at WCCI. We do not know when he started working there or for how long, but at the time of the shooting he was no longer working for the church.
What is really odd is that in Baltimore, the assailant had been a security guard for a mosque. He had talked about Islam with another guard, which led his co-worker to convert to Islam. He left that job, but came back later to see the other guard. They began arguing about something. A few days later, he came back and shot the guard from across the street.
The motive for the killing came from the shooter's paranoia. He thought McDowell was out to get him. We don't know the details behind this. It is likely that McDowell may have tried to help him, but his efforts were misunderstood. In August, a couple of months before the incident, the killer had been turned down for a legal gun purchase because he lied about his mental illness on the application. He later bought an illegal gun on the street.
Aftermath
Greg McDowell was well-respected and liked by almost everyone. To comfort and encourage the flock Creflo Dollar, the Senior Pastor of WCCI, spoke in the evening service on having faith, not fear when tragedy strikes.
In court, the shooter was found guilty but insane and sentenced to life in a mental institution. This killing did not deter its members from attending church.
WCCI had paid security staff at that time, mostly unarmed. If they have made any changes to security procedures since then, those are confidential.
Lessons Learned
The lessons learned are "Not just on Sundays" and "Look within."
Not just on Sundays
It is easy for us to expect a safety/security team to be present during public services on our Sabbath (Sunday or Saturday), special events (like a concert, wedding, funeral, or children's program), and the midweek evening service (Wednesday or Thursday). However, there should be some security measures in place through the week when there are activities at the church.
If it is just office staff at work in a medium to small church, have the doors locked. Anyone who comes has to ring the bell. If there's a camera there, they can see who it is and determine whether to let them in.
In the case of a large church, especially with full-time staff at work all week long, one or more safety team members should be present. They can watch and be ready to respond.
Look within
It pays to be aware of who is coming in and walking about. We don't know when or why the shooter left his custodial job at WCCI, but it appears to have been in or before August. Someone in the church leadership should have known of his mental illness as well as his conviction in Baltimore. His leaving the job, whether quitting in a tiff, not showing up, or being fired, should have put him on a security watch list.
A threat assessment, formal or informal, could have led to guards being assigned to watch places where the person of risk would likely show up. In this case, it would have been anywhere McDowell was scheduled to be, such as the morning prayer service. After all, the killer knew his regular schedule.
This brings up the subject of employment screening. It is now over nine years since the 2012 WCCI shooting, so some things have changed. Now the usual recommendation is for ALL church staff and volunteers to be screened, including criminal background checks. The shooter's conviction in Baltimore would have at least put him on a watch list. No matter how familiar he was to them, they needed to be aware of his presence and on guard.
When someone has a history of violence and the circumstances (such as leaving under a cloud) are a reasonable cause for concern, if that person shows up, keep watching for indications of a weapon. However, a suit jacket could possibly conceal a small handgun.
Also watch for a violation of norms. This includes coming into the room during a prayer meeting while the leader is praying and walking up to the platform. If a guard had closely followed the shooter (by about 6-10 feet) into the worship hall, he could have tackled the assailant who was still pulling the gun out.
On the other hand, before getting that far, the guard could have stopped the would-be shooter in the foyer or corridor and engaged him in conversation, potentially defusing the situation. At least, it may have detained him until backup arrived.
If the custodian with his record had been fired, the church should have filed a Do-Not-Enter order, giving guards the right to call the police if he came onto the campus.
Conclusion
Security measures need to be in place anytime the church building is in use or a church-sponsored event is held. Have safety team members present during services and events. Train staff on maintaining safety when working at the church.
Resources
Sheepdog Church Security Resources
Kris Moloney, "Church Safety Teams and Active Shooter Training," Church Security Guide, Sheepdog Church Security, © 2018 [https://sheepdogchurchsecurity.net/active-shooter/].
Kris Moloney, "Active Shooter Response v4," Safety Member Certification, Sheepdog Church Security, © 2020 [https://sheepdog-church-security.thinkific.com/].
Kris Moloney, "Active Shooter Situation Checklist," Sheepdog Church Security, © 2018 [https://sheepdog-church-security.ck.page/35d259d229].
News Stories