Lesson Learned from a Church Shooting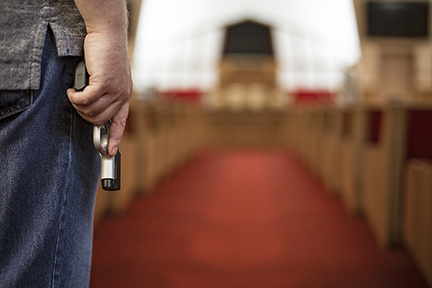 An article based on the Safety Member Certification training module "Active Shooter Response"[1]
From the Bible
Violence was a worldwide problem before the Flood:
The earth also was corrupt before God, and the earth was filled with violence (Genesis 6:11).
An example of this violence:
And Lamech said unto his wives, Adah and Zillah, "Hear my voice; ye wives of Lamech, hearken unto my speech: for I have slain a man to my wounding, and a young man to my hurt" (Genesis 4:23).
Jacob's prophecy for Simeon and Levi was based on their slaughter of the Shechemites (Gen. 34):
"Cursed be their anger, for it was fierce; and their wrath, for it was cruel: I will divide them in Jacob, and scatter them in Israel" (Genesis 49:7)
James' advice is to restrain our wrath:
Wherefore, my beloved brethren, let every man be swift to hear, slow to speak, slow to wrath: For the wrath of man worketh not the righteousness of God (James 1:19-20).
Introduction
A church is part of its community, and problems in the community will come into the church. This means that a church needs to recognize, acknowledge, and address the problems in the community, and be ready to handle them when they arise at church. In this case, the problem was the culture of violence within a segment of the community.
Videocast and Show Notes
Kris will discuss this topic in a videocast (the audio is on a podcast), drawing on his experience in the military, law enforcement, and church security. Below the video screen is a link to the Church Shooting Lessons Learned Download, the Show Notes (summary) for this article. The link will be for this one until the next Church Shooting videocast is posted.[2][3]
Death Follows the Funeral
It was a Thursday afternoon, June 7, 2012. About 500 people had gathered at the old chapel of Victory for the World Church near Stone Mountain in DeKalb County, Georgia for the funeral of the 19-year-old son of a church family. Several of his friends were there. This young man had died because of his criminal activities. About two weeks earlier, he had burglarized a home, stealing jewelry, and had assaulted an older woman living there. Then, 12 days before the funeral, he was shot and killed, allegedly by the woman's son. Both men had police records.
In his funeral message, the pastor of the church counselled young people to not resort to violence, but find peaceful ways to settle their differences. His words evidently did not penetrate all minds present. As the crowd was exiting the church, two of the young man's friends got into an argument. They went to their cars, retrieved handguns, then began shooting at each other with one of them in his car. They wounded each other fatally. Two bystanders were also injured.
Initially, some people believed that the accused killer of the young man had come to his funeral and started the gunfire. Police had been looking for him. However, he was not there, and the shooters were the ones who died.
A Culture of Violence
For thousands of years, there have been criminal elements in large cities. This is just as true today as it was in ancient times. We tend today to think of these as members of certain racial, ethnic, or social groups. However, all groups have been and are represented. When I was growing up, white juvenile criminals made the news.
These elements have exhibited a culture of violence. The violence has in some ways been romanticized, such as that of warring Mafia families and folk notorieties such as Bonnie & Clyde. The culture of violence today is popularized in entertainment and video games. It is also passed on in school cliques and neighborhood gangs.
Although much of the news focuses on criminal organizations like the Crips, the Bloods, and M-13, not all gangs are organized. Some are loose associations of like-minded persons. Although many of those in street gangs are from fatherless families, sons from good families may be attracted by friends who are involved. One thing that has changed since 2012 is more girls and women involved in the gangs or in gangs of their own. This underlies biblical warnings against the wrong friends. A major contributor to delinquency is drug use. Many crimes are committed to get money for drugs.
The community of Victory for the World Church includes young people who are in a culture of violence. Anger management is unheard of by many of them. The least grievance will bring a violent reaction, whether with fists, clubs, knives, or guns. Many of the guns used have been stolen. In this respect, the Atlanta metropolitan area resembles Chicago, Los Angeles, New York City, Detroit, and other metro areas.
We need to commend a church such as Victory for the World that is trying to address this culture of violence. Yet, at the same time, this culture does influence some of those inside the church. Now, in many places, special security measures are taken when there is a funeral for a gang violence victim.
Impact
The deadly shooting at Victory for the World brought shock and dismay. It caused many to ask how this could happen and how it could be prevented. One result of this and other similar incidents is warnings about potential violence at or around the funerals of gang members.
One such person addressing these questions was Gwen Thomas, an associate minister at Victory for the World. In a blog post on HuffPost, she said, "If we don't consider evolving in our parenting styles and discipline methods, we may perpetuate the notion that violence is the logical response to perceived wrongdoing." What she proposes is a serious attempt to break the generational perpetuation of retaliation. She admits that this has become embedded in some generational lines, and it will take more than one generation to break the cycle.
As to whether there have been changes in security at Victory for the World Church, there has been no mention of them. With rare exceptions, changes in church security are usually kept confidential. In some cases this is to keep would-be violators from learning how to breach security. Evidently, Victory for the World did have some security measures in place before the incident. The shooters left their guns in their cars when they came to the funeral.
Lesson Learned: Stay in Tune
A key aspect of the shooting incident at this church is that it happened outside, after the funeral, even though it involved two men who attended the funeral. What could a Safety Team do to forestall this from happening? Stay in tune to what is going on. Keep your attention on the most likely troublemakers and their moves. Let's apply it to this case:
Have security persons outside. – Church Safety Team members who are outside can keep an eye on things while being in place to respond. If they are inside watching the monitors for outside surveillance cameras, it takes time to get to the door and out – not a good scene in a fast-moving situation such as this.
Know who likely disruptors and victims are. – Since this was the funeral of a person who had been part of the culture of violence and had been murdered, his friends and rivals were likely disruptors. From her position on the platform, Ms. Thomas took note of the pall bearers as members of the young man's gang. By now, we know that they could be likely targets of another gang. In this case, the threat was from within the group.
Be aware of any disruptive behavior. –In this case, it was the argument. An argument any time is concerning, but when it is among members of a culture of violence, this calls for special notice.
Be aware of potentially threatening moves. –When two arguing gang members go to their cars, it does not automatically mean that they will simply drive away. They had to leave their weapons behind to go into the church for the funeral. Going to the car during an argument is just as likely for grabbing a weapon as it would be for leaving.
Be ready to intervene. –Know how to approach someone getting a weapon from a vehicle. If they know you're ready to respond, this may be a deterrent
Conclusion
In a troubling situation, monitor troubling persons and be ready to respond appropriately.
Training Notes
Training is essential for knowing how to keep the church safe. Church safety teams are encouraged to have their members trained and certified through Sheepdog Church Security's Safety Member Certification program. There are three training formats: Team Certification (church-hosted classes), Individual Certification (self-paced online instruction), and Online Events (live Zoom classes).[1]
Team Certification is the best option for training the entire team at once (such as when starting a team or renewing their certifications). The Safety Director receives a downloadable packet of training materials and power point presentations. This includes a manual for the instructor(s).
One option, depending on the location of the church, is Certified Onsite Instructors. The listed instructors are located in Wisconsin, Minnesota, New Jersey, Maine, and Arkansas. Some will travel to other states.[4]
Individual Certification is perfect for new members so they do not have to wait for months (or more than a year) to be trained. They can get trained as soon as they are accepted for the team. This is also an option for a Church Safety Team member who cannot attend one or more classes in person.
Online Events classes are taught by Kris on Sunday afternoons at 3:00 Central Time. Enrollment is open to both groups and individuals. Quarter 3 of the 2022-2023 school year is almost finished, with only two classes left. The next class is "Storms and Disasters" on March 12. "Active Shooter Response" will be taught on April 2. Students starting now can continue until they've passed all the classes.
| | | | |
| --- | --- | --- | --- |
| Color coding: | Related to Article | Completed | Next |
| | | | | | |
| --- | --- | --- | --- | --- | --- |
| | Q1 | Q2 | Q3 | Q4 | Training Module |
| 1 | Sep 11 | Nov 13 | Jan 29 | Mar 26 | Safety Team Fundamentals |
| 2 | Sep 18 | Nov 20 | Feb 5 | Apr 2 | Active Shooter Response |
| 3 | Sep 25 | Dec 4 | Feb 12 | Apr 16 | Deescalating Disruptive Persons |
| 4 | Oct 2 | Dec 11 | Feb 19 | Apr 23 | Protecting Children from Abuse |
| 5 | Oct 9 | Dec 18 | Feb 26 | Apr 30 | Basic Use of Force Laws |
| 6 | Oct 16 | Jan 8 | Mar 5 | May 7 | Arson and Fire Safety |
| 7 | Oct 23 | Jan 15 | Mar 12 | May 21 | Storms and Disasters |
| 8 | Nov 6 | Jan 22 | Mar 19 | Jun 4 | Mass Trauma Emergencies |
Another training resource is the Church Security Guide. It has nine articles covering church security subjects:
Most of these articles can be used to preview the subject before a class, as well as to review it later.[5]
Up Next
The next article is "Watch the Radar" (Assess Potential Threats).
References
Sheepdog Church Security Resources
News Stories