Lesson Learned from a Church Shooting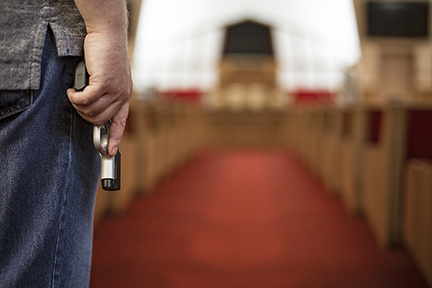 Based on the Safety Member Certification training module "Basic Use of Force Laws."[1]
From the Bible
The Bible teaches against domestic violence:

Husbands, love your wives, and be not bitter against them (Colossians 3:19).

Likewise, ye husbands, dwell with them according to knowledge, giving honour unto the wife, as unto the weaker vessel, and as being heirs together of the grace of life; that your prayers be not hindered (1 Peter 3:7).
A person fleeing for his life could go to a city of refuge:

Ye shall give three cities on this side Jordan, and three cities shall ye give in the land of Canaan, which shall be cities of refuge (Numbers 35:14).
A plea to God for protection:

He delivereth me from mine enemies: yea, thou liftest me up above those that rise up against me: thou hast delivered me from the violent man (Psalm 18:48).
Rahab hid the Israelite spies from the soldiers of Jericho:

And the woman [Rahab] took the two men, and hid them, and said thus, "There came men unto me, but I wist not whence they were" (Joshua 2:4).
Introduction
Since ancient times, people have fled abuse or threats, only to be pursued by their abusers. The victims have been slaves, subjects of oppressive rulers, children, siblings, and wives. Jacob fled his brother, who threatened to kill him (Genesis 27:41-44), but Esau did not pursue. Some victims found refuge and protection. Many times pursuers were able to penetrate the refuge and capture or kill their victims.
An important statistic for church security is that domestic violence and mental illness are, together and separately, the leading causes of church shootings.
Videocast and Show Notes
Kris discusses the subject of this article in his Sheepdog Church Security Academy videocast (the audio is in a podcast). Beneath the video screen is the link to the Church Shooting Lessons Learned Download (article summary). This PDF can be printed to share with others. It can also be attached to an email or message. The download for this article is available until the next Lessons Learned videodcast/podcast is posted.[2][3]
Confrontation in the Vestibule
On November 23, 2008, the Sunday morning service at St. Thomas Syrian Orthodox Knanaya Church in Clifton, New Jersey began at 11:15.
When a woman and her cousin went into the vestibule, she was met by her estranged husband, who had driven there from California. He begged her to come home with him. She refused. He reached out to grab her. A member of the congregation saw this and stepped in to protect her. He told the husband to leave her alone. The husband became irate and pulled out a handgun. About 11:45 he began firing, hitting three persons: his wife, the defender, and her cousin. After wounding these three people, the husband ran out, jumped into his Jeep, and drove away.
The shots were heard in the sanctuary. Someone called 911. Police and EMTs arrived. While the medics treated the wounded before transporting them to the hospital, the police began interviewing witnesses and examining the crime scene.
The victims each had head wounds. The wife and the defender died. Her cousin was in critical condition and survived, permanently disabled after recovery.
The shooter/husband drove to Georgia, where he had relatives. Two days later he was arrested. He freely confessed to the killings, even saying that if he'd had a machine gun, he would have killed everyone in the church.
The Church: An Old Sect
Knanaya [k'NAH-nah-yah] is a sect within the Syrian Orthodox Church, which is headed by the Patriarch of Antioch and the East. The Knanaya are based in the southern part of the largely Christian state of Kerala in southern India. They are the descendants of Aramaic Christians who moved from Palestine to Mesopotamia, then to Kerala in the Fifth or Sixth Century (400s or 500s AD), where they established a colony. They followed Thomas the Canaanite, a merchant, now canonized as St. Thomas of Cana, who is not to be confused with St. Thomas the Apostle, who went to India 400-500 years earlier (the Mar Thoma Church, established by the Apostle, is based in northern Kerala).
Now the Knanaya sect has clusters in several nations, including the United States. They tend to keep to themselves and are endogamous (marrying within the sect). Usually, these are arranged marriages. This practice is the background for the shooting.
A Man with "Behavioral Problems"
According to available accounts, the killer was a Knanaya who grew up in the United States. No mention was made of where he was born. However, he apparently still had relatives in Kerala. When 24 or 25, he went to Kerala to marry a woman. The marriage was arranged by the two families. However, her aunt in the U.S. had been warned by some of his family members that he had "behavioral problems." She told her not to marry him, but she did anyway. It could have been his charm when they first met, or it could have been pressure.
Wedded bliss did not last long. The man was abusive. The "behavioral issues" were indications of possible mental illness. Lack of anger control was a major problem. She filed for a protective order with the prosecutor's office, then left their home in Sacramento for New York, where her aunt lived. Her aunt was a member of the Knanaya congregation in Clifton, New Jersey, within driving distance.
The husband knew of the aunt, and found out where she attended church. In late November he packed his Jeep and drove to New Jersey. On the 23rd he went to that church with a gun in his coat pocket.
The Fallout
The first fallout of the shooting was two deaths, the wife of the shooter and the man who intervened. The wife's cousin survived her head wound, but suffers life-long disability from the damage.
The shooter was arrested at a relative's house about midnight Monday night/Tuesday morning. He freely opened up to the interrogators, confessing the shootings and claiming he would have killed the entire church if he had a machine gun. He blamed the church, where his wife's aunt was a member, for breaking up his marriage. Apparently he knew that she had warned his wife to not marry him, then listened to her complaints once she experienced the abuse.
The shooter was tried and convicted for two counts of murder in April 2011. In May, he received two consecutive life sentences without parole. His wife's family asked for the maximum penalty.
In 2022, he appealed the sentence, claiming that the original attorney failed to pursue an insanity plea. He said that when his wife refused to go with him, his rage blinded him and he was out of his mind. This appeal is to the state supreme court, since lower courts had rejected his appeals.
The shooting brought the Knanaya sect to worldwide attention. Up to this time, they had been little noticed among the many groups in the Indian-Pakistani diaspora. Not all of them are Hindu, Sikh, or Muslim.
In 2012, a law firm writing about legal threats to ministries included this case in a list of shootings in places of worship where there was no armed resistance. This booklet, Legal Realities: The Silent Threats to Ministries, was released by an insurance group as part of their Ministry Leaders' Guide Series.
As of now, nothing has been said about security measures in the St. Thomas church in Clifton or in other parishes of the Knanaya sect. However, there are certain aspects of this case requiring special consideration by a safety or security team.
Lesson Learned: Protect Domestic Abuse Victims
The lesson from this deadly church incident is applicable in many congregations and other religious institutions, such as schools and para-church ministries. Why? Violent domestic abuse (or abuse with the threat of violence) is a leading cause of deadly-force attacks in churches and other places of worship. Often, this is coupled with mental illness, the other leading cause. The lesson is, "Protect victims of domestic abuse." It is easily enough said, but this requires several things: Awareness of Abuse, Threat Assessment, Informed Awareness, and Planned Responses.
Awareness of Abuse
To protect victims of abuse, we must first be aware of abuse.
This is first a mindset. Do not be in a state of denial: "It can't happen here." Anyone coming to your church may be an abuse victim. Marital abuse knows no economic, social class, racial, ethnic, or religious boundaries.
Watch and listen for signs of abuse.

Abuse may be exhibited in a victim's demeanor.
A victim who knows you will listen to and believe them is more likely to let you know she or he is being abused and/or threatened.

A victim may confide to a pastor, counselor, or other leader. This person may tell the Safety Director or someone on the Safety Committee about the situation, with or without names.
Threat Assessment
When we know of domestic abuse, we need to know the threat level for the church.
What do we know about the persons involved, especially the abuser?
When a couple has separated, this increases the chance for violence. Since the abuser knows the victim comes to our church, a target is on our door.
If there is a protective order, either in place or filed for, this increases the threat level.
Even if the couple is still together, even if they both come to church, there is still the potential for violence at church, especially if there is repeated violence in the home.
Informed Awareness
Pay attention to any intelligence received about a domestic abuse case in the church.
This might not be a direct notification. For instance, about a week before the Sutherland Springs church shooting, where 26 persons were massacred, the killer attended the church's Fall Festival. The way he was dressed and his demeanor made the pastor and others uneasy. They knew enough about him that this should have been a warning sign (if they had been trained to see it that way).[4]
Again drawing on Sutherland Springs, the killer sent a threatening message to his mother-in-law, a member of the church.

Encourage anyone associated with a violent domestic abuser to tell you of any threats they receive.
An actual, expressed threat against any member, regular attender, or the church itself should be reported to law enforcement. If there are children in the home, also report it to the local child welfare authority.
Planned Responses
So, what should you do when you know or suspect that there is a threat of domestic violence coming into the church? Prepare your responses before there is a threat. Then if there is one, you know what to do. Here are a few musts. Adjust their application to your church and the situation.
Keep a watch. Be on the lookout for any sign of the abuser.

Be ready to greet and guard. Watch for any signs he has or may have a weapon (firearm or edged weapon).
If there is a restraining order and the victim is there, you have every right - even a duty - to deny him entrance or ask him to leave.

If there is no protective order, he must be shadowed at all times while there, but you can tell him he's better off to leave.
Guard the victim.

Keep a team member at the door to the sanctuary if she is in the service.
Have her sit in a different place from her usual seating.
Shadow or escort her when she leaves the sanctuary or class.
If the abuser shows up, escort her to a safe place to lock down.

Guard the children.

If children are involved, there is the real threat of parental kidnapping, especially if there is a separation.
Often, a violent partner will take it out on the children to deprive the estranged spouse. This happened at The Church in Sacramento earlier this year.[5]
Step up the guard for the children's area if the abuser shows up. Don't let him go there.
Conclusion
When we know a domestic violence victim comes to our church, we need to take measures to protect her, the children, and the church.
Training Notes
Training is essential for those who protect the flock. It comes in several forms, including formal training with classes and testing, as well as through testimonies, demonstrations, documentaries, and conversations and interviews.
Safety Member Certification
Each Church Safety Team is encouraged to get all its members trained and certified through the Safety Member Certification program. There are eight training modules (classes) and certification tests. A pupil who takes each class and passes its test becomes a Certified Safety Member for two years.[1]
There are three training formats:
Team Certification (church-hosted classes) are perfect for training a newly-formed team.
Individual Certification (self-paced online instruction) enables a member to train on his own time. It is perfect for those joining an existing team and those unable to attend in-person classes.
Online Events (live Zoom classes) are open to both individuals and groups. Kris Moloney is the instructor. Classes are held on Sundays at 3:00 PM Central Time. A student can participate from home or the office and still benefit from interaction with the teacher and other students.
The 2022-2023 Online Events school year is near the end of Quarter 2. The next class is "Mass Trauma Emergencies" on January 22. The class for "Active Shooter Response" will be held on February 5 and April 2, 2023. Anyone starting now can continue until all classes are taken.
| | | | |
| --- | --- | --- | --- |
| Color coding: | Related to Article | Completed | Next |
| | | | | | |
| --- | --- | --- | --- | --- | --- |
| | Q1 | Q2 | Q3 | Q4 | Training Module |
| 1 | Sep 11 | Nov 13 | Jan 29 | Mar 26 | Safety Team Fundamentals |
| 2 | Sep 18 | Nov 20 | Feb 5 | Apr 2 | Active Shooter Response |
| 3 | Sep 25 | Dec 4 | Feb 12 | Apr 16 | Deescalating Disruptive Persons |
| 4 | Oct 2 | Dec 11 | Feb 19 | Apr 23 | Protecting Children from Abuse |
| 5 | Oct 9 | Dec 18 | Feb 26 | Apr 30 | Basic Use of Force Laws |
| 6 | Oct 16 | Jan 8 | Mar 5 | May 7 | Arson and Fire Safety |
| 7 | Oct 23 | Jan 15 | Mar 12 | May 21 | Storms and Disasters |
| 8 | Nov 6 | Jan 22 | Mar 19 | Jun 4 | Mass Trauma Emergencies |
A Crucial Conversation
Since the shooting incident which is the subject of this article is domestic violence, studies of this topic are crucial to knowing how to deal with these situations. In November, Kris was interviewed by Hannah and Nicky, co-hosts of the "House to Heart" podcast series of House of Faith and Freedom (HOFF). The video is available as "Seeking Sanctuary House to Heart Interview" on Sheepdog Church Security Academy and "Creating Safer Churches with Security Ministries" on HOFF. During the conversation, Kris tells of how his church protected a woman and her children from an abusive husband who came looking for her. He tells of how a Church Safety Ministry can protect a victim of domestic violence.[6]
Over a year ago, Kris interviewed Hannah Fortice, the founder of HOFF, about domestic violence. The video, "Danger at Home - Domestic Violence," was posted on SDCS Academy on October 5, 2021. The SDCS weekly article posted six days later, "Danger at Home (Domestic Violence and Church Safety)," was based on this interview. This teaches us about domestic violence and how it affects the church.[7][8]
Up Next
The next article is "Vetting Volunteers" (Screening Applicants).
References
Sheepdog Church Security Resources
News Stories