Understanding Sexual Abuse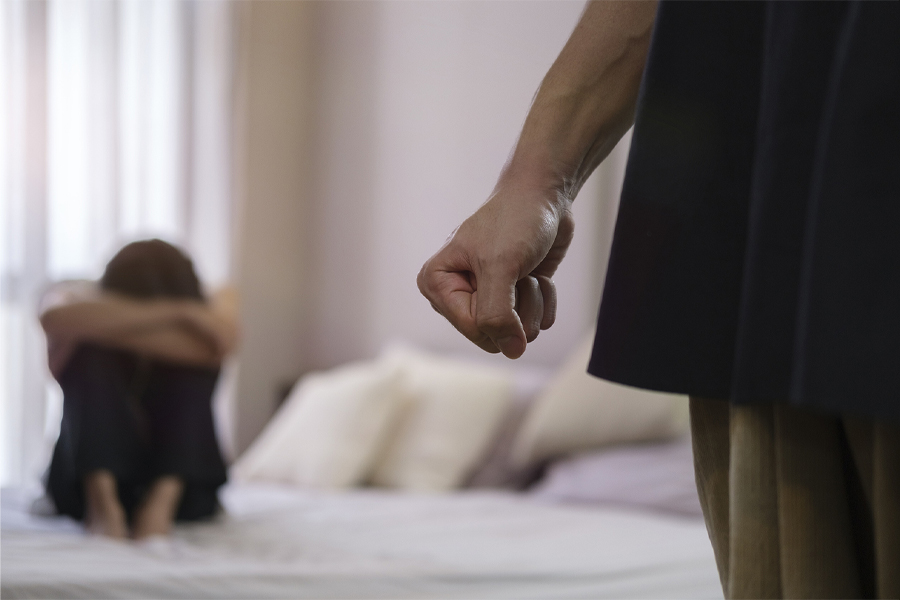 An article based on the Safety Member Certification training module "Protecting Children from Abuse" and the "Questions and Answers" section of the Dru Sjodin National Sex Offender Public Website.[1][2]
From the Bible
A lot of people do not know that the Bible has many references to sexual abuse This is only a sample:
Rape was often committed during war on civilian populations:

Their children also shall be dashed to pieces before their eyes; their houses shall be spoiled, and their wives ravished (Isaiah 13:16).

They ravished the women in Zion, and the maids in the cities of Judah (Lamentations 5:11).
We can be almost certain that this was NOT consensual, but priests taking advantage of their authority. These women were likely the virgins who assisted female worshippers at the Tabernacle, in which case it would have been workplace sexual abuse. According to some, Jephthah's daughter may have been one of their victims:[3]

Now Eli was very old, and heard all that his sons did unto all Israel; and how they lay with the women that assembled at the door of the tabernacle of the congregation (1 Samuel 2:22).
Amnon raped his half-sister:

Howbeit he would not hearken unto her voice: but, being stronger than she, forced her, and lay with her (2 Samuel 13:14).
Seduction is a means of sexual abuse:

With her much fair speech she caused him to yield, with the flattering of her lips she forced him (Proverbs 7:21).
This was abuse by a political figure:

And when Shechem the son of Hamor the Hivite, prince of the country, saw her, he took her, and lay with her, and defiled her (Genesis 34:2).
Incest is abuse:

Thou shalt not uncover the nakedness of a woman and her daughter, neither shalt thou take her son's daughter, or her daughter's daughter, to uncover her nakedness; for they are her near kinswomen: it is wickedness (Leviticus 18:17).

Cursed be he that lieth with his sister, the daughter of his father, or the daughter of his mother ... Cursed be he that lieth with his mother in law (Deuteronomy 27:22-23).
Jesus' view of sexual abuse:

"But whoso shall offend [cause to sin] one of these little ones which believe in me, it were better for him that a millstone were hanged about his neck, and that he were drowned in the depth of the sea" (Matthew 18:6; see also Mark 9:42 and Luke 17:2).
Introduction
Sexual abuse of children is now frequently reported in the news. It happens in families, in schools, and in churches. It is not just an, "Oh my! Well, they'll get over it," kind of affair, but can have lasting damaging consequences. Chartier, Walker, & Naimark summarized it like this:
There are few issues that cause children to "stumble" so completely as being abused. Abuse affects every area of victims' lives. Survivors often have issues with substance use, eating disorders, intimate relationships, obesity, smoking, and mental health problems including suicide attempts.[4]
Besides harming children emotionally, mentally, socially, and physically, sexual abuse is also spiritually harmful, especially when done in the context of a church.
The question of what constitutes sexual abuse often comes down to what crosses the line. To answer the main question, therefore, involves answers to a series of questions, which either severally or singularly define abuse. This is why a publically available website listing registered sex offenders has a section explaining what constitutes sexual abuse.
In the News and Online Publications
New York City, New York - The online edition of Psychology Today has a Basics article (with no specific date of publication) on "Sexual Abuse" which also covers sexual assault and sexual violence. After this lead article for the subject is a list of links to articles on many topics within this subject. This Basics article includes a definition of sexual abuse and several areas of the subject. The Contents are:
Understanding Sexual Abuse
Healing from Sexual Abuse
Helping Survivors of Sexual Abuse
Child Sexual Abuse
Of special interest for church safety ministries are questions such as "Are people more likely to be sexually assaulted by a stranger or someone they know?" and the topic of Child Sexual Abuse.[5]
Hilliard, Ohio, January 26, 2023 - Police are asking for information about additional incidents of child sexual abuse at a church in Hilliard. The victims who had already reported abuse were less than 10 years old at the time of the abuse between 2012 and 2014. The perpetrator was a minor at the time who had volunteered to help with children's church and other programs.[6]
The Sexual Assault Response Network of Central Ohio urges victims to come forward. Even though this was a decade earlier, it's not too late.[7]
Sexual abuse also happens in prisons:
Oakland, California, February 9, 2023 - A male former corrections employee was sentenced to 20 years for sexual abuse of inmates in a federal women's prison where he had worked.[8]
It also occurs in families:
South Dakota, November 3, 2022 - A candidate for the state senate was indicted for familial child sexual abuse. The abuse of the young female relative, who is now an adult, allegedly lasted for six years, including grooming.[9]
State College, Pennsylvania, November 4, 2011 - A grand jury indicted the assistant football coach of Penn State University for sexual abuse of adolescent boys. He was also the founder of a charity for fatherless boys. During the next five days, several high-level persons at the university were suspended, were fired, or had resigned. On December 7, the assistant coach was indicted on a dozen more counts.[10]
Videocast and Show Notes
Kris covers this topic in a Sheepdog Church Security Academy videocast (the audio is in a Church Security Roll Call podcast). Beneath the video screen is a link to the Show Notes (article summary). It will be for this article until the next article and videocast are posted.[11][12]
Questions & Answers about Sexual Abuse
The Dru Sjodin National Sex Offender Public Website (NSOPW) has a section named "Questions & Answers about Sexual Assault and Sexual Offending" (Q&A). It poses the answers to nine questions:
What is sexual abuse?
Why do people sexually abuse?
What support is available for victims?
How common is sexual abuse?
Who are the people who sexually abuse?
Do people who sexually abuse reoffend?
Can sex offenders learn to control their behaviors?
Can sex offenders be effectively managed and monitored in the community?
Can sexual abuse be prevented?
This is understandably lengthy, so in this article we will cover only a few of the questions.
What is Sexual Abuse?
This question is answered in the Q&A:
"Sexual abuse includes many different behaviors. For adults, it includes any sexual act committed against someone without that person's freely given consent. For adults incapable of giving consent and children, the Centers for Disease Control and Prevention definition includes "any completed or attempted (non-completed) sexual act, sexual contact with or exploitation (i.e., noncontact sexual interaction) of a child" by an adult or an older youth. Sexual abuse includes both touching (e.g., forced sexual intercourse, child molestation, groping and attempted rape) and nontouching offenses (e.g., downloading or distributing child pornography, exhibitionism), and it impacts people of all ages."
This is quite a long definition, but it needs to include all the stages since the principle of "one thing leads to another" applies. Commonly-recognized acts of sexual abuse are usually the end product of a process which begins with grooming. This enables the abuser to use the victim repeatedly, often for years. It also leads the victim to think that he or she is the one at fault - feeling that he or she led the abuser along.
Why do people sexually abuse?
This is the hardest question to answer. It is addressed here since so many ask. Basically, there is no one reason why people sexually abuse others. The "answer" for this question has a link to a rather lengthy report on research and studies which try to answer the "why" of sexual abuse. It is on another Department of Justice site, SMART (Office of Sex Offender Sentencing, Monitoring, Apprehending, Registering, and Tracking). This report is downloadable as a PDF.[13]
How common is sexual abuse?
This is a key question for churches. Just judging from news stories, it is rather common in churches and schools. However, considering how many congregations and other religious communities there are in this country, it may not be as common as news stories make it seem. However, also consider that a large portion of incidents are not reported, and some reported ones just don't get into the news.
According to Q&A, sexual abuse happens in all demographic groups, regardless of age or gender, race or ethnicity, nationality or social class, education or religion.
About 25% of girls and 5% of boys under age 18 have been abused, and this is only reported cases.
The highest rate of sexual abuse is among those 18-24. However, cases in this age group are more likely to be reported by the victims than those against minors.
Lifetime abuse rates other than rape are 22% of men and 45% of women. The rape rates are 1/5 of women and 1/71 of men. These numbers would be higher if all cases were reported.
Do people who sexually abuse reoffend?
Most times, yes. There are cases of children or youths abusing someone once and no more. When it has become habitual, an offender is very likely to reoffend. Unfortunately, for most offenders it is habitual, and a hard habit to break, especially for those who abuse children. This is the primary reason sex offenders should not work with children in the church or a school.
There Is More
We are encouraged to take the time to learn what we can about sexual abuse so we can understand the measures we take to prevent it in our churches and to properly respond if it does happen. Read the source materials for this article and other reliable information on sexual abuse.
Conclusion
To know how to combat child sex abuse, we must first know about it. This is especially important for those who write the policies and procedures, but also important for those working with children, youth, and vulnerable adults.
Training Notes
Sexual abuse is dealt with in the Safety Member Certification training module "Protecting Children from Abuse" and in the Church Security Guide article "Protection of Children and Vulnerable Adults in the Church."[14][15]
All Church Safety Team members are encouraged to be trained and certified through the Safety Member Certification program. Additionally, all those who work with children in the church, as well as pastors and other church leaders, should audit this class (take it separately from the program).
Three training formats are available: Team Certification (church-hosted classes), Individual Certification (self-paced online instruction), and Online Events (live Zoom classes).
The 2022-2023 Online Events school year is now in Quarter 4. The next class is "Active Shooter Response" on April 2, "Protecting Children from Abuse" will be taught on April 23.
| | | | |
| --- | --- | --- | --- |
| Color coding: | Related to Article | Completed | Next |
| | | | | | |
| --- | --- | --- | --- | --- | --- |
| | Q1 | Q2 | Q3 | Q4 | Training Module |
| 1 | Sep 11 | Nov 13 | Jan 29 | Mar 26 | Safety Team Fundamentals |
| 2 | Sep 18 | Nov 20 | Feb 5 | Apr 2 | Active Shooter Response |
| 3 | Sep 25 | Dec 4 | Feb 12 | Apr 16 | Deescalating Disruptive Persons |
| 4 | Oct 2 | Dec 11 | Feb 19 | Apr 23 | Protecting Children from Abuse |
| 5 | Oct 9 | Dec 18 | Feb 26 | Apr 30 | Basic Use of Force Laws |
| 6 | Oct 16 | Jan 8 | Mar 5 | May 7 | Arson and Fire Safety |
| 7 | Oct 23 | Jan 15 | Mar 12 | May 21 | Storms and Disasters |
| 8 | Nov 6 | Jan 22 | Mar 19 | Jun 4 | Mass Trauma Emergencies |
Up Next
The next article is "2013 Saint James the Just Church Shooting" (Lesson Learned).
References
Kris Moloney, "Protecting Children from Abuse," Safety Member Certification, Sheepdog Church Security, © 2020 [https://sheepdog-church-security.thinkific.com/].
Staff, "Questions & Answers about Sexual Assault and Sexual Offending," Dru Sjodin National Sex Offender Public Website [https://www.nsopw.gov/SafetyAndEducation/QuestionsAndAnswers].
Dave Miller, "Jephthah's Daughter," Apologetics Press, August 2013 [https://apologeticspress.org/jephthahs-daughter-4709/].
Mariette J. Chartier, John R. Walker, Barbara Naimark, "Separate and cumulative effects of adverse childhood experiences in predicting adult health and health care utilization," Child Abuse & Neglect - The International Journal, Volume 34, Issue 6, Pages 387-470 (June 2010).
Reviewed by Psychology Today Staff, "Sexual Abuse," Psychology Today, no date [https://www.psychologytoday.com/us/basics/sexual-abuse].
Steve Brown, "Police seek public's help on child sexual abuse reported at Hilliard church," WOSU, January 26, 2023 [https://news.wosu.org/news/2023-01-26/police-seek-publics-help-on-child-sexual-abuse-reported-at-hilliard-church].
Kate Siefert, "'It's not too late to reach out,' SARNCO on importance of speaking up about sexual assault," ABC6 On Your Side, January 25th 2023 [https://abc6onyourside.com/news/local/ohiohealth-sarnco-importance-speaking-up-sexual-assault-ohio-hilliard-church-abuse].
By Associated Press, "Former Worker at US Women's Prison Sentenced for Sex Abuse," NPR, February 9, 2023 [https://www.npr.org/2023/01/26/1151611189/ex-staffer-sues-fox-news-and-former-trump-aide-over-sexual-abuse-claims].
Allie Griffin, "South Dakota Senate candidate Joel Koskan accused of grooming, raping child family member," New York Post, November 4, 2022 [https://nypost.com/tag/sexual-assault/]. \
Lori Dorfman, Pamela Mejia, Priscilla Gonzalez, and Andrew Cheyne, "Breaking news on child sexual abuse: Early coverage of Penn State," Berkeley Media Studies Group, January 9, 2012 [https://www.bmsg.org/resources/publications/breaking-news-on-child-sexual-abuse-early-coverage-of-penn-state/].