Use-of-Force Liabilities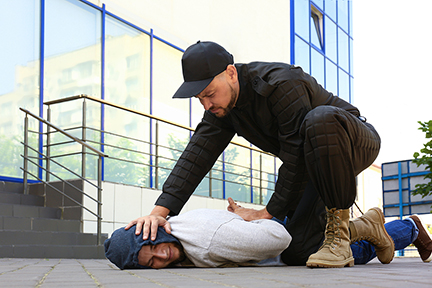 From the Bible
We are to be alert to signs that persons will cause trouble:
*Some people are ready to sue you for any perceived wrong:
And if any man will sue thee at the law … (Matthew 5:40a).
*Some people will look for a reason to accuse you of a crime:
Then the presidents and princes sought to find occasion against Daniel concerning the kingdom; but they could find none occasion nor fault; forasmuch as he was faithful, neither was there any error or fault found in him (Daniel 6:4).

And they watched [Jesus] ... that they might accuse him (Mark 3:2).
*We can be falsely accused:
Neither can they prove the things whereof they now accuse me (Acts 24:13).
*We are to act rightly and legally:
If any be blameless … not accused of riot or unruly (Titus 1:6).

Having a good conscience; that, whereas they speak evil of you, as of evildoers, they may be ashamed that falsely accuse your good conversation in Christ (1 Peter 3:16).
Introduction
Persons helping other people may be misunderstood and accused of mistakes, poor performance, or wrongdoing. This is especially true when responding to a medical emergency or dealing with violence and disruption. This is not always due to a genuine misunderstanding; there are people who take almost every opportunity to file damage or injury claims, lawsuits, or criminal complaints.
In the first place, we should be trained to respond and be careful how we do it. In the second place, we need legal help when facing civil or criminal legal action.
In the News
White Settlement, Texas, December 29, 2019; September 20, 2020 - On December 29, 2019, Jack Wilson, head of security at the West Freeway Church of Christ, shot and killed an assailant who had already fatally shot two church members. In spite of obvious evidence for justifiable homicide, the case went to a grand jury for consideration. On September 23, 2020, almost ten months after the incident, the grand jury decided to not indict him.[2]
* Note: Even when doing everything right, you may need a lawyer, especially when deadly force is involved.
Vanceboro, North Carolina, January 5, 2020 - A man who had already assaulted a female relative broke into a vehicle and drove it to a church near Vanceboro. Obviously intoxicated, he was refused entry by those at the door. He then tried to force his way in. Multiple calls were made to 911. Responding deputies found him fighting with church members. The deputies subdued him with a Taser and arrested him. Several charges were filed against him. None of the church members, including ushers and greeters, were charged. The man's relative said he was high on meth.[3]
* Note: Church members (Ushers? Greeters?) were resisting forced entry, and the offender was the only one charged.
Fort Worth, Texas, March 25, 2018 - At the Potter's House in Fort Worth, a woman who had been a volunteer for about a year argued with an elder over whether she could be on stage during services. The argument became very heated. The volunteer was asked to leave, and she refused. Church security tried to get her to leave, and two police officers who were there came backstage to subdue her. They forced her to the floor before handcuffing her.
Six months later, she sued the church and the security guards, claiming excess force was used. She also claimed that asking her to leave was unfair and unjustified. Police investigators reviewed video footage and concluded that the force used was not excessive.[4][5]
* Note: First, trouble may come from your own volunteers. Second, any use of force, even unarmed, can result in a lawsuit.
Show Notes
Kris covers "Responder's Risk" (Use-of-Force Liabilities) in a videocast and a podcast. Beneath the videocast screen in the comments section is a link to the Show Notes, essentially an article summary. This will be available for one week (for a Lessons Learned article, it is available for a month). You can subscribe to the Sheepdog Church Security Academy channel on YouTube.[6]
Legal Liability of Using Force
It is easy to think that the dangers of the use of force are physical: gunshot or stabbing wounds, or injuries (sprains, concussions, bruises, dislocated joints, etc.) from hits or falls. However, there are financial and legal liabilities: insurance claims, lawsuits, government restrictions, and criminal charges. Added to this is damage to the church's reputation from negative publicity.
Limiting Use-of-Force Liability
Liability from the use of force can be limited by knowledge of the law, policies and procedures, training and certification, and record keeping. We can take out liability coverage from our church insurance provider and get advice on reducing risk. We can also cover legal liability with legal representation.
Know the Laws
Staying within the law is the primary means of limiting legal liability. Use-of-force laws differ from state to state, so it is important to find out what the laws are in your own state. In some states, localities can have regulations of their own, usually stricter than the state's. However in some states, local use-of-force laws may not be stricter than state law.
Use-of-force laws cover citizen's arrest, what degree of force may be used in subduing a suspect, the purchase, carrying, and use of deadly weapons (including which weapons are classified as deadly), and self-defense.
Knowledge of the law should be up-to-date to keep up with any changes as they are made. Here are a few examples of state law changing:
Until recently, most Ohioans were unaware that a pocket knife carried in a pocket might be considered by a law enforcement officer to be a concealed weapon. That was clarified by a change in the law, and pocket knives became perfectly legal, even when pocketed.
Now Ohio goes a step further with a law passed and signed making Ohio a "constitutional carry" state - no permit needed for a concealed weapon. Felons and persons under restraining orders for domestic violence are still banned from carrying.
In September 2017, a change in the Texas law regarding the certification and licensing of safety / security persons in churches went into effect.
Regulations on police batons vary widely by jurisdiction, but most are strict since a baton can inflict serious bodily injury, even death. These regulations can be revised.
Some self-defense devices once considered non-lethal, or even harmless, have been coming under closer scrutiny and regulation. Pepper spray is one example.
Certain unarmed control and self-defense moves are undergoing increasing regulation and restriction. This is especially true for police use, but will likely affect private security and church safety teams.
Self-defense laws usually fall into one of four categories: Duty to Retreat, Castle Doctrine, Stand Your Ground, and Common Law. There are state variations in how these terms are defined and used.
Duty to retreat - Under Duty to Retreat, a threatened person must first seek to avoid, defuse, or escape the situation before using force. States differ on where to draw the line and on what degree of force is justified at that point. These lines are refined by judicial decisions. What's obvious to you may not be so obvious to a judge or jury.
Castle Doctrine - This is based on the principle, "A person's house is his or her castle." You have the right to defend your own home and those who are in it. Depending on the state, this may be extended to include one's place of business or one's vehicle.
Stand Your Ground - The basic view of Stand Your Ground is that you have the right to defend yourself where you are with force up to the level of force by which you are threatened. If you're threatened by fists, you can use yours. If threatened by deadly force, you can use deadly force. The principal reasoning is that this will be a deterrent to potential aggressors.
Common Law - This is basically the common law principle of the right of self-defense. This is not a license to use any force in any situation, but it depends on what is generally considered reasonable: a reasonable belief that your life, health, or property is imminently threatened, and that the means and level of defense used is reasonably proportionate to the threat. Obviously, what is considered reasonable in a state is determined in court cases.
Policies and Procedures
Setting and following policies and procedures is the first line of defense when it comes to use-of-force liability. At the very least, this can protect the church. If there is a lawsuit or potential criminal charges, a church can show the relevant policy, the written procedures for carrying it out, and evidence that the policy was enforced. If one Church Safety Team member does not follow the set procedures while others do, then liability generally narrows down to the individual. If he or she does follow the prescribed procedures, this can be part of their legal defense.
Train and Certify the Team
Liability for use-of-force can be reduced by training Church Safety Team members in using force wisely and legally. "Basic Use of Force Laws" is a training module in the Safety Member Certification program. Church Safety Teams are encouraged to have all their members trained and certified in this program. There are three ways it can be done:
Individual Training (self-paced online instruction),
Team Training (church-hosted classes), and
Online Events (live Zoom classes).[1]
Keep Records
If your church, the Safety Team, or one of its members is sued or facing criminal charges for use of force in an incident in the church, on the church grounds, or at a church-related event, part of the evidence considered will be records. These will include:
The church's and the safety ministry's policies and procedures,
Training of the Safety Team, including members involved in an incident,
Logs showing

what led up to the incident,
how similar incidents have been handled,
what was found during patrols, etc.,

Details of the incident in incident reports,
Measures the church and the Safety Ministry have taken in reponse to the incident (for instance, disciplinary action for a volunteer not following set procedures).
Covering Your Liability
There may be times when, no matter what you do or how you do it, there may be a claim for injuries or property damage, a lawsuit, or criminal charges (or other governmental action).
Insurance
These days, insurance is essential. Often claims for property damage or personal injury medical costs are more than what the church or an individual staff member or volunteer can pay. Besides insuring the property for fire and other major damage and injury insurance for staff and volunteers, the church needs liability insurance for claims brought by those who are not staff, volunteers, or the church itself.
By the way, paid staff members are seldom covered by an organization's liability insurance, and volunteers almost never are. Therefore, it is advisable for staff and volunteers to have their own liability insurance for claims resulting from their work. Obviously, not all staff members or volunteers need this coverage, but it is advisable for safety team members, especially if armed.
Legal Representation
When your work requires the use of force, whether armed or unarmed, there is a chance of being sued, criminally charged, or facing an investigation.
An example of potential criminal liability
Jack Wilson was not charged in the shooting death of an assailant who had already proved deadly, but since this was a homicide, state law required an investigation presented to a jury. Whereas in many states, this would have been a coroner's jury, in this case it was a grand jury. Perhaps this was because of the notoriety of the incident. However, he needed a lawyer, if for no other reason than to advise him on what or what not to do or say, but primarily to represent him when needed.
Likewise, if a firearm or other deadly weapon was used, or if a subject was injured in an unarmed control move, or if the subject was detained (construed as a citizen's arrest), there may be legal consequences:
If the suspect was killed, there will be an investigation by law enforcement and/or the prosecutor's office, and the suspect's family may sue for wrongful death.
If the suspect was wounded, he or she could sue for damages, and there would be a criminal investigation, maybe leading to charges of assault and battery with a deadly weapon.
If a firearm was used, but not fired, the user might be charged with assault with a deadly weapon.
If a suspect was detained, the person detaining the suspect could be criminally charged with unlawful arrest (or kidnapping) if it did not meet legal standards. Also, the suspect could sue.
Legal Help is Available
A person can do everything right in a use-of-force incident and still be sued or criminally charged. If someone is injured or detained, or if a weapon was used, a lawyer is needed as soon as possible. Most members of Church Safety Teams cannot afford to keep an attorney on a retainer. There is an organization founded for the purpose of providing legal help to persons involved in use-of-force incidents, especially when a weapon is used. Sheepdog Church Security has partnered with this firm. U.S. LawShield.[7] More will be told about them in a future article.
Conclusion
Among the risks we face when responding to disruptive incidents is legal liability. Depending on the incident and the way it is handled, a responder may (rightly or wrongly) be sued or criminally charged. We need to minimize the risk and have help ready in case we're sued or charged.
There Is More
This month has five articles. The other four are "The Church in Sacramento Shooting, 2022" (Lesson Learned), "I Spy" (Spot an Assailant), "Marked Abusers" (National Sex Offenders Data Base), and "They Have You Covered" (U.S. LawShield).
Subscribe to the Sheepdog Church Security Academy on YouTube to find all of our videocasts. You can also follow us on Facebook and LinkedIn.
References