Stopping a Killer Outside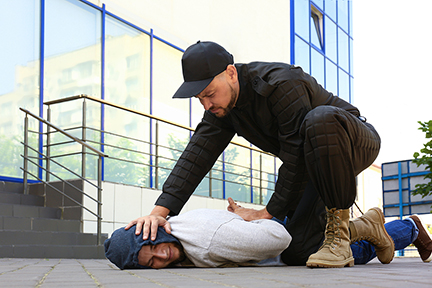 An article based on the Safety Member Certification training module "Active Shooter Response"[1]
From the Bible
King David praised God for helping him learn how to use weapons:
He teacheth my hands to war; so that a bow of steel is broken by mine arms (2 Samuel 22:35 and Psalm 18:34).
Defenders of ancient cities did not wait for an assault, but took the battle to enemies outside the walls:
And the men of Israel went out of Mizpeh, and pursued the Philistines, and smote them, until they came under Bethcar (1 Samuel 7:11).

"... knew ye not that they would shoot from the wall?" (2 Samuel 11:20)

For the builders, every one had his sword girded by his side, and so builded. And he that sounded the trumpet was by me … So we laboured in the work: and half of them held the spears from the rising of the morning till the stars appeared (Nehemiah 4:18).
Introduction
If a band of raiders was detected approaching an ancient walled city, soldiers would go out the gates to attack them before they could set up for an assault. If an attack was under way, archers shot arrows and slingers shot stones from atop the walls, boiling water and burning oil were poured on those trying to climb the walls, and those who came to the top faced a wall of spear points. Fighting the enemy outside the walls was preferable to fighting them inside. In church security, the better outcome is stopping an intentional killer outside.
In the News
These news stories illustrate the need to extend safety-security measures outside the doors of the church.
Ames, Iowa, June 2, 2022 - Two female Iowa State University students, ages 21 and 22, and a third woman were walking through the parking lot of a church on their way to a Bible study. The 33-year-old former boyfriend of the 21-year-old approached them, shot and killed the two students - the third woman escaped. He then turned the gun on himself.[2]
East Baltimore, Maryland, November 16, 2021 - The 69-year-old custodian of a church came and let construction workers in. That evening, another member of the church found her bloodied body in a restroom. A man in the community began standing guard outside the church, hoping to prevent another incident. Half a month later, an arrest was made. The suspect was a day laborer hired by the construction contractor to help move pews. Not long before, he had been released from prison. His record includes robbery and rape.[3][4][5]
Los Angeles, California, November 17, 2021 - For two decades, a recovered drug addict on the pastoral staff of a Los Angeles church had helped dozens to likewise escape addiction. One Sunday morning he stepped outside to get fresh air after teaching a class before going into the worship service. Someone shot and killed him, then got into a waiting car and sped away.[6]
Tampa, Florida, November 14, 2017 - A suspected serial killer in the Seminole Heights sector of Tampa claimed his fourth victim outside a church. A volunteer helping feed homeless and other needy persons was shot in the back by a man dressed in black.[7]
Videocast and Show Notes
In a videocast, Kris covers the subject of this article - the audio is on a podcast. This is on the YouTube channel Sheepdog Church Security Academy. Subscribe to it so you will not miss anything. You can share the videocast with others, especially those starting safety ministries in their churches.[8]
Below the video window is the link to the weekly Show Notes. This is a downloadable PDF which can be printed to be shared and discussed with others. The Show Notes for this article are available until the next weekly article is posted.
"Dragons there be"
Some old maps labeled territory or waters deemed perilous with the tag, "Dragons there be." This was sometimes illustrated with images of dragons and other monsters. Dragons were considered real threats to public safety. The legendary St. George went out to fight a dragon, not waiting for it to come into the city.
For places we wish to keep safe - homes, schools, other institutions, and places of worship - "dragons there be" outside the doors. In the news stories above, there really were dangerous persons outside, and in one case the danger was let inside. For us the question is how do we spot "dragons" (intentional killers) and stop them?
Keeping an Outside Watch
Among all the church shootings since 1999, three especially stand out: in 2007at New Life Church, and in 2017 at Burnette Chapel Church of Christ and FBC Sutherland Springs. In each of these cases, the killer began shooting outside. In the last one, 26 victims died. If the killer had been spotted before he began shooting, the doors had been locked, and 911 (or the local sheriff's precinct) had been called, law enforcement might have arrived before the shooter got inside.
Watching the outside calls for situational awareness, even when you're using cameras. Some things ought to catch our attention, such as:
Someone sitting in a parked vehicle for more than a few (four or five) minutes, whether in the parking lot, in the alley, or on the street.
A vehicle repeatedly moving by, its occupants watching the church.
A person wearing tactical gear.
Long coats not needed in current weather - they can hide long-barrel firearms.
Someone leaving the church, getting something out of a vehicle (or from a hiding place), and returning to the church.
A person moving stealthily through the parking lot or along the perimeter of the property.
Someone not on the safety team just standing or moving around the parking lot or grounds, especially during classes or a service.
A person carrying bags or boxes not consistent with church attendance or a scheduled after-service event (such as a potluck).
Other strange behaviors or appearances (for example, the wig and fake beard of the West Freeway Church of Christ shooter).
Engaging the Threat
What you do when what you see raises suspicion depends what it is.
If it is a parked vehicle, watch carefully, observing the occupants' appearance and what they are doing. There are several reasons someone would sit for a long time in a parked vehicle. For instance:
Perhaps they stopped to handle a phone call or text messages while not driving.
They may be calling for directions or looking at a map.
Maybe the driver is having a medical emergency.
A driver might have realized he or she was too sleepy to be operating the vehicle, so pulled off the road.
The person may be an intentional killer, either getting ready to attack or waiting for the right time.
If there is no observable or suspected threat, a safety team member posted outside or on patrol may go to the car and ask, :Can I help you?" If a team member is not outside at the moment, someone from inside can go out. If you do go to the car, be cautious and ready to respond to violent actions.
A suspicious-looking person coming to the door should be greeted and engaged in conversation. Listen, observe, and evaluate, all the while being alert for aggressive moves. Having backup is preferred.
If you determine that someone outside is a threat, lock the doors. Here, when time counts, is where all the open doors should be on close-to-lock status - all you have to do is let the door close. An option is to have electronic door locks: push a button and all doors lock. Then call 911.
Some shooters wait for the service to end and people are leaving. This complicates locking the doors. That happened at New Life Church and Burnette Chapel, when the gunmen intended to kill many people.[9][10] The killer at St. Alphonsus waited for his wife to come out, and the crowd provided some cover.[11] Be ready to shoot if the attacker is shooting people outside or trying to break into the church.
Most killers come into the church ready to shoot. The one in Laguna Woods brought in bags with his weapons and ammunition and incendiaries and put them in place for the intended time.[12]
The point here is that being aware a possible killer is outside gives you a head start and more options than dealing with him after he comes inside. In Laguna Woods, the bags the man carried should have raised suspicion at the door. In some other churches, if the killer was detected while he was waiting outside for people to leave, attendees could have been kept inside behind locked door while he was dealt with (especially by responding police).
Training Notes
All Church Safety Team members should be trained and certified. This can be done through the Safety Member Certification program with its eight training modules (courses):
Safety Team Fundamentals,
Active Shooter Response,
Deescalating Disruptive Persons,
Protecting Children from Abuse,
Basic Use of Force Laws,
Arson and Fire Safety,
Storms and Disasters, and
Mass Trauma Emergencies.
This is available in three formats: Team Training (church-hosted classes), Individual Training (self-paced online courses), and Online Events (live Zoom Classes).[1]
Team Training is ideal for starting a team and for getting everyone re-certified.
Individual Training certifies a new team member coming on board between Team Training classes, as well as a member who cannot attend a class.
Online Events are open to both teams and individuals. Kris teaches these classes at 3 PM Central Time on Sundays. The 2022-2023 class schedule has four quarters. Quarter 1 started on September 11 with "Safety Team Fundamentals." The next class, on September 18, is "Active Shooter Response" (the module related to this article).
| | | | | | |
| --- | --- | --- | --- | --- | --- |
| | Q1 | Q2 | Q3 | Q4 | Training Module |
| 1 | Sep 11 | Nov 13 | Jan 29 | Mar 26 | Safety Team Fundamentals |
| 2 | Sep 18 | Nov 20 | Feb 5 | Apr 2 | Active Shooter Response |
| 3 | Sep 25 | Dec 4 | Feb 12 | Apr 16 | Deescalating Disruptive Persons |
| 4 | Oct 2 | Dec 11 | Feb 19 | Apr 23 | Protecting Children from Abuse |
| 5 | Oct 9 | Dec 18 | Feb 26 | Apr 30 | Basic Use of Force Laws |
| 6 | Oct 16 | Jan 8 | Mar 5 | May 7 | Arson and Fire Safety |
| 7 | Oct 23 | Jan 13 | Mar 12 | May 21 | Storms and Disasters |
| 8 | Nov 6 | Jan 22 | Mar 19 | Jun 4 | Mass Trauma Emergencies |
Conclusion
Keep an eye on the outside and be ready to respond appropriately to any suspicious persons, taking defensive measures if needed.
There Is More
September has four articles. The others are "2019 West Freeway Church of Christ" (Lesson Learned), "On Hold" (Citizen's Arrest), and "Setting Boundaries" (Protecting Children with Preventive Procedures).
References
Kris Moloney, "Active Shooter Response v4," Safety Member Certification, Sheepdog Church Security, © 2020 [https://sheepdog-church-security.thinkific.com/].
Jon Diaz, Laryssa Leone, and Mary Sugden, "Victims, shooter identified in shooting outside Cornerstone Church," We Are Iowa (Local 5 News), June 2, 2022, Updated June 6, 2022 [https://www.weareiowa.com/article/news/local/ames-shooting-cornerstone-church-salt-company-updates/524-c4009e10-ebdd-4a08-94c4-08fd13a316cd].
WBAL-TV 11 News Staff, "Woman found dead inside east Baltimore church identified," WBAL NewsRadio, November 16, 2021 [https://www.wbal.com/article/542249/2/woman-found-dead-inside-east-baltimore-church-identified].
Milton Quintanilla, "Baltimore Man Vows to Stand Guard Outside Church after 69-Year-Old Woman Is Killed," Christian Headlines. Tuesday, November 23, 2021 [Tuesday, November 23, 2021].
Jessica Anderson, "Man charged with killing Evelyn Player worked at her East Baltimore church as a day laborer, his attorney says," The Baltimore Sun, December 6, 2021 [https://www.baltimoresun.com/news/crime/bs-md-ci-cr-manzie-smith-case-update-20211206-4lstucrxpvclrdc4ipovywouae-story.html].
Erika D. Smith, "Column: The first time he died, it changed his life. Then he got shot in front of his church," Los Angeles Times, November 13, 2021 [https://www.latimes.com/california/story/2021-11-13/compton-pastor-shot-outside-church-was-long-ago-changed-by-death].
Sunde Farquhar, "4th Seminole Heights murder victim shot outside church where he helped feed homeless," WFLA News 8, November 14, 2017 [https://www.wfla.com/news/hillsborough-county/4th-seminole-heights-murder-victim-shot-outside-church-where-he-helped-feed-homeless/].
Kris Moloney, Sheepdog Church Security Academy, YouTube [https://www.youtube.com/channel/UCTrrcSlOn6zG1ySOHYzQkdQ].
WG.V., "The 2007 New Life Church Shooting," Articles, Sheepdog Church Security, December 6, 2021 [https://sheepdogchurchsecurity.net/articles/2007-new-life-church-shooting/].
W.G.V., "2007 Burnette Chapel Church of Christ Shooting," Articles, Sheepdog Church Security, June 6, 2022 [https://sheepdogchurchsecurity.net/articles/2017-burnette-chapel-church-of-christ-shooting/].
W.G.V., "2017 St. Alphonsus Church Shooting," Articles, Sheepdog Church Security, August 2, 2022 [https://sheepdogchurchsecurity.net/articles/2017-st-alphonsus-church-shooting/].
Carlos Granda, Leanne Suter, and ABC7.com staff, "Deadly OC church shooting was 'politically-motivated hate incident,' authorities say," ABC7, Tuesday, May 17, 2022 [https://abc7.com/church-shooting-laguna-woods-orange-county-investigation/11856129/].