Reporting and Filing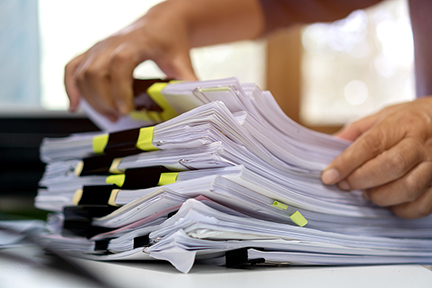 Based on the Sheepdog Church Security training course Security Team Fundamentals v4.[1]
In the Bible
The Lord records as he registers the peoples, "This one was born there" (Psalm 87:6).
Moses wrote down their starting places, stage by stage, by command of the Lord (Numbers 33:2).
And he captured a young man of Succoth and questioned him. And he wrote down for him the officials and elders of Succoth, seventy-seven men (Judges 8:14).
This is an account of David's mighty men (1 Chronicles 11:11).
... Jehoshaphat the son of Ahilud was recorder (2 Samuel 8:16; 20:24; 1 Kings 4:3).
Then Darius the king made a decree, and search was made in Babylonia, in the house of the archives where the documents were stored. And in Ecbatana, the citadel that is in the province of Media, a scroll was found on which this was written: "A record ..." (Ezra 6:1-2).
When the affair was investigated and found to be so, the men were both hanged on the gallows. And it was recorded in the book of the chronicles in the presence of the king … On that night the king … gave orders to bring the book of memorable deeds, the chronicles, and they were read before the king. And it was found written how Mordecai had told about Bigthana and Teresh, two of the king's eunuchs, who guarded the threshold, and who had sought to lay hands on King Ahasuerus (Esther 2:23; 6:1-2).
... it seemed good to me also, having followed all things closely for some time past, to write an orderly account for you, most excellent Theophilus (Luke 1:3).
---
In the News
Ellicott City, Maryland, June 2020 - A group of parents have filed suit against a child care center and the church that operates it. They claim that a "male employee" sexually abused their children for two years. Evidence gathered so far includes surveillance videos of the classroom and an interview with the employee.
The complaint also alleges that the director of the child care center did not report the abuse and suspend the employee as promised.[2]
The news account and the allegations bring into question the child care center's procedures on monitoring surveillance, filing reports, and following through on complaints. These procedures should be set and enforced by the church, backed up with documentation. Any observations and action taken by a supervisor and /or an investigator should be filed in a report.
Boston, Massachusetts, April 2003 - An article in the Boston College Law Review uses a hypothetical case of a volunteer injured while using a ladder in an unsafe manner. The volunteer later sues the church, the district, and the national denomination. At question in the case is whether the volunteer was urged to use the ladder safely and instructed on how to do it, even though in his occupation the volunteer was a safety expert.[3]
Safety advice to and training of a volunteer should be documented. An accident report should be filed any time there are injuries.
Nationally - The Evangelical Council for Financial Accountability advises churches and other Christian organizations to maintain several kinds of accurate and up-to-date records. These are to meet reporting and filing requirements for tax-exempt non-profit religious organizations.[4]
Likewise, a Church Safety Ministry needs to keep good records of various kinds. These records are vital when legal issues (civil and criminal) and insurance claims arise. Good records are also good for good management.
Special Resource
September's special resource is Practical Steps to Start a Safety Ministry and a DIY Security Assessment.[5] If you don't already have this free download, get it here. Also click here to view Kris's videocast, Steps to Starting a Safety Ministry[6]. You will receive future email newsletters when you sign up for the free download.
Finishing the Job
Oldtimers remember the sign over a roll of bathroom tissue or an old catalog: "The job is not finished until the paperwork is done." This saying was obviously borrowed from the workplace:
Workers didn't get paid until timesheets were processed and payroll checks written.
Bank transactions were not complete until deposit notes, transfers, and withdrawal notes were filed.
Filing cabinets covered whole walls in many offices.
When it comes to medical records, there seems to be no end to records.
Now, since World War I, most Americans have been filing income tax returns.
Church Security Paperwork
A Church Safety Ministry should be no stranger to paperwork. Beginning with the proposal and the charter, continuing through policies & procedures, then applications and background checks, this finally comes down to various reports filled out by members of the Safety Team.
The featured training course, Security Team Fundamentals v4[1], says it will "teach you how to identify and report safety violations." It notes several instances in which a team member will take notes and make a report, such as:
Report in writing any safety/security issues you noticed
Report any safety/security actions you have taken.
Report failed safety equipment and unsafe conditions.
Report any follow-up to an incident or to safety concerns.
Safety Team leaders and Safety Directors file training records, evaluations, and corrective actions of Safety Team members.
How to Complete a Report
Security Team Fundamentals doesn't just tell you to file a report. It tells you how to fill it out. It says, "Any time you notice or become aware of anything that violates a safety procedure—even if it was an innocent mistake—it needs to be written up. Your written reports provide valuable information that allows the Safety Director to identify patterns of errors that need to be corrected."[1:Slide 84]
First of all, be ready to write the report. Have a notepad and pen with you to take notes. Using a pocket camera or a smart phone, you can take photos for evidence - they will also have the date and time in the metadata. With a smart phone, you can also record audio notes. The notes and photos will refresh your memory when writing the report. If you called 911, the phone will also have the time of the call.
The basic items in an incident report are the Five W's of Journalism:
Who was involved?
What happened?
When did it happen?
Where did it happen?
Why did it happen?
Kinds of Reports
There are several reports filled, filed, and used by members of the Church Safety Team:*
Incident Report
Patrol Log
Safe Access Log
Suspected Child Maltreatment Report
Follow-Up Report
* These forms are included in the Security Team Fundamentals v4 Training Bundle. They are printable, so the Safety Director or Team Leader can print as many as are needed.
Incident Report - Anything happening that is not routine must be reported (no, this does not include a spectacular sunset). These include disruptive persons, fires, medical emergencies, active killers, burglaries, robberies, vehicle accidents, discovered safety hazards, etc.
Patrol Log - Log when you started and ended your shift. Note anything notable, including events, special visitors (such as a visiting choir), etc. Whoever comes on next will know what has happened and what to expect.
Safe Access Log - Keep the safe safe by recording who opens it, what was put in or taken out, and who was in the room at the time.
Suspected Child Maltreatment Report - This report has legal implications, both criminal and civil. Any and every incident of child abuse in the church, or suspected abuse (even away from the church) of a child attending the church or who is in the church's child care center, must be documented. States have laws requiring reporting abuse and reasonably suspected abuse, so a report must be on file. Child sexual abuse is one of the leading claims of lawsuits against churches.[7] A report may also be evidence in a criminal case.
Follow-Up Report - There are incidents (especially sexual abuse) which require follow-up. A follow-up report records how the church has handled the situation. For instance, how did the church reach out to the family of an abused child or vulnerable adult?
Conclusion
Good records are good for good management. In Church Safety Ministry, the job is not finished until the paperwork is done. We need to know what to report and how to write and file the reports.
There Is More
There are three other articles in this four-part series: "What's My Role?" (Duties of a Safety Team Member), "On Call" (Responding to Emergencies), and "On the Beat" (Patrolling and Monitoring).
References