Bringing a Team Together
An article in the series based on the Sheepdog Church Security resource, Steps to Start a Safety Ministry.[1] It includes a 28-page Do-It-Yourself Security Assessment. This will help you add layers of safety and security to your church. You may want to get this free download before reading the article. To get it, Click Here.
In the Bible
So Moses said to Joshua, "Choose for us men, and go out and fight with Amalek" (Exodus 17:9a).
And the Lord said to [Elijah], "Go, return on your way to the wilderness of Damascus. And when you arrive, you shall anoint Hazael to be king over Syria. And Jehu the son of Nimshi you shall anoint to be king over Israel, and Elisha the son of Shaphat of Abel-meholah you shall anoint to be prophet in your place" (2 Kings 19:15-16).
And [Jesus] said to them, "Follow me, and I will make you fishers of men" (Matthew 4:19).
And he called to him his twelve disciples and gave them authority over unclean spirits, to cast them out, and to heal every disease and every affliction (Matthew 10:1).
"For many are called, but few are chosen" (Matthew 22:14).
---
In the News
White Settlement, Texas, December 29 2019 -Following the 2017 Sutherland Springs church massacre, changes in Texas law allowed armed volunteers to provide security in churches. A former reserve deputy sheriff then found like-minded persons to form a security team at his church. Almost 26 months after Sutherland Springs, a gunman opened fire in his church, killing two, and was neutralized about 6 seconds after pulling out his gun.[2]
Houston, Texas, and other places, 2019 -Concerned members of churches across the country are finding persons who share their concerns for safety and security and are organizing volunteer safety/security teams in their places of worship.[3]
Lincroft, New Jersey, July 2020 -The website of a church in Lincroft has a page called "Safety and Security." Besides safety measures for COVD-19 and warnings about scams, it also requests interested persons to sign up to be greeters as part of their Welcoming, Safety & Security Team: "We are looking for men of the Parish to be part of our new Safety & Security Team. You will serve as our Greeters prior to Mass and keep an eye open to anything that may be a security risk." They also say, "No House of Worship or workplace is immune from threats of violence."[4]
Special Resource
Our special resource for this month is Practical Steps to Start a Safety Ministry and a DIY Security Assessment[1] Get it by clicking Here. Also see Kris's videocast, Steps to Starting a Safety Ministry.[5] When you sign up for the download, you subscribe to future articles by email. That way you will not miss out on future information.
Coming Together
When we see a need we cannot fulfill alone, we need to come together with others who share our concern. We do this in two parts: (1) Bringing up the subject, and (2) Building the team.
Bringing up the Subject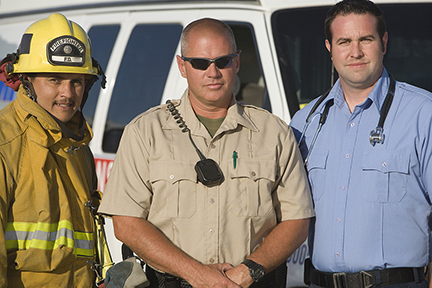 We must first know who shares our concern, then persuade others who may join us. Start the conversation about safety and security. Listen as much as talk. As you are sharing your concerns, find out what theirs are.
Who do you start with? Find like-minded individuals who have a ground-level view of safety and security. These can be active or retired law enforcement and military personnel. Others may include medical responders, firefighters, and insurance agents or adjusters.
When you find the consensus of this group, connect with others. You';ll encounter five basic kinds of people: Innovators, Early adopters, Early majority, Late adopters, and Naysayers. If and when you know who these persons are, work with them in that order. As to the naysayers, they won';t be persuaded (if ever) until they see the plan working successfully.
In your conversations, address their safety concerns. Tell about the success of other churches; it is just as important as showing the need for safety. The members of your church need to see more than the need -they need hope that they can do something about it.
Building the Team
Even while advancing the topic of church safety and security, become active. Do something simple, such as checking fire extinguisher tags and writing down the results -this is a lead-in to the Church Security Assessment which comes later. Ask for permission to have a few persons patrol the grounds during services and classes, keeping in touch with their cell phones (using ear buds). This way, like-minded people begin working with each other as a team.
Recruiting
Once you have the go-ahead for starting a Church Safety Ministry, begin recruiting and orienting the Church Safety Team (by whatever name you use). First ask some of the like-minded people you have communicated with to join the Church Safety Ministry, whether on the Church Safety Committee or on the Church Safety Team. Persons already on the team can talk with others about joining the Team. You can also advertise the need for team members, as the church in New Jersey did.
Application
All who choose to join the Church Safety Team must fill out an application. Besides name, address, and contact information, the application has questions about how long the person has been attending this church, what churches were previously attended, their activities in those churches, current and past employment, legal history, etc. Each applicant is expected to answer all questions truthfully.
Verification
Information given on the application will be verified. A background check should also be done on every applicant for the Church Safety Ministry.
Selection
You need enough volunteers for your church, but you need the right people. Jesus said, "For many are called, but few are chosen" (Matthew 22:14). Membership on a safety & security team is a sensitive position, so there are requirements to be met.
Qualifications
Not all people meet the necessary qualifications. Here are the qualifications for Church Safety Team members -
A Safety Team member is a kind of deacon. In 1 Timothy 3:1-12 and Titus 1:6-9, Paul says a deacon must be:
Above reproach,
Faithful to his or her spouse,
Temperate,
Self-controlled,
Respectable,
Hospitable,
Able to teach,
Sober,
Not quarrelsome.
There are other qualifications more specific to the job. A team member must be:
A member and/or a regular attendee of the church,
Physically able to complete assigned tasks,
Able to demonstrate good character, honesty, and integrity,
Without disqualifying criminal convictions.
Expectations
Every person joining the Church Safety Ministry is expected to conform to certain behavioral standards. The expectations for ethics and conduct are:
Be modest, honoring others above yourself.
Be on time and perform all duties completely and correctly.
Be an example for others.
Be faithful.
Be wise.
Be discrete.
Training
The last -and ongoing -stage of building the team is training. Boot camp for the Safety Team is the Sheepdog Church Security training course Security Team Fundamentals.[6] This is available in both classroom materials (training bundles) and individual online training. For the initial orientation and training of a new team, the classroom is best. All those attending learn the same things at the same time. This also has the advantage of discussion with questions & answers. This training should be renewed every two years, both as a refresher and to update the information.
New members coming in later can take the online course. After this, they can participate in a classroom training renewal session to benefit from learning with others. For these later members, the Safety Member Certification program is available for initial training.[7] It contains seven SDCS training courses: Security Team Fundamentals v4, Deescalating Disruptive Persons v4, Active Shooter Response v4, Protecting Children from Abuse v4, Protecting Yourself and the Church with Use of Force Laws (Individual Training), and Arson Prevention and Fire Drills for Churches (Individual Training).
Conclusion
When starting a Church Safety Ministry, at some point we have to bring the team together. This actually begins before we propose the Safety Ministry to congregational leadership, when we find persons who are like-minded. Many of these will form the nucleus of the ministry after it receives its charter from the church. Then we will build the team through recruitment, selection, and training.
There Is More
There are four other articles in this five-part series on beginning a Church Safety Ministry. They are "See the Need" (Why start a Safety Ministry?), "The First Moves" (Get Easy Wins), "How Secure Are We?" (Conduct a Church Security Assessment), and "'Gentlemen, This Is a Football'" (Security Team Fundamentals).
References