Use of Force Laws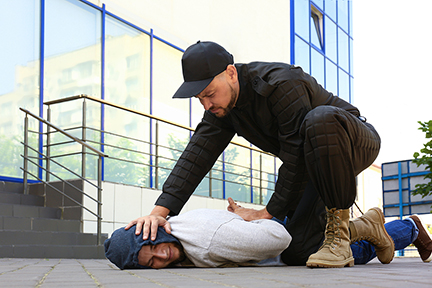 An article based on the "Safety Member Certification" module, "Basic Use of Force Laws."[1]
From the Bible
The king was to know and keep the Law:

And it shall be, when [the king] sitteth upon the throne of his kingdom [when he becomes king], that he shall write him a copy of this law in a book out of that which is before the priests the Levites: And it shall be with him, and he shall read therein all the days of his life: that he may learn to fear the Lord his God, to keep all the words of this law and these statutes, to do them (Deuteronomy 17:18-19).
Lethal force was justified when defending self and family:

If a thief be found breaking up, and be smitten that he die, there shall no blood be shed for him (Exodus 2:2).
Due process distinguished between intentional and unintentional deadly force:

And if the avenger of blood pursue after him, then they shall not deliver the slayer up into his hand; because he smote his neighbour unwittingly, and hated him not beforetime (Joshua 20:5).
Paul and Silas were unlawfully beaten – they were Roman citizens:

And the multitude rose up together against them: and the magistrates rent off their clothes, and commanded to beat them (Acts 16:22).
Excessive force against a slave was unlawful and subject to penalties:

And if a man smite his servant, or his maid, with a rod, and he die under his hand; he shall be surely punished (Exodus 21:20).
Arrests and lynchings by a mob are unlawful uses of force. When a mob seized Jeremiah and threatened to kill him, the authorities came to his defense:

Now it came to pass, when Jeremiah had made an end of speaking … that the priests and the prophets and all the people took him, saying, "Thou shalt surely die." … Then said the princes and all the people unto the priests and to the prophets; "This man is not worthy to die: for he hath spoken to us in the name of the Lord our God." Then rose up certain of the elders … saying, "Micah … prophesied in the days of Hezekiah king of Judah … saying, 'Thus saith the Lord of hosts; Zion shall be plowed like a field…'" (Jeremiah 26:8, 17-18).
Excessive force, even by governments, was condemned:

Thus saith the Lord; "For three transgressions of Moab, and for four, I will not turn away the punishment thereof; because he burned the bones of the king of Edom into lime" (Amos 2:1).
Introduction
For thousands of years, there have been laws against murder and injurious assault. Now we have laws that specifically address the issue of what force is acceptable in various situations. It is up to us to know what the use-of-force laws are in our state and local jurisdiction and to know when they are changed.
In the News
Orient, Ohio, February 6, 2021 - A report released by the Ohio Department of Rehabilitation and Correction concluded that guards at the Correctional Reception Center in Orient, Ohio, used excessive force in handling an inmate while taking him to medical treatment. The inmate died as a result of his injuries.[2]
Harvey, Illinois, December 19, 2021 - A young adult hit a transit authority security guard in the face then ran with the guard in pursuit. A police officer caught and arrested the offender, handcuffing him on the ground then helping him to stand up. Just then, the guard (who'd already caught up) punched the handcuffed offender in the face. The police officer ordered the arrest of the guard for battery. He was also charged with unlawful possession for a firearm he was not licensed to carry while on patrol (he was licensed as an unarmed security guard).[3]
Kansas City, Missouri, June 29, 2018 - Two guards working for a private security firm responded to an auto accident across the street from the bar & grill where they were assigned. They approached a stopped vehicle with guns drawn. One of the guards fired shots at the car, fatally wounding the driver. He was convicted of second degree murder.[4][5]
Visalia, California, October 29, 2019 - A security guard was arrested for allegedly using excessive force while making a citizen's arrest for trespassing. Police were alerted about the guard's reputation of being "too physical." Surveillance videos showed the guard rushing at the suspect, grabbing his throat, and throwing him down. Neither the videos nor body cam footage showed violence by the trespassing suspect.[6]
Special Offers
Our special offers are both about training: the Safety Member Training Record and the Safety Member Certification program. Additionally, there is a special product, SABRE Advanced Compact Pepper Spray, and an affiliate membership in U.S. LawShield.
Safety Member Training Record
This is our free download. Click *HERE* to get it. It is an Excel spreadsheet with three pages (sheets). The first is instructions for duplicating the Safety Member Training Record template. The second is information on the types of training. The third sheet is the training record template. Duplicate it enough times to have an individual training record for each Safety Team member besides the template. Since the records will all be in one file, you'll know where to get one to update or review.[7]
The training record has places to note the dates and the instructors for:
Yearly Training

Firearms Qualification
Tactical Shooting
Unarmed Self-Defense
Less Lethal Weapons
Basic Use of Force Laws

Training Every 2-Years

First-Aid, AED & CPR
Safety Member Certification

Yearly Drills

Evacuation (Fire & Active Shooter)
Small Fire Response (R.A.C.E. & P.A.S.S.)
Protesters (Inside & Outside)
Medical Emergency (Life Threatening)
Mass Trauma (Severe Weather & Active Shooter)
Disruptive Person (Mental Crisis & Domestic)
Safety Member Certification
Our current training feature is Safety Member Certification. This is the Sheepdog Church Security Academy plus Certification Tests. It has both group and individual training. A student passing the Certification Test for each module (Basic Use of Force Laws is one of the modules) qualifies for two-year certification as a Sheepdog Safety Member.[8] For more information, watch this video.
SABRE Advanced Compact Pepper Spray
When you have to meet force with force, you need something which will be effective but not excessive. Sabre is the brand of defensive spray preferred by police. The SABRE Advanced Compact Pepper Spray has both CS (tear gas) and OC (Oleoresin Capsicum, a.k.a. pepper oil). It is available in the Sheepdog Church Security store on Amazon.[9]
U.S. LawShield
Using force opens us up to legal liability, especially when it is lethal force, such as with a firearm. If you discharge a gun, there will at least be an investigation, especially if someone was wounded or killed. You will need a lawyer. Other use-of-force actions, such as an unarmed takedown, certain holds, and using pepper spray or a stun gun may trigger legal action.
The motto of U.S. LawShield is "Legal Defense for Self-Defense." There are many attorneys available to represent members in need. If you are a member and need a lawyer immediately, just place a call and one will answer or call you back. You can sign up to become a Sheepdog Church Security affiliate member.[10]
To Know and to Keep the Law
In this country, there are several Christians who are resistant to lawful authority, some more openly than others. This is especially true when it comes to paying taxes. Also, many drive as though traffic laws - especially speed limits - don't apply to them.
Sometimes it is more serious. In 1995, a chaplain of the Ohio Unorganized Militia was pulled over for an illegal license plate (one not issued by the Bureau of Motor Vehicles). He was armed and got himself shot and killed by a small town cop.[11]
As anyone who has had to pay back taxes or pay a traffic ticket has found out, there are consequences to not obeying the law. However, to keep the law, we must first know the law. For those of us who maintain and restore order, this means use-of-force laws, both state and local.
Law in the Bible
Israel was to be a nation ruled by law. God said through Moses that this began at the top. This was almost 2,700 years before the printing press was invented, so the king had to write his own copy of the Law (at least Deuteronomy, but probably the entire Pentateuch, Genesis through Deuteronomy). Then he had to read from it every day, one portion at a time. Apparently Saul did this initially under Samuel's guidance. David and Solomon definitely did it, as evidenced in their writings.
All through the Bible, we are urged to keep the law. This includes not only what is in the first five books of the Bible, but also the laws and authorities of the place we are (Jer. 29:7; Rom. 13:1; I Pet. 2:13), as long as they don't command us to break God's law (Acts 5:28).
The Law and Use of Force
Every state has laws defining, regulating, and otherwise affecting the use of force. Most of the news stories about use of force concern weapons, but these laws also cover non-lethal to less-lethal weapons, the use of unarmed force, and the state's conditions for a citizen's arrest. All of these are refined and interpreted by court decisions.
Just because you don't use a lethal weapon does not mean there is no possibility of criminal charges for the force you do use. Not only that, people on the receiving end of force used may sue, even if the suit borders on being frivolous. Therefore, knowing how the law applies to your use of force can help you avoid legal pitfalls.
There are sites which help you find out what your state's use-of-force laws are. By all means, find out from your state government's websites. However, there is a webpage which will give you actual wording of use-of-force laws for most states, the "Use of Force Standards" page of the National Conference of State Legislatures. You can scroll down through the states, type your state's name in the search box, or click your state's outline on the map.[12]
This chart is specific to the use of deadly force, and the data is from 41 of the 50 states. Most states have more than one line on the chart. Be prepared to wade through law code jargon. Since this is actual law code, it is worded for the clearest legal interpretation possible. The legislatures want their laws to be interpreted as intended when a case comes to court.
From the Church Security Guide
"Self Defense Laws, Your Rights and Use of Force" is an article in the Church Security Guide on the Sheepdog Church Security website.[13] Referring mostly to deadly force, it says,
"Self-defense laws generally require that force be used only when there is an imminent (immediate) physical threat to oneself or a third person (such as a spouse or child). It is not justified to use force against someone who makes a verbal attack."
There are common terms used by states in setting forth the conditions under which [deadly] force may or may not be used:
Imminent Threat
Reasonable Belief
Duty to Retreat
Proportional Response
Castle Doctrine
Defense of Others
Defense of Property
Two of these with another are generally used to categorize a state's self-defense laws: Duty to Retreat, Castle Doctrine, and Stand Your Ground. Some parse these three doctrines by when and where you face a threat. Be sure to know your state's stance.
Duty to Retreat. This means that the defender must first seek to get away, and may use force only if there is no escape. This usually does not apply within your home, but some jurisdictions do require it there.
Castle Doctrine. Your home is your castle, and you have the right to defend it. Some states extend this to your vehicle.
Stand Your Ground. When facing deadly force, you do not have to retreat, that is if you're not the aggressor and are not committing a crime (especially a felony).
The article also notes areas to be covered by a church's use-of-force policies:
Restraints
Chemical Sprays
Use of Weapons
Use of Lethal Force
In regard to weapons, the kinds, mode(s) of carry, times, and manner of use may depend not only on state law, but also on the doctrines and traditional stance of your church and its denomination or affiliation.
Citizen's Arrest
A "citizen's arrest" is an arrest made by a person who is not a sworn law enforcement officer, an official of the court (bailiff), or the sergeant-at-arms of a legislative body (the latter two do so only when so directed). A citizen's arrest can be lawfully executed only when it meets certain conditions.
The highly publicized claims of intending or attempting to make a "citizen's arrest" of a public official rarely if ever meet these criteria and can generally be dismissed as grandstanding. If the persons attempting to make an arrest actually succeed in taking the official into custody, they themselves could be subject to arrest and be charged with false arrest, kidnapping, and obstructing a public official in conducting his or her duties.
These are the circumstances in which a private citizen may make an arrest:
A public offense* is committed or attempted in the arresting person's presence.
When the subject has committed a felony, although not necessarily in the arresting person's presence; or
When a felony has, in fact, been committed and the arresting person has reasonable cause for believing the subject has committed it.
*A "public offense" is any violation punishable by fine or imprisonment, including petty misdemeanors.[14]
Unarmed Defense and Control
Empty-handed (unarmed) control and defense moves can potentially become fairly rough, sometimes resembling a street fight. Therefore, it is essential that Church Safety Team members control their emotions and reactions in tense situations. Even some low-level control measures, such as escort holds and wrist locks, can become fodder for excessive-force lawsuits (as happened in Kansas[15]) or criminal charges of false arrest. When injuries are incurred, legal liability is more likely.
Non-to-Less-Lethal Weapons
Frankly, the use of less-lethal, less-than-lethal, and non-lethal weapons is an area of shifting grays. For instance, on April 19, 2021, a new law in Ohio took effect which made it legal to carry a pocket knife in your pocket. Before this, whether it was legal depended on whether or not a policeman or a judge considered it lethal. It would have been legal to carry it openly, but that's not convenient for a pocket knife, as opposed to a hunting knife in a belt sheath.[16]
Pepper spray has come under stricter scrutiny in some places. For one thing, it can be injurious to eyes if hit directly. For another, the burning pain can linger long enough for some courts to consider it punishment. Check your state and local laws about pepper spray before carrying and using it at church. Also check regulations of stored-charge devices (stun guns and Tasers).
Lethal Weapons
This is where the hottest fires are. For church defense, this means handguns and, perhaps, knives which are considered weapons in that state. For society in general, this also covers machetes, but we're not expecting that a Church Safety Team member would be carrying one around the church. States do vary on (1) where firearms can be carried, (2) how they are carried, and (3) how and when they may be used.. Some jurisdictions still classify places of worship as gun-free zones. The Security Guide article states,
"Church Safety Members discharging a firearm must do so only if it will not cause injury to someone else. When a firearm is discharged, notify the Church Safety Team leader."
Conclusion
Use of force and citizen's arrest are covered by state laws and local ordinances. Therefore, we need to know what our state and local use-of-force laws are so our actions will be legal.
There Is More
The other three articles for October are "Neutralize the Threat" (Containment and Engagement), "Colors of Force" (Use of Force Continuum), and "2007 Neosho First Congregational Church Shooting" (Lesson Learned).
References
Kris Moloney, "Safety Team Academy," Sheepdog Church Security, © 2020 [https://sheepdog-church-security.thinkific.com/]
Farnoush Amiri (Associated Press writer), U.S. News and World Report, July 20, 2021 [https://www.usnews.com/news/best-states/ohio/articles/2021-07-20/state-agency-guards-used-excessive-force-before-inmate-died].
Frank Main, "Harvey cops arrest PACE security guard in video that goes viral," Chicago Sun-Times, December 23, 2020 [https://chicago.suntimes.com/crime/2020/12/23/22198058/harvey-cops-arrest-pace-security-guard-video-goes-viral].
Nick Sloan and Betsy Webster, "2 private security guards charged in connection to killing near Kansas City bar," KCTV, July 11, 2018 [https://www.kctv5.com/news/2-private-security-guards-charged-in-connection-to-killing-near-kansas-city-bar/article_e4104d93-ab11-5464-b281-8314adad816f.html].
Jean Peters Baker and Staff, "JCPAO Press Releases," Jackson County Prosecutor, Mo, August 25, 2020 [https://www.jacksoncountyprosecutor.com/CivicAlerts.aspx?AID=993].
By staff with information from KFSN, "Visalia security guard arrested, police say he committed 'unprovoked attack' during citizen's arrest," Private Officer Magazine, November 15, 2019 [https://privateofficernews.org/visalia-security-guard-arrested-police-say-he-committed-unprovoked-attack-during-citizens-arrest/].
Kris Moloney, "Safety Member Training Record," Sheepdog Church Security, © 2020 [https://sheepdog-church-security.ck.page/4bdb00c915].
Kris Moloney, "Safety Member Certification," ("Sheepdog Church Security Academy," © 2020) Sheepdog Church Security, © 2021 [https://sheepdog-church-security.thinkific.com/].
"SABRE Advanced Compact Pepper Spray with Clip," Recommended Equipment for Safety Ministries (Sheepdog Church Security), on Amazon [https://www.amazon.com/dp/B0007VM8UC?ref=exp_instructor_moloney_dp_vv_d].
Sheepdog Church Security, Affiliate Link, U.S. LawShield [https://www.uslawshield.com/?affid=f83659a7-c044-11e9-a753-02fcb63ac2fe].
Judy Pasternak, "Roadside Killing Heightens Police-Militia Suspicions : Ohio: Town fears retaliation after paramilitary leader is shot by officer. Some call it murder, others self-defense," Los Angeles Times, July 8, 1995 [https://www.latimes.com/archives/la-xpm-1995-07-08-mn-21704-story.html].
Compiled from the states, "Use of Force Standards," National Conference of State Legislatures, dates vary by state [https://app.powerbi.com/view?r=eyJrIjoiYTA0YzkwOTAtYzFlNi00ZGM5LWFlMjEtYTFiMzEwZTRiMzEwIiwidCI6IjM4MmZiOGIwLTRkYzMtNDEwNy04MGJkLTM1OTViMjQzMmZhZSIsImMiOjZ9&pageName=ReportSection].
Kris Moloney, "Self Defense Laws, Your Rights and Use of Force," Church Security Guide, Sheepdog Church Security, © 2019 [https://sheepdogchurchsecurity.net/use-of-force-arrest-laws/].
This is from the "Scholarly Article" for version 3 of the training course Protecting Yourself and the Church with Use of Force Laws v3, which has been replaced by the current Basic Use of Force Laws module.
Melissa Brown, "Member Sues Church After Altercation," StartChurch, November 5, 2019 [https://www.startchurch.com/blog/view/name/member-sues-church-after-altercation].
Jake Zuckerman, "Law takes effect legalizing concealed knife carry; also allows for brass knuckles," News 5 Cleveland, April 13, 2021 [https://www.news5cleveland.com/news/state/law-takes-effect-legalizing-concealed-knife-carry-also-allows-for-brass-knuckles].