Use of Force Liability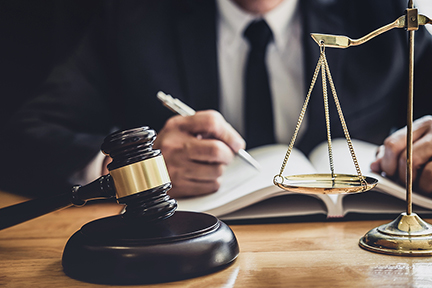 An article based on the training module "Basic Use of Force Laws" in the Safety Member Certification program [1]
From the Bible
If there be a controversy between men, and they come unto judgment, that the judges may judge them; then they shall justify the righteous, and condemn the wicked (Deuteronomy 25:1).
False witnesses did rise up; they laid to my charge things that I knew not (Psalm 35:11).
Who shall lay any thing to the charge of God's elect? It is God that justifieth (Romans 8:33).
"Whom I perceived to be accused of questions of their law, but to have nothing laid to his charge worthy of death or of bonds" (Acts 23:29).
Introduction
The two Cs of legal liability are Civil and Criminal. Use of force above the level of presence has the potential for both kinds of legal liability. For instance, at the second level, Using Voice, asking a person to remain until police arrive may conceivably be interpreted as a civilian's arrest, therefore false arrest if the person is not charged with a public offense. Higher levels of force have the potential of using excessive and/or unwarranted force resulting in injury. In each legal case, whether a civil suit or criminal charges, the user of force needs legal assistance, namely an attorney.
In the News
These news stories concern the liability of security personnel and their employers.
Huntington Beach, California, May 16, 1971, and Sacramento, California, June 15, 1979 - The plaintiff sued J.C. Penny Company and the security guard for false arrest and false imprisonment. On the date of the incident, the plaintiff and a companion were detained by the store's security guard for probable cause of theft (shoplifting). Bags were inspected and suspect items allegedly found which were not on the lone receipt. The two men were detained until police arrived to make the arrest. The part-time security guard was a full-time police officer in another city of Orange County.
The trial court made some rulings which were appealed by the defendant. The decision of the state supreme court decided which of two relevant state laws prevailed in light of the setting and facts of the case and the precedence of previous decisions, a few of which the supreme court disfavored. One of the issues was whether the security guard was acting as a police officer at the time. There was then a shared jurisdiction agreement in Orange County among the municipalities and with the county.[2]
Pacific Coast Highway (Cal-1) in Los Angeles County, California, September 4, 1997, and Los Angeles, November 30, 2000 - A woman was raped by a security guard who stopped her on the highway presumably for DUI. He was driving a security patrol car at the time and was in uniform. She originally thought he was a police officer. After his conviction for rape, she sued his employer, the security company. The judge ruled for the defendant on a motion to dismiss its liability for the actions of the guard. They were not related to his duties and were outrageously out of line with the rules and standards set by the employer - in other words, he was on his own. Liability for negligence in hiring, training, and retention was also dismissed. The appeals court upheld the judgment.[3]
Harvey, Illinois, December 19, 2021 - A security guard working under contract for the suburban transit authority was hit in the face by a young man, who then fled with the guard in pursuit. A city police officer stopped and arrested the assailant, holding him on the pavement while handcuffing him. The officer then helped the suspect to stand. Just as the handcuffed suspect stood, the guard rushed in and threw a sucker punch at him. The arresting officer directed another officer to arrest the guard for battery. The Harvey police chief commended the officers for arresting the guard, since the avenging assault was both uncalled-for and criminal.
This case was cited in a blog on the Jordan Marsh law firm's website. The follow-up headings are:
What is Excessive Force?
Can Security Guards Be Punished for Excessive Force?
Harvey Police Made the Right Move
Conclusion - Excessive Force is a Crime [4][5]
Los Angeles, California, July 27, 2021 - A lawyer represents five persons who are suing the Los Angeles Dodgers. They allege that in five separate incidents, security guards at Dodger Stadium used unnecessary and excessive force.[6]
Fort Worth, Texas, September 28, 2020 - A day short of nine months after a security team member at West Freeway Church of Christ shot and killed a gunman who had already fatally shot two church members, a Tarrant County grand jury decided to not indict him. The shooting was ruled justifiable homicide in defense of others.[7]
Videocast and Downloads
Kris Moloney discusses the topic of this article in a Sheepdog Church Security Academy videocast. The audio is on a Church Security Roll Call podcast. He also tells about the need of legal coverage when force is used and its availability through U.S. LawShield.[8]
Under the video screen is a link to the Show Notes (article summary). This PDF can be printed to pass among team members for training and discussion.[9]
Also available is a free download, "Safety Member Training Record." This is an Excel file with three sheets: Instructions, Training Info, and Record Template. The template is printable so the Safety Director can have a copy for each team member. It covers Yearly Training (five topics), Training Every 2-Years (three topics), and Yearly Drills (six drills). The training record has places to note the dates and the instructors.[10]
See You in Court
When using force to protect people, maintain order, or restore order, not all risks are physical. Some are legal. Consider some of the potential criminal charges or lawsuit claims:
False arrest or false imprisonment.
Kidnapping.
Excessive force, especially resulting in injury.
Assault and/or battery (armed or unarmed).
Illegal use or possession of a weapon.
Negligent homicide (manslaughter), wrongful death.
Unjustified intentional homicide (murder).
Premeditated (first degree) murder.
As members of a Church Security Team, we are trained in verbal de-escalation, use-of-force laws, and unarmed defense and control. Even when we do everything right, something may go wrong, or be interpreted as wrong. Also, if someone dies in the incident, there will be an investigation. In most states, a coroner's jury will decide on the cause and manner of death. In at least one state, it will be a grand jury deciding whether or not to indict someone. An example is Jack Wilson in Tarrant County Texas. It was nine months until a grand jury decided to not indict him for killing a deadly shooter in his church.[7]
When facing a lawsuit or criminal charges, you need an attorney to advise and represent you. You dare not try to go it alone - even lawyers need lawyers when charged or sued.
The One Call
Most of us are familiar with booking scenes in TV shows or movies. A common statement by the desk sergeant is, "You may make one phone call." The suspect then calls a lawyer.
This scene does have a basis in reality, since the U.S. Constitution guarantees the right to legal counsel. However, there are two questions:
First, do you know whom to call?
Most of us do not have an attorney on retainer, or have an attorney's phone number on our person. It is helpful to have a number you can call when you need an attorney.
Second, when do you call?
When it comes to a use-of-force incident, we should not have to wait until we're being booked or being served the subpoena to a lawsuit. In the event of an incident which likely has legal liability, it helps to have an attorney on board right away. At least the attorney can advise you on what to do or not do and what to say or not say. Sometimes, an attorney can arrive on the scene while the police are still there.
That's what happened in White Settlement, TX. As soon as he could, Wilson called the emergency number for U.S. LawShield. The attorney who took the call arrived at the church while the police were still there. She identified herself at the security perimeter, and they took her in.[11]
A Move to Defend Defenders
An attorney in Texas, Darren Rice, saw persons who used their Second Amendment rights to defend themselves or others tied up in the legal process with investigations, charges, and the inevitable lawsuits. The whole process drained them financially, even when they were obviously innocent of any wrong. What they needed was affordable legal representation.
In 2009, Darren started a legal assistance plan to meet the need. He called it "Legal Defense for Self Defense." Since it began in Texas, the name was Texas LawShield. The idea spread, with persons in other states asking to join. Now it is U.S. LawShield with lawyers in most states. In fact, there are affiliate organizations in 46 states and D.C.
In each state with an affiliate, that organization is formed and operates within the laws of that state. This is important, because self-defense and corporation laws differ by state. Also, states may change their laws, such as happened here in Ohio, and the organization in that state can stay in line with the changes.
Legal Defense for Self Defense
U.S. LawShield (USL) is not an insurance plan, but more like AAA (Triple-A). Triple-A members can call when they need roadside assistance, even a tow. They can also call for directions and advice.
Likewise, a USL member can call a number for legal advice within 72 hours. They can also call an emergency number to be immediately connected to a nearby Independent Program Attorney (IPA) when they have a self-defense incident.
Also like AAA, USL has resources to educate and inform members about firearms safety, state weapons laws, court decisions, and self-defense. For instance, one Blog entry is "Concealed Carry 101: What is Situational Awareness?" They also have books on self-defense laws in each state. Each one is researched and written by an IPA in that state.
Here is what USL lists as the benefits of membership:
Nationwide network of Independent Program Attorneys (IPAs)
24/7/365 emergency access to an attorney-answered hotline
Legal representation for both criminal and civil cases
Zero attorneys' fees for covered events—no limits, caps or deductibles
Legal updates and State-specific guides
Unlimited access to our informative resources
Members get all this, and more, for less than 50 cents a day.
Church Security and U.S. LawShield
Sheepdog Church Security has an affiliate relationship with U.S. LawShield. When you join U.S. LawShield, you can do so as a Sheepdog Church Security member. That way, if you are involved in a use-of-force incident, in the church or elsewhere, then you have legal coverage.
In June, Kris interviewed Courtney Fryatt, who works at U.S. LawShield. The 36-minute conversation covered the liability of someone in a church using force for defense.
she included actions the person should take after force has been used.
Going on, Mrs. Fryatt explained how the program works. This includes educating members on self-defense and updating them on changes to their state's self-defense laws. It will really help you understand when you listen to this interview. And for those who may have hearing problems, it does have close captioning. Click here for the videocast and here for the podcast.[12][13]
Conclusion
It is better to have an attorney one call away when you need one.
Training Notes
"Basic Use of Force Laws" is one if the eight Safety Member Certification training modules. Each Church Safety Team is urged to have all its members trained and certified through this program. It has three training formats:
Team Certification (church-hosted classes) trains the entire team at the same time. This is ideal for training a new team, and also for the biennial re-certification.
Individual Certification (self-paced online instruction) lets a member train online while at home or in the office. A new member on an existing team does not have to wait months to be trained. Also, if a team member has to miss a class, it can be taken online.
Online Events (live Zoom classes) are for both groups and individuals. These are held on Sunday afternoons with Kris Moloney as the instructor. The 2023-2024 season begins in September. Enroll now.[1]
Another training resource is the Church Security Guide. One of the nine articles is "Self Defense Laws, Your Rights and Use of Force."[14][15]
On Deck
The article on deck for next week is "1980 Second Baptist Church shooting, Richmond, California" (Lesson Learned).
References