Lesson Learned from a Church Shooting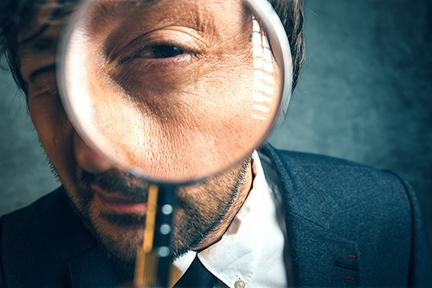 Based on the training module "Active Shooter Response v4" in the Safety Member Certification program.[1]
From the Bible
We are to be alert to signs that persons will cause trouble:
For there are certain men crept in unawares ... (Jude 1:4a).
"Give therefore thy servant an understanding heart to judge thy people, that I may discern between good and bad: for who is able to judge this thy so great a people?" (1 Kings 3:9)
And beheld among the simple ones, I discerned among the youths, a young man void of understanding (Proverbs 7:7).
Therefore let us not sleep, as do others; but let us watch and be sober (1 Thessalonians 5:6)
Now I beseech you, brethren, mark them which cause divisions and offences ... (Romans 16:17a).
Introduction
Two or three generations ago, "I Spy" was a childhood game of searching for hidden objects. A finder called out, "I spy," then picked up and displayed the object. There are now computer "I Spy" games for children and youth (even adults) with images or text hidden in plain view.
Church security is not a game, but we are on the lookout for hidden objects and other signs of danger. We do not call out, "I spy," but take reasonable measures to protect the flock from perceived perils.
In the News
White Settlement, Texas, December 29, 2019 - A mentally ill man who had previously visited the church several times asking for money came in wearing an obvious disguise and an over-sized coat. When he entered the sanctuary just before the service, the security director and security team members noticed and kept watching, and one of the TV cameras followed him.
As Communion was being served, the visitor stood up and approached one of the servers, pulling a sawed-off shotgun from his coat. A team member approached, pulling out his handgun. Before he could aim, the man with the shotgun shot and fatally wounded the server and the team member, but he would die before them. The security team leader had pulled his gun and was taking aim. When he had a clear shot, he fired, hitting the assailant in the head.[2]
Keeping watch on the suspect after he entered the sanctuary enabled a quick response (6 seconds total time), and the team leader was credited with saving many lives. However, some analysts pointed out that earlier detection could have led to a non-violent conclusion, or at least kept the assailant out of the sanctuary.[3]
Witchita Falls, Texas, May 31, 2017 - On a Wednesday evening, someone spotted a suspicious person and called 911. A woman drove into the parking lot, got out of the car, and asked people in the lot (presumably those there for the mid-week service) for a ride. She ended up walking to a car dealership where she got into a car with keys left in it, drove it away, then abandoned it. She was later caught by police while walking along a street. They recognized her from the description of a suspicious person at the church.[4]
St. George, Utah, June 27, 2017 - A suspicious man was observed behind a church and reported to 911. Police arrived, and a chase on foot through the neighborhood ensued. The man was caught, and he and his girlfriend were arrested. They turned out to be purse-snatching suspects from a nearby town.[5]
Show Notes
This article, "I Spy" (Spotting an Assailant), is covered by Kris in a podcast and a videocast. A link to the Show Notes (an article summary) is in the comment section beneath the videocast. These notes are available through the week following the video's posting. You can also subscribe to the videocasts.[6]
What Do You See?
Many of us have tried to find hidden objects in pictures or find the differences between two apparently identical images. This is a test of observational skills. In church security, it is essential to be observant, to detect signs that someone may be a potential threat. Three things we see are their appearance, their behavior, and indications they may be hiding a weapon.
Appearance
We know, generally speaking, that "Appearance is not everything." However, someone's appearance may provide clues to character or disposition. This can be especially true in a church.
What if someone comes to the door totally disheveled? That person may be totally ignorant of how to groom and dress oneself for public meetings, or maybe they don't care how they look, but it could indicate mental illness or being under the influence of drugs or alcohol. They might not be able to look any better because of their financial situation. However, we should not discriminate against someone who is just poor (James 2:1-4).
Our first rational thought is, "This person needs help." But what kind of help? We may be tempted to ignore this person, but kind intervention will (1) let them know they are noticed, (2) let them know someone cares, and (3) has the potential of defusing anger or resentment they may have.
How about an over-sized coat? Or a hint of body armor? Or, as with the West Freeway shooter, an apparent disguise? This should raise questions about their intentions.
There are other out-of-place appearances which should make us at least curious, if not suspicious. These include sweatiness, a pale or flush face, or certain facial expressions.
Behavioral Clues
A person's behavior is more telling than appearance alone, and it may actually tie in with how they appear.
A general behavioral clue is violating social norms. This was emphasized by Simon Osamoh in his interview with Kris.[7] One example is going to the podium during preaching or singing and while the congregation is seated. Closely related is overtly rude behavior, such as refusing to put out a cigarette when asked to do so by a greeter or usher.
Other behavioral clues are nervousness, reluctance to make eye contact, overly friendly (in a way that seems fake), furtiveness (being sneaky or trying to hide something), shifting the feet, and wringing the hands. Another cause for concern is someone who is argumentative or acts disgruntled. What if you say, "Good morning," and the visitor grumps, "What's good about it?" Or you ask, "How are you?" and the reply is, "Why should you care?"
Some behaviors by themselves might not be threatening, but may be if combined with other signs, such as sweaty when it's not hot, flush face, paleness, facial twitch, etc. (these may also indicate a medical condition).
A person's speech may be a clue to hostile intent, especially if they sound hateful, angry, or extreme. As an example, the killer at Emanuel AME in 2015 was argumentative during the Bible study.
Indications of Weapons
Spotting hidden weapons is trickier than in years past. More states now allow holders of concealed carry weapon (CCW) permits to bring their arms into public meetings. Individual churches do have the option of not allowing them. Some states, such as Ohio, are shifting to constitutional carry (no permit required).
However, as a general rule, persons with murderous intentions tend to carry weapons differently than do legal CCW persons. Most CCW handguns are smaller caliber with lighter magazines, effective for defending against one or a few attackers at close range, and kept in holsters designed for CCW.
Weapons are usually easer to detect or suspect if the intent is mass casualties. Rifles and larger caliber handguns with higher-capacity magazines are preferred for mass murder. A .45 caliber, 11 mm, or larger handgun is harder to properly conceal and hard to draw out quickly. This is even more so for a rifle, even with a shortened barrel. If kept in a pocket, an 11 mm makes a tell-tale bulge.
This is where over-sized or heavily-padded coats are a concern. The Columbine shooters hid weapons in trench coats. The West Freeway church shooter hid a sawed-off shotgun in an over-sized coat. Engaging in conversation with a person overdressed for the weather gives the greeter or Safety Team member (and another safety person) more time to look them over for suspicious bulges which may indicate a weapon. Another means of concealment for a larger weapon is a backpack, book bag, briefcase, or (as in movies) a guitar or violin case.
The use of hand-held metal detectors is controversial for churches because they seem so uninviting. You could ask certain persons whether they have a concealed weapon. Honest people would likely answer truthfully. If a suspected person answers, "No," and you ask if you can scan them, their reaction may be revealing. Someone may object on grounds of privacy. A would-be killer might have a more agitated, and therefore more revealing, response.
Inside and Outside
It is good to observe people as they come through the door. It is better to also observe what is going on outside, especially in the parking lot. In two of the news stories, suspicious persons were spotted outside the church building. This gives you more time to see signs of trouble and a chance to keep trouble out.
How do we do this? First of all, if you can, have parking lot attendants or monitors. Secondly, have a Safety Team member in the foyer positioned to also see out the windows. Ideally, security cameras would enable one person to monitor the outdoors all around the building.
Training Note
First of all, train the church greeters in observation. They are the first contact with visitors inside the church.
Sheepdog Church Security recommends that each Church Safety Team should have all members trained and certified through the Safety Team Certification program. Active Shooter Response is one of the training modules.[1] One advantage is that all members would have the same training, and therefore understand each other.
Three modes are available: Church Hosted classes with training materials, Self-Paced training for individuals with online lessons, and Online Events with live Zoom classes.
Training is more effective when team members participate in drills. Team members can also self-drill by consciously looking for signs of weapons, intentions, etc. in people. After some time, close observation becomes ingrained. Members can drill each other with point-and-ask. When someone goes by, ask the other team member, "Over by the door, what do you see?" or "Do you see that bulge?" or other questions.
Conclusion
Beginning with observing actions and people outside and those coming in the door, be alert for signs that someone is intent and armed for violence.
There Is More
With five Mondays, there are five weekly articles for May. The other four are "The Church in Sacramento Shooting, 2022" (Lesson Learned), "Responder's Risk" (Use-of-Force Liabilities), "Marked Abusers" (National Sex Offender Data Base), and "They Have You Covered" (U.S. LawShield).
References