Church Safety During the Holiday Season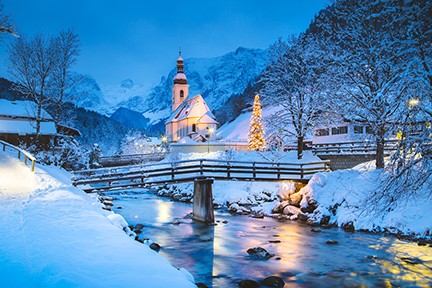 In the Bible
Pray that it may not happen in winter (Mark 13:18).
She is not afraid of snow for her household, for all her household are clothed in scarlet (Proverbs 31:21).
And many people came together in Jerusalem to keep the Feast of Unleavened Bread …(2 Chronicles 30:13).
"The thief comes only to steal and kill and destroy" (John 10:10).
---
In the News
Birmingham, Alabama, December 25, 2018 - A Christmas house fire spread to an AME Zion church, making the building unusable. Thankfully, other worship bodies are providing space for the congregation while the church is being rebuilt.[1]
Bethlehem, Pennsylvania, and other locations, 2018 Christmas Season - A woman stole the Baby Jesus figurine from the nativity scene in the public square. This is only part of the trend of Christmas display thefts across the country. Many of these are at or in churches.[2]
Suffolk County, New York, December 24, 2018 - A woman walked into a church during the Christmas Eve service and stole an unattended purse. She was arrested after using credit cards from the stolen purse. She and her companion are charged with other thefts in the area. Now the church urges people "to safeguard their valuables and take other measures."[3]
Across America, December 2011-2015 - The US Consumer Product Safety Commission tracked visits to emergency rooms at a number of hospitals in a four-year period. Over 1,700 Christmas related injuries were documented. They included:
Falls from ladders, stools, chairs and tables while putting up or taking down decorations
Electric shocks, such as by grabbing metal fixtures while handling lights, etc.
Cuts while trimming trees with knives, box cutters, and a chain saw
Burns from candles, hot tools, cooking/baking, fireplaces, fire pits, etc.[4]
Quetta, Pakistan, December 17, 2017 - A church was attacked by suicide bombers a week before Christmas Eve, killing nine.[5]
A Time of Joy and Celebration
The Holiday Season, extending from Thanksgiving to New Year's Day, is a time of joy and celebration for Christians and Jews. Both thank God for his protection and many blessings on Thanksgiving. Jews celebrate the cleansing and rededication of the Temple on Hanukkah. Christians celebrate the birth of Jesus on Christmas. Ancients in northern lands celebrated the turn of seasons when days begin to grow longer.
Even in times of joy, there are things which can bring pain and sorrow, even in a church and among its members. Some are seasonal, weather-related. Some are everyday threats to our well-being. The activities of celebration can bring their own hazards. Then there are those who come to steal our possessions, our joy, or even our lives.
Protecting against Threats to Safety and Security
The key role of a Church Safety Ministry is to protect the church's members and guests. We try to do this in a way that does not interfere with the church's ministry unless absolutely necessary. This means that the Holiday Season is a time of extra work for the Safety Team in order to keep the flock safe and able to enjoy and be blessed by the programs and activities of the season.
As can be seen in the news stories, everyday threats to church safety and security continue, with added and special hazards. There is also added opportunity for ministry, to be a blessing to others.
The Beauty and Threats of Winter
Every season has its hazards. Fall is fire season in California and hurricane season in Florida. Spring is tornado season in most of the country. Winter is the season of snow and ice in northern states.
Winter has its beauty. There is a beauty to frost on windows and trees, freshly fallen snow, and the Northern Lights. We watch birds flock to feeders and follow animal tracks in the snow. There is also winter fun - sledding, skating, skiing, sleigh riding, snowmen, and snowball fights.
Along with the beauty and fun, winter has its hazards, such as blinding blizzards, and extreme cold (I got caught in a blizzard on the way to school when in First Grade). Roads and walking surfaces can be slick. Icy stairs can be terrifying to use. Limbs on those beautifully frosted trees can break off, damaging and injuring whatever and whoever is below. That pretty snow blanket on the roof can be too much weight and break the roof, endangering those inside. It may also slide off, hitting someone under the eaves or blocking an exit door. The cold itself is a threat with hypothermia, frozen water lines, and illnesses from crowding people inside. So how does a Safety Ministry deal with these threats?
Severe Weather
There may be times when church activities have to be cancelled or stopped because of weather conditions. This is where staying in tune with weather forecasts is critical. The Safety Team or the church office should have a good weather radio, such as the Midland - WR300, Deluxe NOAA Emergency Weather Alert Radio.[6] If road conditions are expected to be poor when people are coming to church, the activities can be cancelled or rescheduled to start later.
Sometimes a weather warning, such as for a blizzard, may come after a service or class has started, but when there is still enough time for people to get home if they leave soon, but the conditions will continue for a long time. Then the activity can be cut short and participants sent home.
Perhaps it's too late to send people home. Is the church ready to house them for a day or two?
Walking and Driving Hazards
When people arrive at church in icy weather, the roads may have been cleared and treated. But how about the church's driveway and parking lot? Can they be plowed then salted or sanded in time? How about the outside walkways? The church should have salt on hand for treating them and have someone ready to do it, Safety Team members or a custodian.
If the church has vehicles, such as a van or bus, are they ready for winter? Change to winter tires. Put antifreeze in the coolant. Use winter-formula washer fluid. Be sure the cabin heating works.
Snow Accumulation
Don't let snow on the roof pile up too high. It can be too much for the roof. Don't let sheets of snow slide off when people are around. Get snow to slide off before church members arrive.
Shovel paths to the doors from the parking lot.
Extreme Cold
Freezing temperatures can cause hypothermia and frostbite. Be trained and ready to treat them. Have Safety Team members dress for the weather.
Watch for anyone who has difficulty walking up from the parking lot and be ready to help. Be alert for anyone who has fallen or collapsed outside. Heart attacks can be triggered by the stress of extreme cold, and someone who has fallen may freeze if not assisted.
Heating Systems
We do not want the heat to fail when we need it the most, especially when the church is packed. Have the furnace checked before you need it. A furnace not maintained is also a fire risk.
Fire Risks
Fire is a very real threat at Christmastime. Holiday activities can make it a greater risk. Here are some ways to avoid starting a fire at this time:
Keep flammable Christmas decorations away from heat sources. Besides heaters and candles, this also includes light bulbs, switches, and outlets.
Do not overload electrical circuits.
Do not use extension cords too light for the equipment.
Do not run cords under mats and rugs. If you have to run cords across where people walk, use floor cord covers. They are available at hardware stores and on Amazon.
Don't let children use candles without adult supervision.
Practice fire safety in the church kitchen. Don't leave food on burners unattended.
Use extreme care with space heaters. Use only ones in good condition. Keep them away from combustible materials.
Holiday Health Hazards
On holidays, especially Thanksgiving, Christmas, and New Year's Eve/Day, there are loads of home-cooked foods. Every year there are reports of food poisoning, and many cases not reported. Also, not everyone uses the same level of kitchen hygiene, so there is the possibility of food-borne illnesses. This is also complicated by point-of-source contamination for commercially produced foods. Members of the Safety Team (or Medical Response Team) should be alert for signs of food poisoning.
Associated with eating together is the possibility of choking on food. Be training in the Heimlich Maneuver and be ready to use it if someone is choking.
Holiday decorations may include plants or plant parts which are toxic. Young children - even some adults - are prone to putting berries and leaves in their mouths. Plants toxic to humans include poinsettias and holly berries, among others.
The "Grinches"
Not all grinches are green. Some look and sound like the rest of us. Some may be among us. These are the ones who steal from the rest of us. Most are not motivated by stealing our joy, but settle for stealing money and things. But some do want to rob us of joy. Some even want to rob as many of us as they can of life itself. Let's divide the grinches into thieves and spoilers.
Thieves
Petty thieves only take a little at a time. The legal definition depends on state definitions - the value limit for petty theft. The purse thief in Suffolk County is an example. A petty thief looks for easy pickings - unattended valuables, coat pockets on the rack, the offering plate going by, an open purse, an unlocked car door, an office door left open. Urge members and visitors to be careful with their valuables. Lock the office door when leaving. Have a greeter and a Safety Team member look to the coat rack often enough to make pocket browsing seem risky.
With extra money in the offerings and café receipts, guard against embezzlement (see the article "Access Control"[7]). Follow other safe cash practices.
Spoilers
A common spoiler is vandalism. Persons with a grudge against God, Christians, or the church, often choose Christian holidays to vandalize churches, such as happened in San Antonio in 2017.[8]
For centuries, persecutors have chosen Christian holy days, such as Christmas and Easter, to harass, burn, or kill.[5][9][10] Be on extra alert at this target time of year with threat assessment and situational awareness. Also be ready to respond.
Conclusion: Safety Does Not Take a Holiday
It's nice to take a holiday, to step back and relax. If you work in a school, factory, or office, you may get a paid day off (unfortunately, this is not generally true in retail). However, as anyone in law enforcement, firefighting, or the emergency room will affirm, safety and security do not take a holiday. In fact, holidays are their busiest times of the year. While we in church safety ministries enjoy the Holiday Season, we have more to look out for at this joyous time of year.
Have a Safe & Secure Christmas
References