Church Safety in Wintery Conditions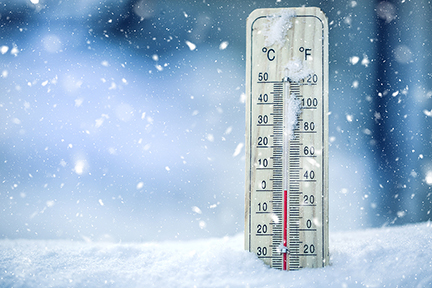 Based on the Safety Member Certification training module "Storms and Disasters"[1]
From the Bible
"While the earth remaineth, seedtime and harvest, and cold and heat, and summer and winter, and day and night shall not cease" (Genesis 8:22).
Out of the south cometh the whirlwind: and cold out of the north. By the breath of God frost is given: and the breadth of the waters is [frozen solid] (Job 37:9-10).
He casteth forth his ice like morsels: who can stand before his cold (Psalm 147:17)?
He destroyed their vines with hail, and their sycamore trees with frost (Psalm 78:47).
She is not afraid of the snow for her household: for all her household are clothed with scarlet (Proverbs 31:21).
Introduction
Here it is, the middle of the 2022-2023 Winter. This month is supposed to have the worst winter weather. However, a bomb cyclone swept across the United States and Canada during the first week of winter. Named "Winter Storm Elliott" by the Weather Channel, it will be remembered as the "2022 Christmas Week Storm." It was as bad as or worse than the worst weather in many previous winters, depending on where you were. More than five dozen people died, most of them in Buffalo, New York. Frankly, most Americans were not prepared for this one.
The big question here is this: Is our church ready for winter weather?
In the News
Nationwide, December 20-25, 2022 - A winter storm, named "Elliott" by The Weather Channel, began in the Pacific Northwest, with icy roads in Oregon and Washington. It quickly moved across the Rockies and became a bomb cyclone, "an area of low pressure that intensifies rapidly" (The Weather Channel).
The storm drew Arctic air south and brought record low temperatures to wide areas stretching from Canada to Florida. 1.5 million people lost power. There were at least 61 deaths, with over 40 in Western New York (the Buffalo area) where blizzard conditions lasted over 37 hours.
Christmas Day was on Sunday, but many churches cancelled services because of the weather. Some churches became shelters or warming centers.[2][3]
West Hempstead, New York, February 19, 2011 - A woman fell outside a church after services. She claimed that it was on a "patch of ice" and sued the church for damages. The suit was dismissed by the court, since (1) the church had not been notified of icy conditions, (2) the woman had not actually seen ice on the walkway, but heard someone say there might have been ice in the mulch, and (3) recorded temperatures for that day and previous days were too warm for snow or ice.[4]
Payson, Arizona, February 25, 2019 - A man shoveling snow around his cabin tried to knock some off the roof. A thick sheet of snow slid off the roof, nearly burying him. His wife caught the action on video, then dug him out.[5]
Morgantown, West Virginia, January 28, 2001 - The pastor of a church died from injuries incurred three weeks earlier while removing icicles from the edge of the church's roof. While knocking down the icicles, an ice dam broke and slid down onto him. A leg was crushed and a shoulder broken. The lower part of the leg was amputated. Three weeks later, he died from a blot clot in a lung.
A paper from Michigan State University had four recommendations for reducing the risk of ice dams on roofs (see further down).[6]
Pittston, Pennsylvania, March 8, 1994 - The weight of snow on the roof of a church caused a wall to flex, knocking out several bricks which fell onto the sidewalk. The sidewalk had to be closed while debris was cleared out and the wall repaired. The church council decided to fix the roof so snow would not accumulate.[7]
Buffalo, New York, December 23-25, 2022 - During the 2022 Christmas Week Storm, a church in Buffalo just happened to still have lights and heat. The pastors (husband-and-wife) opened the doors to let people come in from the cold, including those leaving stuck cars and others whose homes were without power and heat. The couple had brought in enough food and beds for an expected large family gathering. These turned out to be provisions needed for refugees from the blizzard. The church saved 154 lives in an area with over 40 deaths.[8]
Videocast and Show Notes
Kris Moloney discusses the topic of this article in a Sheepdog Church Security Academy videocast (the audio is in a Church Security Roll Call podcast). The link to the Show Notes (article summary) is below the video screen in the Comments section. These show notes are available until the next videocast is posted a week later.[9][10]
Snow, Ice, and Cold
In northern states, at least, winter comes with snow, ice, and cold. Snowfall can vary from "fluffy rain" (flurries), to a "wet blanket" (total snow cover), to very heavy snowfall and a howling blizzard. The cold can range from barely freezing to sub-zero temperatures (extreme cold). Wind chill can make the felt temperature much colder than the thermometer reading. At 37ºF, wind chill can create road ice.
People in Southern states cannot afford to be complacent, assuming that they're exempt from wintry extremes. All it takes is a polar vortex following the jet stream with a deep southern dip. This past December, it was a major storm - a bomb cyclone - stretching from Canada to Mexico. Brrrrr! Weather watchers are not ruling out a repeat in February.
Winter Hazards
The hazards of winter are well-known, but a few may be overlooked, so we'll list them:
Driving hazards -

Slick roads - Ice and compacted snow will make a road slick. Don't drive unless necessary during freezing rain. Watch for ice on bridges when temps are under 38ºF.
Drifting snow and thick snow - This can hide the road's edges and center line. Vehicles may get stuck when snow is too thick.
Blowing snow reduces visibility. Time to stay off the road or pull over.
Strong winds can push cars out of their lanes or off the roads. Box trucks and trailers can be tipped over.
A single collision can easily trigger a multiple-vehicle pileup.

Walking hazards - People can slip on icy parking lots and walkways. In the third news story, if ice had really been on the walkway, then the lawsuit might not have been dismissed.
Building hazards - Heavy snow can overstress roofs, causing them to buckle or collapse. Snow and ice can also slide off roofs onto people below.
Health hazards -

Hypothermia
Frostbite
Existing health conditions made worse
Communicable diseases spread by more indoor crowding
Winter Safety and the Church
We all know that our churches are not exempt from the weather. A Church Safety Ministry can help make the church safer during winter weather.
Work with the church's governing board to make the building safer and more healthful.
Heating - The heating system should have been checked and maintained before the heating season began. Pay attention to it and be quick to correct any problems.

By the way, inspect the cooling system before summer comes.

Roof safety - Be sure the roof is in good condition.

Ensure that ice dams don't build up.
Remove snow safely before it becomes too heavy.

Ensure that emergency exits are not blocked by snow.
Safety on the Grounds -

Clear snow and ice from walkways and the parking lot. Use salt to prevent icing.
Keep snow and ice on the roof from falling on people below. Block a walkway if necessary.
Coming inside, keep the entry floor from being wet.

Congregational Safety -
Consider church vehicle use, the congregation, and visitors.
Stay current on weather conditions and the forecast.
Do not put church vehicles on the road when conditions are unsafe.
Postpone or cancel meetings, classes, and events when it will be too hazardous to drive to the church.

Use a mass communication system for emergency notifications.
Use public notifications for those who are not members, especially for events attracting the general public.

Be trained and prepared to respond to accidents, hypothermia, and frostbite.

Have the equipment and supplies needed to respond to winter emergencies.
Wear clothing appropriate for winter weather, including local temperatures.

Teach members about personal winter safety.
Advice from the National Institute for Occupational Safety and Health
The Fatality Assessment and Control Evaluation (FACE) investigation report on the death of a Morgantown, WV, pastor from snow and ice falling from a roof ended with four recommendations:
Increase truss space ventilation to alleviate accumulation of warm air at the peak of the truss space, subsequent melting of snow that refreezes at the eave edge resulting in an ice dam.
Increase truss space insulation to minimize heat loss from the building below.
Identify and seal ceiling openings that allow heat to escape from the heated area of the building to the truss space.
Use proper tools and removal techniques to remove accumulations of snow on the roof or other methods to minimize ice dam formation.[5][6]
Conclusion
The beauty of winter has its hazards. We can't stop the weather, but we can help our churches to be safer.
Training Notes
Winter storms and extreme cold are not the only weather threats to safety. There are several others covered in the training module "Storms and Disasters." Each Church Safety Team is encouraged to have all its members trained and certified through the Safety Member Certification program.
| | | | |
| --- | --- | --- | --- |
| Color coding: | Related to Article | Completed | Next |
| | | | | | |
| --- | --- | --- | --- | --- | --- |
| | Q1 | Q2 | Q3 | Q4 | Training Module |
| 1 | Sep 11 | Nov 13 | Jan 29 | Mar 26 | Safety Team Fundamentals |
| 2 | Sep 18 | Nov 20 | Feb 5 | Apr 2 | Active Shooter Response |
| 3 | Sep 25 | Dec 4 | Feb 12 | Apr 16 | Deescalating Disruptive Persons |
| 4 | Oct 2 | Dec 11 | Feb 19 | Apr 23 | Protecting Children from Abuse |
| 5 | Oct 9 | Dec 18 | Feb 26 | Apr 30 | Basic Use of Force Laws |
| 6 | Oct 16 | Jan 8 | Mar 5 | May 7 | Arson and Fire Safety |
| 7 | Oct 23 | Jan 15 | Mar 12 | May 21 | Storms and Disasters |
| 8 | Nov 6 | Jan 22 | Mar 19 | Jun 4 | Mass Trauma Emergencies |
Another training resource is the Church Security Guide, with nine articles on different safety & security subjects. Each of these articles is a deep look at the subject, and can be used to preview a class before taking it, to refresh one's knowledge later, and to clarify the subject. The fifth article is "Preparing Your Church for Natural Disasters."[11][12]
Up Next
The next weekly article is "2012 Destiny Christian Center Shooting" (Lesson Learned).
References