Emergency Medical Supplies from Mountain Man Medical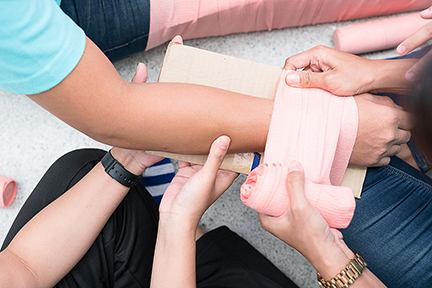 From the Bible
He heals the brokenhearted and binds up their wounds (Psalm 147:3).
He went to him and bound up his wounds, pouring on oil and wine. Then he set him on his own animal and brought him to an inn and took care of him (Luke 10:34).
And Isaiah said, "Bring a cake of figs. And let them take and lay it on the boil, that he may recover" (2 Kings 20:7).
Introduction
In the early 1800s, mountain men followed rivers up into the Rockies, trapping or trading to get furs to sell. There were all kinds of perils awaiting them, from wild animals and accidents, from hostile natives and outlaws, and from diseases. In places literally hundreds of miles from civilization, they had to depend on themselves and each other when ill, injured, or wounded. Some of them had married into friendly native tribes and learned their treatments and medications. They also used their ingenuity to figure out how to use whatever was at hand to heal. They even carved their own wooden legs. For many of them, rugged living led to long lives.[1]
Not only mountain men, but also pioneer homesteaders and ranchers had to be their own doctors, nurses, and emergency responders. My dad, who grew up on a homestead, had a scar on the back of his hand where his father stitched an axe cut.
When injuries, sudden illnesses, and mass casualty events happen at church, we who are there are the first responders, even when 911 has been called. Not only must we know what to do, we need the supplies to do it. In times like these, we are the church's mountain men and mountain women.
Special Resource
May's special free downloadable resource from Sheepdog Church Security is "Safety Member Training Record"[2]. It is an Excel file with three tabs: 1. Instructions, 2. Training Info, 3. Record Template. Click *HERE* to get it. If you're not already subscribed, you'll be signed up to receive the monthly newsletter (The Church Guardian) and the weekly email update.
On the Training Info page, "Training Types" includes First-Aid, AED, and CPR. Under "Drill Types" are Medical Emergency (Focuses on the team member's ability to effectively provide First Aid and manage life-threatening medical emergencies prior to the arrival of EMS) and "Mass Trauma" (The team member demonstrates their ability to respond to severe instances of trauma caused by severe weather or active shooter events, and assist in recovery).
The Safety Member Training Record page lists records for "Yearly Training," "Training Every Two Years," and "Yearly Drills." "Training Every Two Years" has "First-Aid, AED & CPR." Under "Yearly Drills" are "Medical Emergency (Life Threatening)" and "Mass Trauma (Severe Weather & Active Shooter)."
Affordable Supplies for Medical Response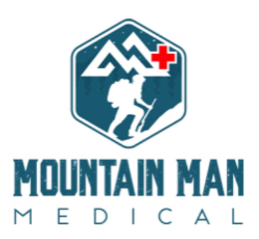 The tough and resilient mountain man who survived animal attacks, accidents, human attacks, and illnesses through resourcefulness and ingenuity became the icon and model for a group of people in a small Colorado town. They saw the need for families, small businesses, schools, and churches to have what they needed to handle medical emergencies at prices they could afford. Whereas mountain men had to do what they could with what they had, there are now proven products available. Some are more affordable than others. Some are more available.
This small group formed a company to distribute proven products, including them in kits, and called it Mountain Man Medical. They describe themselves like this: "We are a small business based in Colorado that believes that the right medical training and gear should be accessible for every American."[3] Before including any product in their listings, they ask, "Is it proven and tested?" In each of their kits are brand-name products which have proven their worth and are also affordable. The goal is to enable small businesses and institutions (including churches) and families to be ready for any kind of likely medical emergency, including major trauma. Mountain Man Medical can equip a Church Safety Ministry with what it needs during medical emergencies or mass casualty incidents.
Mountain Man Medical (MMM) has also produced a free video training course, "Emergency Trauma Response." This can be taken in addition to local in-person First Aid, CPR, and AED courses. Besides the course, MMM has a YouTube channel[4] with 16 titles at the time of this writing covering topics such as types and use of tourniquets, pressure packing of wounds, and a comparison of rifle and pistol wounds.
Mountain Man Medical Products
The product lines of Mountain Man Medical[5] are selected to equip people to effectively respond to life-threatening medical emergencies as well as the major injuries encountered in a mass casualty event, such as from severe weather, a natural or man-made disaster, or an active shooter. They have various ways of organizing their products so the shoppers can search according to their needs.
Product Categories
The four headings under the menu tab "Product Categories" are All Kits, Pouches & Carriers, MARCH, and Other. MARCH also has its own tab on the website banner.
MARCH
One way Mountain Man Medical categorizes their products is by the injury and the injured area of the body, with the acronym MARCH [6]:
M - Massive Hemorrhage
A - Airway
R - Respiration
C - Circulation
H - Head & Hypothermia
By product type, the items under MARCH are Bandages, Chest Seals, Gauze, Hemostatic Dressing, NPA, and Tourniquets. These are sub-headings in the MARCH menu.
All Kits
There are seven named kits or kit series with links on the All Kits drop menu:
The Sweetwater
The Yellowstone
The Wind River
Mountain Ankle Kit
Mass Casualty Kit
Partner Kits
Refill Kits
The All Kits page[7] lists eleven kits, adding the ASP Ankle Kit, ASP Range Kit, North American Rescue Individual Aid Kit, North American Rescue Individual Patrol Officer IPOK, and Sheepdog Belt IFAK (which will be described in more detail below). On this page, the one Refill Kit is for The "Yellowstone" Trauma Kit. However, a kit customer can order separate items to refill as they get low.
Two of the five added kits are for or by North American Rescue, a supplier to first responders.[8] Three of the kits are listed as Partner Kits: the ASP Ankle Kit and ASP Range Kit (Active Self Protection), and the Sheepdog Belt IFAK (Sheepdog Church Security).
Pouches & Carriers
There are three kinds of pouches and carriers listed on this page[9]:
Ankle Cuff
Bags / Pouches
TQ Holder
Ankle Cuff has only one listing, The Wilderness 5″ Ankle Cargo Cuff/Ankle IFAK is used for the Mountain Ankle IFAK Trauma Kit[10] and the ASP Ankle Kit. It is made to fit around the person's ankle and has 5 primary storage compartments and a slip pocket. Having this kit on the ankle makes the clothing less bulky and the kit less conspicuous.
TQ Holders are designed specifically to hold tourniquets.
Bags / Pouches go by the Ready Up Gear brand. Five items are listed: Falcon Molle Tactical Pouch, Osprey Molle Tactical Pouch, Harrier Molle Tactical Pouch, Prairie Molle Tactical Pouch, and Kestrel Molle Tactical Pouch. The Falcon is part of the Yellowstone and Sweetwater kits. The Prairie is in the Sheepdog kit and can be carried on a belt. The Osprey is the bag for the Wind River and Mass Trauma kit.
Other
The "Other" category has individual items listed by type. Most may be ordered to refill a kit, replacing used or expired supplies. This list also has a book. Many of the items appear under more than one heading.
Books

Emergency First Aid Fundamentals by USCCA

Cutting Tools

Medical Trauma Shears and Klever Kutter Safety Cutter

First-Aid

Instant Cold Pack With Urea, Medicated Antiseptic Wipes, First Aid Burn Cream, 25mg Diphenhydramine, 200mg Ibuprofen, Triple Antibiotic Ointment, 325mg Acetaminophen, First Aid Kit Medicine Bundle, Sting and Bite Pad, Stainless Steel Tweezers, Adhesive Bandages, Cloth Surgical Tape

Medicine

25mg Diphenhydramine, 200mg Ibuprofen, 325mg Acetaminophen, First Aid Kit Medicine Bundle

Miscellaneous

Burntec Burn Dressing by North American Rescue, Emergency Survival Rescue Blanket, Instant Cold Pack With Urea, Medicated Antiseptic Wipes, Flat Fold Duct Tape – Medical Supply, First Aid Burn Cream, Triangular Bandage, Sting and Bite Pad, Nitrile Black Professional Grade Medical Pair of Gloves, Stainless Steel Serrated Thumb Tweezers, Multi-Use Mini Black Marker, Cloth Surgical Tape, Mountain Man Headlamp, Emergency Medical Information Card

Patches

Red Cross First Aid Velcro Patch, Blood Type Patch (Mountain Man Medical), Mountain Man Medical Patch

Safety

Medical Trauma Shears, CPR Face Shield Mask Keychain, Klever Kutter Safety Cutter, Pair of Nitrile Medical Grade Gloves

Splinting and Immobilization

Triangular Bandage (Cravat), Mountain Man Mold-able First Aid Splint, TacMed RISE™ Splint

Training

Combat Application Tourniquet (C-A-T) Training Blue
Shop by Brand
On the MMM Homepage you can also shop by brand, with the logos of 12 suppliers:
Combat Medical
Dynarex
H&H Medical
HemCon by Tricol
Medi-First
Medique
Mountain Man Medical
North American Rescue
Prometheus Medical
Safeguard Medical
Tactical Medical Solutions
Z-Medica
Click on one, and you go to the page with that brand's products.
Featured Products
Sheepdog Church Security recognizes both the quality products and valuable life-saving mission of Mountain Man Medical and has created a mutually-beneficial affiliate relationship with them. SDCS worked with MMM to develop an individual First Aid kit (IFAK) for life-threatening medical emergencies, the Sheepdog Belt IFAK. SDCS also lists the Mass Casualty Trauma Kit as an affiliate product.
Sheepdog Belt IFAK
The Sheepdog Belt IFAK[11] is an individual First Aid kit which can be carried by a Church Safety Team member on the safety belt.
Here is Kris's description of the Sheepdog Belt IFAK:
The Sheep Dog Belt IFAK (Individual First Aid Kit) is a must have for churches of all sizes. It provides all of the necessary tools to perform basic first aid and to save lives while waiting for emergency medical assistance.
The Sheep Dog Belt IFAK consists of the following, well-constructed items:
Praire Molle Pouch
This small storage pouch is made of 1000D nylon that is designed to withstand heavy wear and tear.
TacMed SOF-T Tourniquet
This tourniquet is the product of a 24 month research endeavor to produce the most effective end product. It is approved for use by the Department of Defense and is the number one choice of tourniquet for the American Red Cross.
Designed to slip easily over limbs, the TacMed SOF-T is the easiest tourniquet to use under stress.
4' Israeli Style Bandage
This thick, non-adhesive dressing is a bandage, pressure applicator and closure clip in 1 easy-to-apply product.
1 Pair of Gloves
These gloves are non-allergenic and highly durable.
1 Pair of Shears
These stainless steel scissors are durable and capable of cutting through multiple layers of material with a clean edge.
1 CPR Face Shield
This face shield features a one way directional valve that provides a barrier between the patient and the rescuer. It simultaneously protects each party against secretions while directing oxygen into the patient.
Mass Casualty Trauma Kit
There are severe weather and other natural events, man-made disasters (such as a gas explosion), and criminal violence incidents (especially active shooter or bombing) which can result in mass casualties (many severe injuries). In these situations, time makes the difference between life and death for many victims. The Mass Casualty Kit[12] is designed to equip the organization (such as a church) to provide life-saving treatments before emergency responders arrive. In each kit are:
The Osprey Molle Pouch with First Aid Red Cross Velcro Patch
2 TacMed SOF-T Tourniquets
2 Dynarex 4" Israeli Style High Pressure Dressings
4 Pairs of Nitrile Gloves
1 Pair of Trauma Shears
2 North American Rescue Hyfin Compact Twin Pack Chest Seals
These are used to treat penetrating chest wounds. They seal the wound and allow air to escape the cavity without allowing it to re-enter.
1 Mini Black Permanent Marker
1 Dynarex Emergency Rescue Blanket
This blanket is low weight and low bulk and is made from heat reflective thin plastic sheeting. It can also be used as a sling, wrap, or tourniquet.
2 Pre Lubricated Combat Medical NPA's
This is for use in securing an airway in either a conscious or unconscious patient and has been designed for maximum comfort and ease of insertion.
2 ChitoGauze 3" x 4yrd PRO Hemostatic Dressing
This gauze has natural antibacterial properties and offers external, temporary control of severely bleeding wounds.
2 Dynarex 4yrd x 2" Rolled Gauze
These highly absorbent and self-adherent bandages stay in place with minimal taping.
1 Dynarex Triangle Bandage/Cravat
Made of strong muslin material, these bandages are ideal for outer wrapping and splinting.
2 CPR Face Shields
How many Mass Casualty Kits a church needs depends on the size of their congregation and expected attendance at major events. The numbers of kits recommended by Sheepdog Church Security are:
20-50 People:
1 Kit
51-100 People:
2 Kits
101-200 People:
3 Kits
200+ People:
4 Kits
Add 1 more kit for every 100 people
Conclusion
Does your Church Safety Team have what it needs for a life-threatening medical emergency or a mass casualty event? Sheepdog Church Security has partnered with Mountain Man Medical to make these supplies available with proven products and at a reasonable cost.
There Is More
There are three other articles for May: "Code Blue" (Responding to Injuries and Illnesses), "Many Down 911" (Mass Casualties), and "2005 Living Church of God Shooting" (Lesson Learned).
References