Prevent Church Fires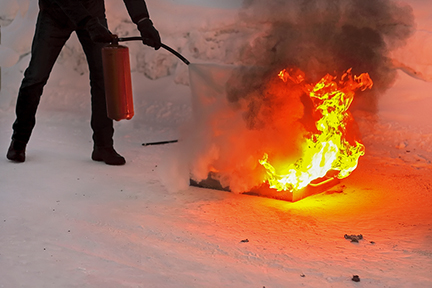 An article in a series based on the Safety Member Certification training module "Arson and Fire Safety and the Church Security Guide article Fire Safety in the Church"[1][2][3]
From the Bible
* Fire caused by carelessness:

Can a man take fire in his bosom, and his clothes not be burned? Can one go upon hot coals, and his feet not be burned? (Proverbs 6:27-28).
* Arson in the Bible:

And when [Samson] had set the brands on fire, he let them go into the standing corn of the Philistines, and burnt up both the shocks, and also the standing corn, with the vineyards and olives.

Then the Philistines said, Who hath done this? And they answered, Samson, the son in law of the Timnite, because he had taken his wife, and given her to his companion. And the Philistines came up, and burnt her and her father with fire (Judges 15:5-6).

And [the Babylonians] burnt the house of God, and brake down the wall of Jerusalem, and burnt all the palaces thereof with fire, and destroyed all the goodly vessels thereof (2 Chronicles 36:19).
* No fuel, no fire:

Where no wood is, there the fire goeth out ... (Proverbs 26:20):
Introduction: The Ounce of Prevention
Benjamin Franklin coined, "An ounce of prevention is worth a pound of cure," when urging residents of Philadelphia to prevent fires.
The cost of preventing a fire is much less than the loss likely to be caused by a fire. This is just as true today as it was in the 1700s, and it is a good motto for October, which is National Fire Prevention Month.
In the News
There are many causes of church fires. Here are a few in news stories:
* Arson
Salem, Oregon, August 31, 2023 - A fire in a Catholic Church in Salem was set before 2:30 am and damaged the sanctuary. By 7:00 am, an arson suspect was arrested.. The congregation is holding services in the gym until repairs are made.[4]
* Lightning
Savannah, Georgia, July 17, 2023 - Lightning struck the steeple of a 102-year-old church in Savannah. The resulting fire caused the steeple to fall. The quick response of fire departments saved the church building itself, but the ceiling of the sanctuary collapsed.[5]
* Candles wrongly placed
Sioux Falls, South Dakota, December 19, 2018 - A votive candle placed too close to flammables was the likely cause of a fire that damaged the sanctuary of a Sioux Falls Catholic Church.[6]
* Candles not completely extinguished
New York City, New York, May 1, 2016 - The fire that destroyed the Serbian Orthodox Cathedral in New York City was likely caused by candles reigniting after the Orthodox Easter service. They were collected by a custodian and put into a cardboard box, but not all were fully extinguished.[7]
* Furnace malfunction
Adelphi, Maryland, Decamber 9, 2003 - The cause of a fire early on a Tuesday morning was a faulty furnace. The fire was in a school attached to a church.[8]
* Gas leak
Hostyn, Texas, June 9, 2022 - An explosion and fire that destroyed a Catholic Church in the community of Hostyn, Texas, probably started with a gas leak ignited by a votive candle. An elderly woman preparing for the Thursday morning mass was severely burned and died 12 days later.[9][10]
Reduce the Odds of a Fire
Every church should plan for fire evacuations and hold fire drills. Likewise, each church should have operable fire extinguishers and train members in how to use them. These measures are important just in case there is a fire. At the same time, we also need to focus on preventing fires, whether accidental or intentional.
What are the Causes of Church Fires?
The news stories above cite arson, lightning, candles, furnace malfunction, and gas leaks as causes of church and school fires. Besides these, there are several other causes of fires, including smoking, trash burning, electrical shorts and overloads, space heaters, kitchen fires, flammables too close to heat sources, vehicle fires, etc.
Blocking Fire Causes
Many of these fire causes are relatively easy to identify and prevent.
Good housekeeping will keep flammables away from heat sources:

Decorating can put paper and cloth where they can easily ignite, such as by light bulbs and heating vents. Tissue paper, crepe paper, and paper coated with wax, oils, and plastic is more easily ignited.
Flammable liquids, especially volatile ones, should not be kept in the same rooms with furnaces, water heaters, and electrical equipment.
Outdoor smoking areas should not be next to much and shrubs. Yard debris should not be left in these areas. A designated smoking area should have a safe depository for butts and ashes.

All yard debris from mowing and trimming should be safely disposed. This guards against both accidental and intentional ignition.
Electrical safety prevents fires:

Do not overload circuits and/or power cords.
Replace worn cords. Repair or replace faulty devices and light fixtures.
Do not pass cords under rugs or mats.
Use cable protectors for cords that cross traffic routes.
When a circuit breaker trips, find out why and get it fixed.

Practice candle safety:

Church Mutual advises, Use candles only if required by tradition or religious community standards.[11]
Always supervise children using candles.
Keep candles away from cloth, paper, hair, etc.
Make sure all used candles are extinguished.

Preventive maintenance is vital for all equipment.

Have the heating system inspected and serviced before winter.
Inspect and service the air conditioning before summer.
Make sure all equipment with moving parts is properly lubricated.

Install sensors for gas leaks.

Report any indication or suspicion of a gas leak to the gas utility.

Store flammables safely.

If possible, store flammable liquids in an exterior building a safe distance from the main church building.
Lock flammables to deter their use in arson.

Guard against arson.

Clear out any materials outside that an arsonist may use.
Monitor the entire exterior of the building with cameras to detect any arson attempts and other suspicious activity.
Report any evidence of an arson attempt to the police or fire department.

Be sure that lightning rods are properly configured, installed, and grounded. On patrols, check the grounding wires for damage.
Seek Expert Advice
Look to your local fire department and your insurance provider for advice on how to prevent fires. Some denominational offices have guides to fire safety.
Have the fire department go with you through the church. They will see things you may miss.
Your insurance company has a vested interest in helping you prevent fires.
Conclusion
Do what you can to prevent church fires.
Training Notes
"Arson and Fire Safety" is one of eight Safety Member Certification training modules (classes). This class is scheduled for October 15 in Online Events (live Zoom classes).
Another training resource is the Church Security Guide article "Fire Safety in the Church."
You can learn more from Kris's videocasts on the YouTube channel Sheepdog Church Security Academy, The audios are on Church Securty Roll Call podcasts.[12][13]
References