Responding to Abuse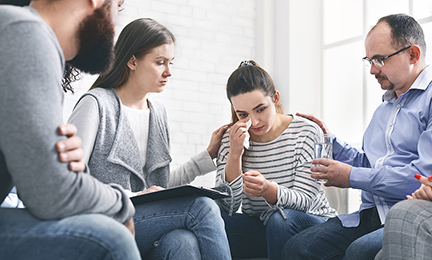 Based on the Safety Member Certification training module "Protecting Children from Abuse" and the Church Security Guide article "Protection of Children and Vulnerable Adults in the Church."[1][2][3]
From the Bible
"But whoso shall offend one of these little ones which believe in me, it were better for him that a millstone were hanged about his neck, and that he were drowned in the depth of the sea" (Matthew 18:6; see also Mark 9:42 and Luke 17:2).
Let a bear robbed of her whelps meet a man, rather than a fool in his folly (Proverbs 17:12).
I will meet them as a bear that is bereaved of her whelps (Hosea 13:8).
Introduction
Obviously, in our society we do not take the arrest, prosecution, and sentencing of sexual offenders into our own hands, but leave this to law enforcement agencies and the courts. However, there are things that local churches can and should do when abuse is discovered in our midst. This has two fronts: confronting the offenders and comforting the victims.
In the News
The responses differed by case.
Birmingham, Alabama, November 19, 2021 – A man was finally arrested in Birmingham 20 years after being convicted of sexual misconduct in Indiana. A habitual offender, he skipped trial while on bail, but was convicted in absentia and sentenced to 25 years in prison.
Living under an assumed name, he had been working for ten years as music minister in a Birmingham church. This was not the first church on his list. The Birmingham church received references from two other churches.
The pastor said that he would now check people more closely.[4][5][6]
Wheaton, Illinois, December 2, 2022 – The Pastor of the Anglican Church in Wheaton informed the congregation that a registered sex offender had been attending since 2019. Even though he was under supervision, including having a chaperone at all times when in attendance, congregants had not been informed until a blogger named the offender. Children's teachers said they wished they had known earlier.[7]
Atlanta, Georgia, December 2021 – The principal of an elementary school delayed reporting a teacher who was accused of bullying and hitting a special needs student. Four parents filed a lawsuit against the principal. They claimed his delay in reporting the abuse endangered other students, including their own children.[8]
Grand Rapids, Michigan, May 3, 2023 – A seven-year-old elementary student brought an unloaded gun to school. Now the mother is charged with child endangerment, and her fiancé faces a charge of felony firearms possession. Police believe the gun is stolen. Charges include leaving the gun where a child could take it.[9]
Flint, Michigan, January 11, 2023 – A student in a Flint school told her teacher that she was sexually abused by a relative. Over a two-day period, the teacher encouraged her to talk and got enough information to report the abuse. An adult male relative who'd been previously convicted of child abuse was arrested. He could face a life sentence.[10]
Clearwater, Florida, April 1, 2022 – A Baptist pastor who is prominent in his denomination encountered negative responses when he ordained an ex-teacher as a deacon. Why? The man is no longer a teacher because of sexual abuse. According to the pastor, he had repented, took full responsibility for his actions, and stayed clean. He also founded a faith-based non-profit agency and was on a faith-based council advising the governor. The pastor announced on April 1 that the deacon resigned. Critics questioned why the pastor had ordained him.[11]
Cordova, Tennessee, January 22, 2007 – The minister of music in a large SBC church was put on leave when sexual misconduct (abuse of a minor) seventeen years earlier came to light. The music minister confessed to the moral failure, but there was a 6-month delay in taking action. The leave came only after church leadership launched an investigation, which resulted in the minister being fired. The case was also investigated by the Department of Child Services.[12]
Videocast and Show Notes
This article's subject is covered by Kris Mooney in a Sheepdog Church Security Academy videocast (the audio is on a Church Security Roll Call podcast). With his passion for protecting children in the church, he will stress the practical application of the topic.[14][15]
"Childcare Code of Conduct" is our free download this week. Click *HERE* to get it. Additionally, you will receive our monthly newsletter, The Church Guardian.[15]
Now What?
In churches and other Christian organizations, we may suspect or become aware of abuse, whether sexual, physical, or otherwise. Now what do we do? Abuse of children and youth or other dependent persons, whatever kind of abuse it is, must be reported to local and/or state authorities. Certain persons are mandated by law to report abuse, and in some cases and places must take certain actions. We do not have the space here to cover the requirements of every U.S. jurisdiction, but we can cover some of the basics.
There are two parties to abuse, the offender and the victim. We need to confront the offender and report the abuse, and we need to comfort and support the victim. The Dru Sjodin National Sex Offender Public Website (Dru Sjodin [drew show-DEEN]) addresses both sides of how to respond: "Addressing Abusive Behaviors" and "Supporting Victims."[16]
Confront and Report
Dru Sjodin recognizes that children and teens can abuse others. Mostly the abuser is the same age as or older than the victim. Teen abusers are more common than some want to admit. The bright spot is that the younger the age when abusive behavior is recognized and addressed, the greater likelihood it can be corrected. However, sexual activity by a child is often a sign that the child has been (or is being) abused.
We can become aware of abuse in various ways. It can be by observing signs in the victims. It can be reported to us by a third party. Sometimes the victim herself or himself will tell us.
In Grand Rapids, the teacher and the principal knew a 7-year-old boy should not have had access to a firearm. When he brought one to school, they took it, found out where he got it, and reported it to the authorities.[9]
In Flint, a pre-teen told her teacher she was being sexually molested. The teacher patiently found out enough to know what to say, and reported it.[10]
Dru Sjodin says we are to call child protective services or call 911 if we see signs of abusive behavior by a child or teen. If we are not sure it is abuse, then either report it anonymously or consult professionals on how to handle it.
If we suspect an adult is abusing a minor, call 911, child protective services, or the health department. They should take the investigation from there. Be ready to tell the investigators what made you suspect abuse.
If a suspected abuser is in our organization, report it to the leadership. The suspected abuser should be put on leave from all responsibilities until it is determined whether or not they are or were abusers.
We may learn that a person in the organization had a past record of sexual abuse. Find out if this is true. In Alabama, the abuser used an assumed name. Therefore he did not come up on a sex offender search. Apparently he'd used the false name in previous churches.[4,5,6] A quality background check should have determined whether the applicant was using his legal name.
The case in Wheaton was a question of whether to share the background of an offender attending church under probation. If congregants know this, at least they would understand why Mr. X has someone always with him and why he does not attend certain events.
Comfort and Support
Victims of abuse, of whatever kind and at whatever age, need comfort and support. Dru Sjodin addresses how we support abused children and teens, abused adults, and adults who reveal abuse they experienced years or decades before.
Abused Children and Teens
First, if the young person tells you they're abused, report it immediately to authorities (and to your superior). Remain calm. Let the young person talk. Ask questions when needed, but not in an accusatory way. Let the victim know you believe him or her. Be sympathetic.
Do not act as though it is their fault. A sexual predator will make his victims feel guilty, to feel that they brought it on. There are two kinds of victim blaming: blamed by others and blamed by self. Be bold enough to say, "It's NOT your fault." If the child or teen needs medical care, see to it that they get it.
Remember that the family of an abused person is also abused. This is even harder if the abuse comes from within the family. Many of us personally know families who experience this pattern of abuse. When a child is abused, help the parents in dealing with it.
This is especially hard if the abuser is a close family member loved by the victim. It is a betrayal of love and trust. In many cases this is a parent, a sibling, or an uncle or aunt. It could be a cousin or a grandparent. Whatever the family relationship, abuse is abuse.
Since sexual abuse distorts a young person's view of sex and relationship, this requires counseling and coaching to instill a healthy view of sexual relations as between a husband and wife. One unfortunate consequence of child sexual abuse is marital dysfunction. A wife or husband abused in youth may be prudish or be sexually demanding. Either way, it is not normal. Another result could be promiscuity.
Abused Adults
Adults can also be sexually abused. This can range from harassment to rape. Women are especially vulnerable, but men are not exempt. The story of Joseph in Genesis shows how a woman can demand sexual favors and frame a man who refuses. Still, most of the time, it's the man abusing the woman. On the other hand, men have abused men by force, economic threats (in the workplace),or blackmail.
So what do we do when an adult reveals sexual assault or rape? It is not always yesterday or last week. It can be years later. Face it! It is humiliating for an adult to admit that he or she has been sexually victimized. It makes them feel like less of an adult, or even a non-person. It often leads to depression.
Adults, too, need to have someone believe them. When they tell you, listen. Don't be skeptical. Let them tell you what they're ready to tell. They'll tell you more later. Encourage them to report it. In the case of rape, have them get medical help (if soon enough) to collect evidence for an investigation.
Adults Abused as Children or Teens
News stories over the past several years cover adults telling about being sexually abused years, and even decades earlier. This is why many states have extended or repealed the statute of limitation for rape. The offenders have included teachers, coaches, clergy, officials, employers or supervisors, and relatives. Sexual assault by a total stranger is more likely to have been reported immediately.
As with other victims of abuse, adults abused in childhood or adolescence need to be believed. They also need empathy, someone sharing their feelings. All adult abuse victims could benefit from participating in support groups. In the meantime, we could guide these adults to support groups and competent counselors.
Arming Parents to Protect Their Cubs
"An ounce of prevention is worth a pound of cure" was printed by Benjamin Franklin. He was promoting safe practices to prevent house fires. The same principle applies to sexual abuse. An organization exists whose mission is to "fireproof" children against sexual abuse as well as immoral and anti-Christian influences. It is called Mama Bear Apologetics, drawing upon the example of a mother bear fiercely defending her cubs. A key book for fireproofing children is Mama Bear Apologetics Guide to Sexuality: Empowering Your Kids to Understand and Live Out God's Design. There is also a study guide to go with it, Mama Bear Apologetics Guide to Sexuality Workbook: Empowering Your Kids to Understand and Live Out God's Design.[17][18][19]
Training Notes
Training is important for learning how to respond to abuse against our church's most vulnerable members, whether in the church or by persons outside. This training is also key to keeping the church safe in other ways. Safety Member Certification has eight training modules:
Safety Team Fundamentals
Active Shooter Response
Deescalating Disruptive Persons
Protecting Children from Abuse
Basic Use of Force Laws
Arson and Fire Safety
Storms and Disasters
Mass Trauma Emergencies
Training is available in three formats: Individual Certification (self-paced online instruction), Team Certification (church-hosted classes), and Online Events (live Zoom classes). The new Online Events season begins this fall, so students enrolling now can begin then or start Individual Certification now and continue with Online Events in the Fall.[1]
Another educational resource is the Church Security Guide with nine articles:
These detailed overviews of church safety & security can be used to supplement and reinforce what is learned in the training program. "Protection of Children and Vulnerable Adults in the Church." (#6) relates to this article.[20][21]
On Deck
The article on deck for next week is "Supply Line to Life" (Mountain Man Medical).
References
"Addressing Abusive Behaviors" [https://www.nsopw.gov/en/SafetyAndEducation/HowToRespond#addressingAbuse];
"Supporting Victims" [https://www.nsopw.gov/en/SafetyAndEducation/HowToRespond#supportingVictims].