Technological Disasters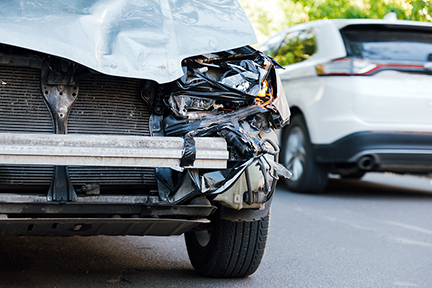 An article in the series Dealing with Weather and Disasters based on the Sheepdog Church Security Training Course Severe Weather and Natural Disasters v3[1]
Introduction
What can go wrong? Just about anything in this world can go wrong.
What if a rust-bucket car sideswipes the church van.
The next week, the power goes out in the middle of your child's Sunday School program at church.
Later that month, the hard drive on the church's computer crashes.
Right after the new drive is installed and data files are restored, a ransomware attack ties everything up.
Two months after that, a freight train derailment spills chemicals and causes an explosion, and during VBS to boot!
When it is all-clear and the kids are coming in, the porch rail breaks.
And you were wondering what could go wrong!
In the Bible
Bolivar, Missouri, August 10, 2018 - A 15-passenger van belonging to a church near Kansas City was carrying youth to a canoe outing in southern Missouri. Traveling down a state highway, a rear tire blew out. The van skidded, left the road, hit a tree, and overturned.[2] Three of the youth were killed and eleven more injured. Later, pastors of the church were expressing their concerns about the safety of 15-passenger vans.[3]
Northville, Michigan, August 2, 2015 - A strong storm swept across southern Michigan on a Sunday morning. The power went out as a Northville church was beginning its first service. Those leading the service changed the music selections and continued the service without electricity. The power came back on during the second service. The pastor said they realized that worship did not depend on things that use electric power.[4]
South Point, Ohio, October 13, 2019 - A propane gas explosion destroyed the self-standing fellowship hall of a rural church. The church building itself sustained only minor damage. There was no fire.[5]
Sioux City, Iowa, Week of February 14-20, 2016 - The computer files of a Sioux City church were frozen by ransomware hackers. The hackers demanded payments to release the church's data. Instead of paying ransom, the church had their computer system rebuilt. Police and other authorities were investigating the attack.[6]
San Juan Capistrano, California, October 15, 2010 - When 16 persons at a school next to a church became ill at the same time, hazardous material was suspected. The fire department was called and a hazmat team responded. The school and the surrounding area were searched. No hazardous material was found. Those who were ill recovered within a few hours.[7]
Henrico, Virginia, June 26, 2019 - The central part of the sanctuary ceiling in a Henrico church collapsed. Several pews were damaged and dust damaged the pipe organ. Fortunately, no one was in the sanctuary at that time. Their insurance agent advised them to not begin cleanup until after the investigation of the cause.[8]
Speaking about insurance, structural failure may or may not be covered by a policy. Part of this depends not only on the actual cause as determined by investigators, but on terms used in the policy. For example, in a First Circuit Court of Appeals case, the definition of "decay" in an exemption to an exclusion determined whether or not an insurance company had to pay for the collapsed ceiling in a Massachusetts church.[9]
Special Resource
In March the free downloadable resource is Emergency Supply List Recommendations (Essential supplies to have on hand in a disaster or emergency event).[10] This document has lists for the church and a list for families. By clicking *HERE* you can get it and (if you're not already subscribed) sign up for The Church Guardian (monthly newsletter), and weekly email updates.
The Security Guide article "Preparing Your Church for Natural Disasters"[11] and the Sheepdog Church Security training course Severe Weather and Natural Disasters[1] have additional information.
Featured Product
The featured product from the Sheepdog Church Security store (Recommended Equipment for Safety Ministries) on Amazon.[12] is the Midland WR300, Deluxe NOAA Emergency Weather Alert Radio, which has S.A.M.E. local weather forecasts and alerts, over 60 emergency alerts, including for other hazards (such as road closures, spills, explosions, etc.), and an AM/FM radio. Emergency alerts will override radio broadcasts.[13]
Technological Disasters
Not all disasters are natural. Some are technological. Mostly unpredictable, a technological disaster is expected to be accidental, but it can be intentional. Several types are:
Traffic Accidents
Power Failures
Explosions
Computer Failures as a Result of Viruses
Hazardous Materials such as Oil Spills
Structural Failures
Traffic Accidents
Although train, ship, and aircraft wrecks may be classified as traffic accidents, the ones impacting a church are overwhelmingly those on streets, roads, and highways. Some exceptions are a plane crashing into church property, a train wreck releasing hazardous materials, and church individuals or groups as passengers on a flight, train, ship, etc. on church business.
Most traffic accidents are caused by human error, either directly or indirectly. Direct causes could be driver error or passenger interference. Mechanical failure is an indirect human cause: lack of maintenance, mistakes in mechanical work, poor design, manufacturing errors, etc.
Avoiding Traffic Accidents and Insuring against Them
If the church has vehicles, they should be properly maintained, meet safety standards, and be covered by insurance. Only qualified drivers should operate them. Some vehicles may require a state CDL Passenger Endorsement. The church may be liable if it uses private vehicles driven by members to transport unrelated persons to a church function or other event (such as a conference, concert, or camp).
Does the church's liability insurance cover this? If you cross state lines, are you still covered? Consult your attorney as well as your insurance provider. Also cover medical claims for drivers and passengers injured in a traffic accident caused by an uninsured driver of another vehicle.
Power Failures
An old riddle is, "Where was Moses when the lights went out?" The natural answer is, "In the dark." What if he is in your church when the lights go out. The church should have battery-operated emergency lights which come on when the power goes out. That way, attenders can find their way out or to shelter, depending on the cause. Flashlights are also useful during a power outage. One with a traffic wand[14] can be used for directing people to safe places.
Some churches have emergency power generators which will come on if the power does not return within a specified time. Not just anybody can properly hook up an emergency power generator. If it is not set up correctly, electrical equipment can be damaged when the power returns.
Explosions
Most explosions in churches or nearby buildings come from gas leaks. Also, boilers and water heaters can explode if relief valves do not function as designed. Fires or other sources of excess heat can cause containers of volatile flammable liquids to explode. For instance, fumes from a gasoline container can be ignited by a pilot light.
Preventing Explosions
Vigilance and maintenance are keys to preventing explosions.
Be alert to indications of gas leaks or fumes from flammable liquids.
Have gas lines and appliances (including furnaces, ranges, and water heaters) inspected regularly.
Inspect and clean furnaces and water heaters annually.
Store flammable liquids safely, either in a vault-type room or (preferably) in a separate building.
Know where underground gas lines are and prevent digging there.
Computer Failures as a Result of Viruses or Hacks
Individuals and organizations from local groups to the federal government are trying to prevent computer attacks. The attackers use malicious code, such as viruses, worms, and malware, to infect computers. Criminals and foreign agents (intruders) use phishing messages on websites or in emails and other messages to get the victim to disclose information needed to access the computer. Once inside the church's computer, they may be able to get into confidential data and bank accounts.
Preventing Cyberattacks (Including Viruses)
There are two ways of preventing cyberattacks on your church's computers: keeping out malicious code and keeping out intruders -
Install effective anti-virus and anti-malware programs on the church's computers. Update them frequently. Many anti-virus programs can be set to automatically update. Scan the computers when starting them and before shutting them down. Be aware of any malicious code (threats) the program has found in scans.
Practice cyber safety hygiene. Guard against phishing attempts. Do not open messages, links, and web pages with malicious code. Just because an email message claims to be from a trusted source does not mean it is. If it has a link or asks for identifying information, check the sender's email address against your contact list. Learn to look for signs of a phishing message. If in doubt, contact the person, company, or organization directly (NOT by replying to the message) and ask if they sent such-and-such a message. If they did not, delete it.
Back up all church data to removable media, such as CDs, DVDs, and external drives. If there is a crashed hard drive, malicious code that necessitates wiping the computer, or a ransomware attack, files can be restored, as was done in the Sioux City church.[6]
Hazardous Material Incidents
Hazardous material incidents can range from leaking cleaning chemicals in the janitor closet to a truck wreck, an industrial spill, or a fire involving certain materials.
Preventing or Responding to a Hazardous Material Incident
Do what you can to avoid a hazardous material incident within the church building or on its property. If you are warned of an external hazmat threat (such as a tanker wreck or an industrial leak) while services or events are in session, be prepared to shelter in place if there is no time to send people home.
Have materials to seal doors and windows.
Turn off all HVAC equipment.
Bring everyone into an area that can be sealed off.
Monitor public safety channels for an all-clear or further alerts.
Structural Failures
If your church building is old, it should be inspected for potential structural failure. For instance, nails holding up the ceiling in a very old Massachusetts church eventually pulled out. [9] All the roof trusses in an old Ohio church building had to be replaced during renovation done during the initial COVID closure.[15] Weaknesses may also show in newer buildings because of design, materials, or damage.
Pay attention to:
Porch, stairway, and balcony railings
Canopies over outside doors and passenger drop-off areas
Fixtures hanging from ceilings, etc.
Any signs of sagging ceilings
Distortion of roof lines
Cracks in walls
Doors and windows which no longer close easily
Lifted board ends or loose boards on wood porches, platforms, stairs, etc.
Conclusion
Some technological disasters may be prevented. Others cannot. Prevent the ones you can, be ready to respond to those more likely. Be sure your insurance covers the more costly ones your church is at risk for.
There Is More
This series on Dealing with Weather and Disasters has four articles The other three are: "The Will of the Wind" (All Kinds of Windstorms), "Heat & Cold, Flood & Drought" (Extreme Conditions), and "On Shaky Ground" (Tectonic Disasters and Other Geologic Events). At the end of the month is "The 2002 Our Lady of Peace Church Shooting," an article on Lessons Learned from Church Shooting Incidents.
References