Lesson Learned from a Church Shooting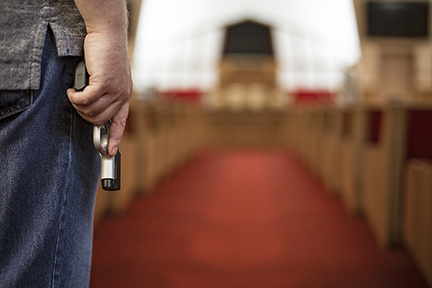 An article based on the Safety Member Certification training modules "Active Shooter Response" and "Mass Trauma Emergencies."[1]
From the Bible
Murder by treachery:
A Personal Revenge Motive
Now Absalom had commanded his servants, saying, "Mark ye now when Amnon's heart is merry with wine, and when I say unto you, Smite Amnon; then kill him, fear not: have not I commanded you? Be courageous, and be valiant." And the servants of Absalom did unto Amnon as Absalom had commanded (2 Samuel 13:28-29a).
A Political Motive
Now it came to pass in the seventh month, that Ishmael the son of Nethaniah the son of Elishama, of the seed royal, and the princes of the king, even ten men with him, came unto Gedaliah the son of Ahikam to Mizpah; and there they did eat bread together in Mizpah. Then arose Ishmael the son of Nethaniah, and the ten men that were with him, and smote Gedaliah the son of Ahikam the son of Shaphan with the sword, and slew him, whom the king of Babylon had made governor over the land (Jeremiah 41:1).
Introduction
History is filled with accounts of murderous treachery. The murderer gains the trust of the intended victim(s), then strikes them when least expected. In very few cases is this legitimately justified as an act of war, such as when Ehud killed King Eglon of Moab to free Israel from his oppression (Judges 3:13-25). Almost all the rest are regarded as murder. For instance, killing persons who are political opponents without a reasonable chance of gaining the national objective is seen as just lashing out in murder. Even when a political objective is achieved, it is often judged as unjustified.
The attack on a Taiwanese congregation in 2022 is seen in this context and was condemned by persons on both sides of the political issue.
Killer in their Midst
On Sunday morning, May 15, 2022, the Irvine Taiwanese Presbyterian Church (meeting at the Geneva Presbyterian Church in nearby Laguna Woods, California) had two visitors. One was the former pastor, who had moved back to Taiwan and came back for a visit. The other was a Taiwanese-born Chinese American living in Las Vegas, Nevada.
This Sunday, the congregation was honoring their former pastor, who was the guest speaker at the service in the chapel. Between 30 and 40 persons were there. An after-service dinner was prepared in the fellowship hall.
The second guest was unplanned. He had come from Las Vegas the night before. When he came to the service, the receptionist asked him to fill out a visitor's form. He declined, claiming he had already done so at an unspecified time.
While preaching, the former pastor noticed that the stranger (who came in late) sat in the back of the chapel looking at a newspaper instead of focusing on the message.
After the service, the stranger from Las Vegas chatted with congregants in the Taiwanese dialect of Chinese. This assured them that he, like most of them, was also from Taiwan. What they did not realize at the time was that he had chained most of the exits and super-glued latches and locks. This was to keep them from escaping. He had also planted bags with extra ammunition and Molotov cocktails.
During the meal, the stranger pulled a handgun out of a bag.. Some thought at first that it was a toy gun and part of a stunt - that was until he began firing.
As bullets began to fly, a physician charged the shooter, trying to tackle him. He fell when hit by bullets.
The visiting pastor picked up a chair and threw it at the assailant, hitting him on the head. The gunman stumbled and fell, and members pounced on him. They hogtied him with electric cords. Someone had called 911. The police came and arrested the assailant. Medics treated the six wounded and took five to the hospital. The physician died.
The Divide
We cannot understand the shooter without knowing about the Taiwanese divide. In 1949, when Communists under Mao took over mainland China, the Nationalists under Chiang Kai-shek invaded Taiwan (formerly known as Formosa). There they ruled with martial law until years after Chiang Kai-shek died. The native Taiwanese were suppressed while those from the mainland had the power and privileges.
The native Taiwanese are known as "Province-born" (Provincials). Those from the mainlanders are known as "Outside-born" (Outsiders). As Taiwan became more democratic, the Provincials gained power and the Outsiders lost privileges as the two populations became more equal. Outsiders largely favor the one-China policy, hoping to rule China someday. The Provincials largely favor total independence with a separate national identity and their dialect the national language (not Mandarin). The divide continues between Taiwanese in America.
The shooter was an Outsider. His parents were among those who fled the Mainland. His view of one China was not pro-Communist, but the vision of finally winning the long-lost civil war.
The shooter did well in this country, owning an apartment building in Las Vegas. But then his wife had cancer. She moved back to Taiwan for medical treatment and divorced him. He then became unstable. He lost the property and took a job as a security guard. His political views became more radical. He tried to join a new re-unification group in Las Vegas, but they said he was too extreme, not viewing provincial Taiwanese as humans deserving of life.
Before going to Laguna Woods, he mailed a photocopy of his diary to a Chinese paper in Los Angeles. He called himself the Angel of Death for Independence. The paper received it after the shooting and turned it over to the police.
The Irvine congregation was targeted because its members were pro-independence. He also knew about their former pastor visiting. The attack was meticulously planned.
What Followed
The physician was the only fatality. He is known as a hero, because his charge disrupted the shooting, allowing more time for others to counter-attack. The other five wounded persons recovered.
The shooter was charged with murder by Orange County. He was also indicted on 98 charges by a federal grand jury, many for civil rights violations. Both federal and state charges could possibly bring the death penalty. However, California has had a moratorium on the death penalty.
The alleged shooter has pleaded not guilty to the charges. He is hard of hearing. Also, he has to listen through an interpreter. At the time of this writing, he has not yet gone to trial.
The shooting raised concerns about anti-Asian bias and violence. When more was learned about the motive, it raised awareness of the complexity of the Taiwan issue.
Lesson Learned: Be Aware of Warning Signs
There were a few red flags about the assailant in this church shooting. Overlooked or not followed up, they led to a tragedy.
Failure to Identify. The stranger at the greeter's desk did not wear a ski mask, but he did not identify himself either. He declined to register as a visitor. When he said he had already registered, the receptionist should have asked his name, explaining that she could verify his registration and mark his attendance. This would have put him on the spot, and his reaction may have raised suspicions.
Extra Baggage. The stranger brought in more than a briefcase or a Bible. The news accounts did not say when he brought in the bags of ammo, guns, and incendiaries. If all but the main doors had been locked, he could have been observed bringing in more than a Bible and a notepad, whether he did so when first entering or if he'd gone back out to the car to get them. This would be especially suspicious for a visitor, who would not likely be bringing in food for the meal.
Violation of Norms. It is certainly out of the norm for a visitor to read a newspaper during the sermon. The speaker noticed it and should have pointed it out to someone after the sermon or signaled his suspicion to an usher while speaking. If they had a safety team, a member should have noticed this.
Strange Activity. It seems the assailant was not seen planting bags of ammo and incendiaries in the fellowship hall. And what he did to the doors was outright suspicious. Apparently, he did this during the service, which would have been why he was late entering the chapel. Who was watching?
Conclusion
While welcoming visitors, also watch for any warning signs of potential violence.
Training Notes
Training is needed to implement the lesson learned from this church shooting incident. Awareness of warning signs of potential violence should be taught not only to Safety Team members, but also to greeters and ushers. These persons could audit the "Active Shooter Response" class.
On the other hand, if there are enough ushers and greeters, an instructor could hold a class on awareness of warning signs. This class would be based on material in the training module. This could include role playing with Safety Team members posing as active killers, basically disruptive persons, or normal visitors.
Church Safety Teams are encouraged to enroll their members in the Safety Member Certification program. There are three training formats: Team Certification (church-hosted classes), Individual Certification (self-paced online instruction), and Online Events (live Zoom classes).
The 2023-2024 Online Events school year is already in session. It has four quarters. Quarter 1 began on September 10. Quarter 4 will begin March 24, 2024 and will end on June 2.
Watching for violations of norms is part of the conversation in Kris's interview with Simon Osamoh of the Worship Security Academy (WSA). More resources are available on WSA.[2][3][4]
References
Sheepdog Church Security Resources
News Accounts
"2022 Laguna Woods shooting," Wikipedia [https://en.wikipedia.org/wiki/2022_Laguna_Woods_shooting].
Andrew Blankstein, Jonathan Dienst and Dennis Romero, "1 dead, 5 injured, man arrested in shooting at California Asian church reception," NBC News, May 15, 2022 [https://www.nbcnews.com/news/us-news/multiple-victims-reported-person-detained-california-church-shooting-rcna28937].
Kate Shellnutt, "Elderly Taiwanese Church in California Attacked by Shooter," Christianity Today, May 15, 2022 [https://www.christianitytoday.com/news/2022/may/california-church-shooting-taiwanese-irvine-presbyterian-la.html].
The Associated Press, "Suspect faces multiple charges in a deadly California church shooting," NPR, Updated May 17, 2022 [https://www.npr.org/2022/05/17/1099586853/california-church-shooting-charged-taiwan].
Meredith Deliso and Alex Stone, "Suspect in Taiwanese church shooting indicted on federal hate crime charges,"
Caroline Linton, "Suspect indicted on 90 hate crime charges in Southern California church shooting," CGS News, May 11, 2023 [https://www.cbsnews.com/news/david-chou-indicted-geneva-presbyterian-church-shooting/].
Emily Feng, "A deadly church shooting exposes the complexities of Taiwanese and Chinese identities," NPR, June 8, 2024 [https://www.npr.org/2022/06/08/1103653026/a-deadly-church-shooting-exposes-the-complexities-of-taiwanese-and-chinese-ident].
By The Associated Press, "Las Vegas suspect in California church shooting pleads not guilty," Fox 5 Las Vegas, Aug. 19, 2022 [https://www.fox5vegas.com/2022/08/19/las-vegas-suspect-california-church-shooting-pleads-not-guilty/].