Lesson Learned in a Deadly Force Attack on a Church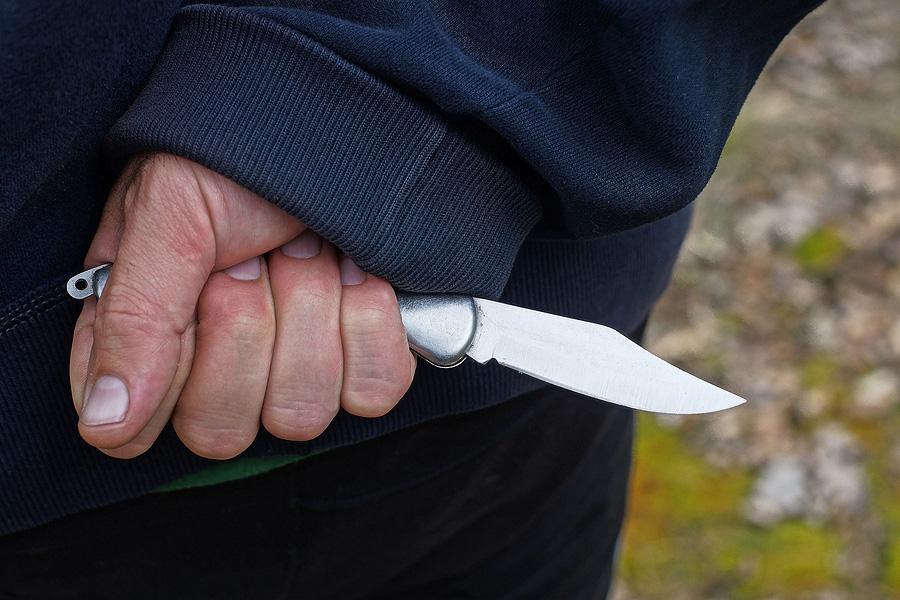 An article based on the Safety Member Certification training module "Active Shooter Response."[1]
From the Bible
* Anger can be quickly kindled:
... and Balaam's anger was kindled, and he smote the ass with a staff (Numbers 22:27b).
* Alcohol and drugs make outbursts of anger more likely:
Who hath woe? who hath sorrow? who hath contentions? who hath babbling? who hath wounds without cause? who hath redness of eyes? They that tarry long at the wine; they that go to seek mixed wine (Proverbs 23:29-30).
* Some people attack those who've been kind to them:
And Saul cast the javelin; for he said, I will smite David even to the wall with it. And David avoided out of his presence twice (1 Samuel 18:11).
Thus Joash the king remembered not the kindness which Jehoiada his father had done to him, but slew his son. And when he died, he said, "The Lord look upon it, and require it" (2 Chronicles 24:22).
Introduction
There are risks in ministering to some groups of people. If the group includes persons abusing alcohol and drugs and those with a history of violence, the risks increase. This violence can be against anyone: the administration, the helpers, others in the group, or people in general. The problem we have is trying to minimize and mitigate the risks while helping those in need. Those who are the greatest risks may include even those who help us in helping the others.
Videocast and Lesson Learned Download
In a videocast on the YouTube channel Sheepdog Church Security Academy, Kris Moloney shares his perspectives on the stabbings at Grace Baptist Church. The primary focus is the lesson learned from this tragic event. Kris draws on his law enforcement experience. The audio is on a Church Security Roll Call podcast.[2][3]
Beneath the video screen is a link to the Lessons Learned download. This is a PDF that can be printed or attached to share with others for discussion of the topic.
An Historic Church with a Heart to Help
Grace Baptist Church in San Jose, CA, occupies an historic building erected in 1930. It is across the street from San Jose State University. This progressive congregation is not reluctant to get personally involved with those they help. They started Grace Solutions to help the homeless in San Jose with food, clothing, and shelter. Part of the building is used to get people off the street in cold weather. That was the setting on Sunday, November 22, 2020.
Rampage in the Refuge
November 2020 was cold at night in San Jose, and the church was a refuge for the homeless. On Sunday evening, November 22, 40 to 50 homeless people were staying at the shelter in Grace Baptist Church. The shelter was operated by Grace Solutions, a non-profit ministry of the church.
A man came in who had been there before and had helped sometimes, so he was known to the staff and volunteers. After some of the staff left, the suspect helped lay out sleeping mats for the homeless guests. The motive for what happened next is not clear, but those he worked with thought he was on drugs.
Shortly before 8 pm, for reasons unknown, he got a knife and began stabbing others. Five persons were stabbed. One was a volunteer who was also a city employee. Another was a full-time member of the Grace Solutions staff. The other three were homeless people. One was a woman. The attacker began chasing those who were running away. Some women went into another room. A man who'd been stabbed already, went into the room, closed the door to protect the women, and blocked it, leaning against it with his bloody back. The attacker, who was high on drugs, fled.
911 was called at 8:47 pm, with a second call after 9:00. The callers said there was blood everywhere. When police arrived, they found that one man had died at the scene. The other four victims were taken to the hospital, where the woman died. Three men were in critical condition.
The suspected attacker was soon found and arrested.
Inclined toward Violence
The attacker was an illegal immigrant who had been deported three times, returning to California after each deportation. He had a 15-year criminal history in California. This includes assaults with deadly weapons, drugs, and domestic violence. At the time, he was on probation from another county for domestic violence.
The week before the rampage, a local judge released him from custody on his own recognizance despite the district attorney's objections. He was being held on charges involving violence. ICE had a retainer on him, which would have been honored under California state law, but Santa Clara County is a sanctuary county, so ICE was not waiting for him when he got out. Since he was homeless and it was cold, he headed for the church's shelter.
The Fallout
Two people died from their wounds, one at the scene, the other in the hospital. The immigration status and criminal record of the attacker sparked an outrage. The mayor and police chief of San Jose called on the county to change its sanctuary policy, following state law. Many blamed the homelessness situation for the rampage, while others questioned the management's response. To say the least, this was shocking.
The Grace Solutions program was suspended while their part of the church underwent deep cleaning and repairs. This meant less shelter space in San Jose for the homeless on those cold nights.
I don't know what role the stabbing played, but the pastor left and a new pastor came in.
The suspect was charged with two counts of murder, three of attempted murder, aggravated assault with a deadly weapon, and battery on a spouse or co-inhabitant (the last refers to his homeless victims). There have been 35 court hearings with two more scheduled in July 2023. As of 6/22/2023, the case is suspended. The suspect is still being held in the Santa Clara County jail.
In May 2022, the widow of a deceased victim filed a lawsuit against the church, Grace Solutions, and the suspect. The suit alleges that the church and the homeless ministry should have evicted the attacker because of his violent tendencies. Another lawsuit was filed in November 2022 by a survivor of the incident. In the events record for both lawsuits a "Change Address/Firm Name" notice was filed on May 25, 2023 by Grace Baptist Church. A year before, the church had considered selling its building because of financial strains. It appears that there is more of the story to follow.
Currently in the news is the report that a charter school associated with the church is closing.
Lesson Learned: Hold Volunteers and Residents Accountable
The person who went on a stabbing rampage on Nov. 22, 2020 was both a homeless person using the services of Grace Solutions and a frequent volunteer. Considering his record of repeated immigration law violations and his criminal record of drug use and violence, he was also a human time bomb.
This is the basis of the lawsuits filed against the church last year. The plaintiffs allege that the church and its homeless ministry should have taken his record and current behavior into account when they let him sleep in the church and help in setting up the gym for sleeping quarters.
Another issue was his access to a knife, perhaps from the kitchen (this seems to be an echo of the 2015 stabbings at the Anna Prayer Center).
Due diligence would be:
Either

deny admittance to a person like this who is a threat, or
house him in a controlled setting where he would not be a threat to staff and other residents (this is only if the organization is equipped for that). .

Strictly limit the ways in which he could help as a volunteer, with no access to likely weapons (such as knives and other sharp objects).

* Note: knives in a prison kitchen are kept in a locked room or cabinet, and all must be accounted for before inmates on kitchen duty return to their cells.

Exercise drug and alcohol control, keeping them out of the hands of guests and volunteers.
Address any incidents of violence or threatening behavior (including verbal or written threats).
Call 911 when needed, and report any violence or threats to police.

With a police report and/or a 911 transcript, you have documented justification for administrative actions.
The reason for strict accountability is that we do not want helping others to result in hurting others.
Conclusion
Pay attention to known risks and take them into account when helping risky people, then exercise due caution and accountability.
Training Notes
"Active Shooter Response" is one of eight Safety Member Certification training modules (classes). All church safety team members need to be trained and certified through this program. There are three training formats: Individual Certification (self-paced online instruction), Team Certification (church-hosted classes), and Online Events (live Zoom classes).
Individual Certification allows an individual team member to train without waiting for a class to be available. This could be a new team member joining an existing team, a member who cannot attend a class, or someone auditing* a module.
Team Certification is perfect for training a new team and for biennial re-certicfication. This has the benefit of interaction with the instructor and among students. It could also include role-playing.
Online Events are conducted on Sunday afternoons with Kris as the instructor. The new season (school year) begins in September.[1]
* Auditing is taking a class without going through the entire program. The classes taken are those beneficial to one's role in the church. For instance, teachers, youth leaders, and childcare workers need to take "Protecting Children from Abuse." The teachers and youth leaders would also benefit from "Deescalating Disruptive Persons."
Another training resource is the Church Security Guide. It has nine articles, including "Church Safety Teams and Active Shooter Training."[4][5]
On Deck
On deck for next week is "Legal Fallout" (Use of Force Liability).
References
Sheepdog Church Security Resources
News Accounts and Online Sources
Anon, "Update: Two Dead, Others Seriously Injured In Stabbing At San Jose's Grace Baptist Church," CBS News Bay Area, November 23, 2020 [https://www.cbsnews.com/sanfrancisco/news/stabbing-at-san-jose-church-multiple-victims-transported-for-treatment/].
Wilson Wong, "San Jose, California, church stabbing leaves two dead, several wounded," NBC News, November 23, 2020 [https://www.nbcnews.com/news/us-news/san-jose-california-church-stabbing-leaves-two-dead-several-wounded-n1248594].
Lee Brown, "Grace Baptist Church stabbing: Multiple dead after attack in California," New York Post, November 23, 2020 [https://nypost.com/2020/11/23/grace-baptist-church-stabbing-spree-kills-multiple-in-california/].
Leonardo Blair, "2 dead, 3 injured after 'horrific' stabbing at Grace Baptist Church in California," The Christian Post, November 23, 2020 [https://www.christianpost.com/news/2-dead-3-injured-horrific-stabbing-at-grace-baptist-church.html?clickType=link-related-articles].
Jesse O'Neill. "Suspect in custody after stabbing spree at San Jose, California church," New York Post, November 23, 2020 [https://nypost.com/2020/11/23/suspect-in-custody-after-stabbing-spree-at-san-jose-california-church/].
Anon, "Pastor: Church employee among 5 stabbed in homeless shelter," AP News, November 24, 2020 [https://apnews.com/article/homeless-shelters-san-jose-baptist-san-francisco-8c9b009674bb1f796fd8d214db8c8fb8].
Anon, "San Jose city worker ID'd as one of survivors in deadly church stabbing," ABC 7 News (KGO-TV), November 24, 2020 [https://abc7news.com/san-jose-stabbing-grace-baptist-church-sj-police-crime/8234831/].
Leonardo Blair,, "Volunteer identified among victims of Grace Baptist Church stabbing that left 2 dead," The Christian Post, November 24, 2020 [https://www.christianpost.com/news/volunteer-among-5-victims-of-grace-baptist-church-stabbing.html].
Jennifer Wadsworth, "Stabbing Victims Described as Selfless, Passionate About Helping the Less Fortunate," San Jose Inside, November 24, 2020 [https://www.sanjoseinside.com/news/friends-describe-grace-baptist-stabbing-victims-as-selfless-passionate-about-helping-others/].
Anon, "UPDATE: Police Detail San Jose Church Stabbing Suspect's Violent Criminal History, Repeat Deportations," CBS News Bay Area, November 25, 2020 [https://www.cbsnews.com/sanfrancisco/news/update-police-identify-san-jose-church-stabbing-suspect-detail-lengthy-criminal-history/].
Louis Casiano, "California church stabbing suspect had been deported three times, officials say," Fox News, November 25, 2020 [https://www.foxnews.com/us/san-jose-church-stabbing-immigrant-deported].
Shaunn Cartwright, Jethroe Moore, Pastor Scott Wagers, Sandy Perry, RJ Ramsay and Jamie Foberg, "Op-Ed: Grace Baptist Church Stabbing Was a Tragedy That Could Have Been Averted," San Jose Inside. December 1, 2020 [https://www.sanjoseinside.com/opinion/op-ed-grace-baptist-church-stabbing-was-a-tragedy-that-could-have-been-averted/].
Gideon Rubin, "Church Stabbing Attack Suspect Had Jail Release Revoked: Report," Patch, November 25, 2020 [https://patch.com/california/losgatos/church-stabbing-attack-suspect-had-jail-release-revoked-report].
Placer County Deputies, "Fernando De Jesus Lopez-Garcia, an illegal immigrant and felon, killed two people Sunday in San Jose," Placer County Deputies on Facebook, undated [https://www.facebook.com/PlacerDSA/posts/fernando-de-jesus-lopez-garcia-an-illegal-immigrant-and-felon-killed-two-people-/4175275952487835/?locale=zh_CN].
Ilene Eng, "San Jose Officials Urge County to Change Sanctuary Policy After Church Homicide," The Epoch Times, December 5, 2020 [https://www.theepochtimes.com/san-jose-officials-urge-county-to-change-sanctuary-policy-after-church-homicide_3604554.html].
Marianne Favro, "One Year Later: Remembering Victims of Deadly SJ Church Stabbing," NBC Bay Area, November 20, 2021 [https://www.nbcbayarea.com/news/local/one-year-later-remembering-victims-of-deadly-sj-church-stabbing/2737683/].
Amanda del Castillo, "'Painful still': Grace Baptist stabbing survivor remembers victims, church plans anniversary events," ABC 7 News (KGO), November 20, 2021 [https://abc7news.com/grace-baptist-church-stabbing-san-jose/11255864/].
Wesley Severson, "Members fight to save the historic Grace Baptist Church in San Jose amid development plans," Hoodline, May 10, 2022 [https://hoodline.com/2022/05/members-fight-to-save-historic-san-jose-church-that-could-be-replaced-by-housing-development/].
Tran Nguyen, "San Jose church faces lawsuit over fatal 2020 stabbing," San José Spotlight, May 25, 2022 [https://sanjosespotlight.com/san-jose-grace-baptist-church-nonprofit-homeless-shelter-grace-solutions-faces-lawsuit-over-fatal-2020-stabbing/].
"Our Story," Grace Solutions, n.d. [https://www.gracesolutions.org/].
Superior Court of California, County of Santa Clara,

"The People of the State of California vs. Lopez, Fernando Jesus," Filing Date: 11/25/2020 [https://traffic.scscourt.org/case/NDM1NjA2Mw==];
"Beverly Paulson vs Grace Baptist Church et al," Filing Date: 5/19/2022 [https://traffic.scscourt.org/case/NDU5MzQ1Mw==];
"Jeremy Willis vs Fernando Lopez-Garcia et al," Filing Date: 11/8/2022 [https://traffic.scscourt.org/case/NDY3NjM5NQ==].

Robert Handa, "San Jose charter school on the brink of closing permanently," NBC Bay Area, June 9, 2023, Updated June 10, 2023 [https://www.nbcbayarea.com/news/local/south-bay/san-jose-charter-school-possible-closure/3248857/].