Lesson Learned from a Church Shooting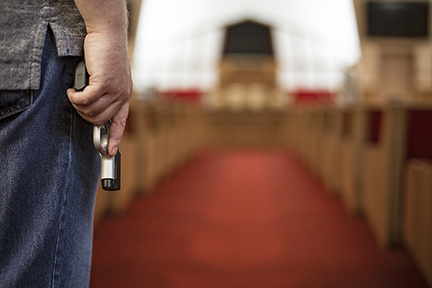 An article based on the training module "Active Shooter Response" in the Safety Member Certification program.[1]
From the Bible
And the spirit of jealousy come upon him, and he be jealous of his wife ... (Numbers 5:14a).
For jealousy is the rage of a man: therefore he will not spare in the day of vengeance (Proverbs 6:34)
Husbands, love your wives, and be not bitter against them (Colossians 3:19).
Wine is a mocker, strong drink is raging: and whosoever is deceived thereby is not wise (Proverbs 20:1).
Who hath woe? Who hath sorrow? Who hath contentions? Who hath babbling? Who hath wounds without cause? Who hath redness of eyes? They that tarry long at the wine; they that go to seek mixed wine (Proverbs 23:29-30)
Introduction
There are several motives for deadly-force attacks in churches. The two most common are domestic abuse and mental illness. Another one is substance abuse (drugs or alcohol). All three are involved in this case.
Videocast and Downloads
Kris Moloney covers this church shooting in a Sheepdog Church Security Academy videocast (the audio is a Church Security Roll Call podcast). His extensive experience in the military, law enforcement, and church security contribute to his analysis, especially the lesson learned from this incident.[2][3]
Under the video screen are links to Church Shooting Lessons Learned Download (Show Notes). It will be for this article until the next Lesson Learned article is posted. There is also a link to another download, "Active Shooter."
Two Targeted, Three Shot
It was Thursday, December 4, 2014 in Bradenton, Florida. Before 1:00 pm, the Children's Director of Bayshore Baptist Church was hung, beaten, and shot by her husband of 14 years. Also killed was a neighbor woman who happened to be assisting her on a project. Five of the couple's six children were in school, so they did not see the shooting. Their father planned it that way. Only the 4-year-old son was at home.
The husband drove 10 miles to the church. There he went into the office and confronted the pastor, James "Tripp" Battle, III. They went out into the courtyard while the church secretary, the pastor's wife, watched. The husband could not be calmed, but pulled out a handgun. Firing several shots, he fatally wounded the pastor as his wife watched. Then he got into his suburban and drove off.
The pastor's wife called 911 and reported the shooting. Unidentified family members called police to tell them two bodies were at the house.
The shooter's vehicle was found 3-to-4 miles away in a Walmart parking lot, but not the man. On TV and radio, his father pled for his son to turn himself in. On Saturday, the shooter let police know where he was. They arrested him in the laundry house of a mobile home park two blocks from the church. He told an officer that he was the one who shot the three persons on Thursday.
PKs Not Exempt
One interesting fact in this case is that the fathers of the pastor, the pastor's wife, and the shooter are all Baptist pastors.
The pastor, who had grown up in Bradenton, had been at Bayshore Baptist for only a year and a half. Under his leadership, the congregation grew from 32 or 34 to over 100, and was still growing.
According to her profile on the church's Facebook page, the shooter's wife accepted Christ when she was 19. She was led into children's ministry.
The shooter differed from the others in a significant way: he was an alcoholic and a drug user. The substance abuse, along with the paranoia it led to, created marital problems, resulting in at least one separation. He had at least five DUI arrests with some stays in the county jail, making it hard for him to hold a job for very long. To help the family, the pastor's father, James "Jimmy" Battle, Jr., hired him to install flooring in his house. Jimmy said that his speech was often "incoherent." He also said that the man was jealous, thinking any man who walked by his wife was a threat.
The pastor tried to help the couple with their relationship. As a result, the man thought the pastor was romantically interested in his wife. Psychologists who examined him after his arrest concluded that his paranoia was induced by alcohol and drugs (see Proverbs 23:29-30).
Going On
The first impact was shock and sorrow in the community. A prayer vigil and funerals were held. The children of the shooter were in protective custody until he was arrested. Then they were taken in by relatives. The pastor, who was 31, did not have life insurance. Donations were raised to support his wife and their two children.
The wife's obituary makes no mention of her killer as a survivor. The shooter's father-in-law died in 2016. A son who was 9 at the time of the shooting died in 2021 at age 17. Their obituaries do not name the shooter among their survivors, even though he is still alive.
In August 2015, eight months after the shooting, a new pastor came to Bayshore Baptist Church. He is still there. The church has grown. The name of the church was changed from Bayshore Baptist Church to Bayshore Community Church between June 2018 and September 2019. So far, we're not aware of security measures at the church.
In May 2017, the shooter was tried for first degree murder of the pastor and the neighbor and second degree murder of his wife. The long delay was partly due to psychological evaluations. He was found guilty and sentenced to life in prison without parole. He is still an inmate in the Florida corrections system.
Lesson Learned: See the Danger
First, a reminder. We are looking back six-and-a-quarter years to learn from this tragedy. It is not meant to criticize those who may not have considered safety measures to prevent or mitigate an active killer incident. Hindsight is sharper than foresight.
Considering the particulars of this tragic incident, it seems the only way the pastor could have survived would have been to recognize indications that the person coming into his office that day was an immediate deadly threat. The indications at that time are most probably included in the warning signs of a potentially violent person that safety team members and greeters/ushers are taught to observe.
When these indications are discerned, what can be done? It seems that the shooter was already under the influence of alcohol and/or drugs, so de-escalation was more difficult, but it could have bought a little time. Since the secretary (the pastor's wife) was there, a pre-arranged signal could have signaled her to dial 911 and let them overhear. Also, she could have gone out of the office to call and tell them what was happening.
Let's move back a ways before this happened, to the couple's marital situation.
If the pastor and others knew about the couple's marital problems and the behaviors (especially violence) that led to the separation, a threat assessment was due. This was especially so since the wife was part of the church's leadership team. Any threat to her was also a possible threat to the church. If the man was considered a likely threat to the church, protective measures could have been activated.
If those assessing the threat knew of the suspect's paranoid suspicion of the pastor, security measures should have extended to his home and his time in the office. By the way, normal security precautions should include any time someone is in the church.
What measures could have been taken?
Lock all unattended doors.

Open attended doors should be close-to-lock: the door latch is locked, so all that's needed is to close it.

Evaluate every person asking to come in.

Observe behavioral clues, signs of weapons, etc.
Ask an armed person who arouses suspicion to leave the weapon outside before entering.

In case a person coming in is a threat, be ready to use defensive measures, including non-lethal weapons.
In a case of known domestic violence, urge the victim to get protection, then get protection for the church.

In this case, since the domestic victim was a church employee and the pastor was also a likely target, put the safety team on high alert.
Do not hesitate to call 911.
Conclusion
If someone is targeted for a shooting, it makes little difference whether it is inside the church or outside. In either case, the real question is how to protect that person.
Training Notes
All members of a Church Safety Team need to be trained and certified. That is the role of the Safety Member Certification program, including the training module "Active Shooter Response." Another training module applicable to the lessons from this incident is "Basic Use of Force Laws," which happens to be the topic of the next Online Events class.
The three available training formats are Team Certification, Individual Certification, and Online Events.
Team Certification (church-hosted classes) have the benefit of training an entire team at onc time. This is ideal if you are starting a new team or refreshing their training for the biennial re-certification.
Individual Certification can immediately train a new member of an existing Safety Team. No waiting months for classes. It is also an option if a member cannot attend a class.
Online Events are live Zoom classes and are open to both teams and individuals. In the 2022-2023 school year, these classes are held on Sundays at 3:00 pm Central Time. Quarter 4 is half over with only four classes left. "Basic Use of Force Laws" is the next class. Enrollment is good for a year, and the next quarter begins in September.
| | | | |
| --- | --- | --- | --- |
| Color coding: | Related to Article | Completed | Next |
| | | | | | |
| --- | --- | --- | --- | --- | --- |
| | Q1 | Q2 | Q3 | Q4 | Training Module |
| 1 | Sep 11 | Nov 13 | Jan 29 | Mar 26 | Safety Team Fundamentals |
| 2 | Sep 18 | Nov 20 | Feb 5 | Apr 2 | Active Shooter Response |
| 3 | Sep 25 | Dec 4 | Feb 12 | Apr 16 | Deescalating Disruptive Persons |
| 4 | Oct 2 | Dec 11 | Feb 19 | Apr 23 | Protecting Children from Abuse |
| 5 | Oct 9 | Dec 18 | Feb 26 | Apr 30 | Basic Use of Force Laws |
| 6 | Oct 16 | Jan 8 | Mar 5 | May 7 | Arson and Fire Safety |
| 7 | Oct 23 | Jan 15 | Mar 12 | May 21 | Storms and Disasters |
| 8 | Nov 6 | Jan 22 | Mar 19 | Jun 4 | Mass Trauma Emergencies |
Another training resource is the Church Security Guide. Among its nine articles is "Church Safety Teams and Active Shooter Training." This is a good, detailed overview of active killer incidents. The major headings are Important Terms, Active Shooter Training: First Steps, The Truth about Active Killers, During an Attack, and Planning for the Future. In the last section we can apply the lessons learned from church shootings.[4][5]
Next Up
This is the last article in April. The next article, the first in May, is "Run to Cover" (Sheltering from Storms, Disasters, and Killers).
References
Sheepdog Church Security Resources
News Stories