Lesson Learned from a church shooting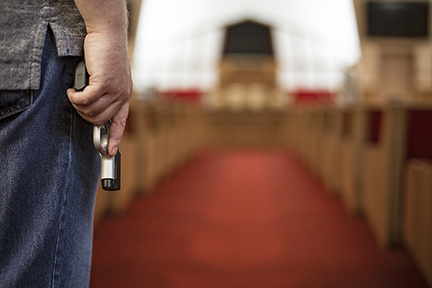 An article based on the Safety Member Certification training module "Active Shooter Response"[1]
From the Bible
* The penalty of death for murder:
But if he thrust him of hatred, or hurl at him by laying [in] wait, that he die; Or in enmity smite him with his hand, that he die: he that smote him shall surely be put to death; for he is a murderer: the revenger of blood shall slay the murderer, when he meeteth him (Numbers 35:20-21).
* Philistine "gangs" invaded Israel:
But there came a messenger unto Saul, saying, "Haste thee, and come; for the Philistines have invaded the land" (1 Samuel 23:27).
* Criminal gangs were a threat in Paul's day:
In journeyings often, in perils of waters, in perils of robbers, ... (2 Corinthians 11:26).
Introduction
Sometimes violence at a church or on church property is spontaneously random. In this case, it cascaded from an ongoing altercation having nothing to do with the church. The eventual shooter just happened to crash into another vehicle in the parking lot, then turned on those who came to help.
Videocast and Show Notes
Kris covers this incident in a videocast on the YouTube channel Sheepdog Church Security Academy (the audio is on a podcast). Special emphasis is on the lesson learned as to how a church safety team can prepare for this and how to respond. Beneath the video screen is a link to the Show Notes (Church Shooting Lessons Learned Download). It will be available for this article until the next Lessons Learned article and videocast are posted.[2][3]
Crashing In
It was early afternoon on the second Sunday after Easter, April 22, 2012, at a church in Fountainhead Plaza (a business park) in Aurora, Colorado. The morning service at Destiny Christian Center was coming to an end. A car speeding past the church went out of control on a sharp corner and careened into another vehicle. Some accounts say that one car was chasing the other. The driver of one car got out and engaged in an argument with the other driver while holding a handgun.
The church's drummer came outside after hearing the crash and ran inside to get help. He came back out with others and went toward the driver, but tripped and fell. The driver pointed his handgun and tried to shoot him, but the gun jammed. The drummer headed back into the church. The driver kept pulling the trigger.. It finally fired when the pastor's mother came out the door. She was hit and fatally wounded.
The driver/gunman headed for the door of the church. A member of the congregation who was an off-duty Denver police officer had pulled out his handgun. He fired at the gunman, killing him.
When shots were heard, people inside the church ducked for cover, then locked down in two rooms.
The Last Entry on a Long Record
The shooter had a long-time arrest record going back to his teens. Originally from Aurora, most of the arrests were drug related, and also included theft, resisting arrest, and traffic offenses. In 2008 he was released after three years in a Colorado court-ordered drug treatment program. Then in December 2009, he was sentenced to prison in Oklahoma on drug charges and actions while under the influence of drugs, including marijuana mixed with PCP. The actions included a vehicle collision while impaired.
In November 2011 he was released early from prison (the sentence was through 2021) after completing education and drug rehabilitation. After his release, he moved back to Colorado.
Judging by his demeanor and actions, the shooter had apparently resumed drug use by the day of the shooting. He had been with a friend a bit more than a block away from the church in front of an apartment complex. There he got into an argument with someone else (not his friend). In a rage, he got into his car and sped off, up E. Bethany Street. About a half-block's distance, he turned off the street and into the drive of the business park. The drive went by the Destiny Christian Center.
Just past the front of the church is a sharp left turn. The driver missed the turn and crashed into another vehicle. He exited his car with a gun and argued with the driver of the other vehicle. When someone came out of the church to help, he pointed the gun and began firing. This action would be the last item on his police record, since he was shot by a church member and died.
Afterwards
The mother of the pastor died from her wounds. The shooter also died. The off-duty Denver police office, who was a cousin of the pastor and nephew of the pastor's mother, was placed on administrative leave. This was not only for the investigation, but also for his emotional health - time to recover from having to shoot and kill someone. He was also experiencing personal loss after seeing his aunt killed.
Questions were raised about the gun used by the off-duty officer. A Denver Police Department spokesperson explained that each officer purchased his or her own gun meeting department specifications, and also said that even when police officers are off-duty, they are automatically on-duty when a situation arises, such as the one at Destiny Christian Center. All this was to say that the officer was justified both to carry that weapon and to use it in that situation.
Destiny Christian Center was an African-American non-denominational church, but this aspect played no role in the shooting. The shooter was also African-American. All parties agreed that this incident was random violence, with no connection between the assailant and the church. It could have just as easily occurred in front of a store, office, or residence.
The location of Destiny Christian Center is occupied by Christ Central Church, a Korean congregation. The congregation has apparently disbanded. Their pastor has moved to Georgia, close to where his son lives, and is involved with businesses there. He was listed for a while in Aurora as a pastor of the World Outreach Center. We don't yet know what his church involvement is.
Lesson Learned: Monitor Outside
Note: Nothing in this lesson is meant to demean the congregation or its leadership. We learn by hindsight. Hopefully the lesson learned will honor them by saving others.
In a situation such as the one in this case, the one lesson for us is, "Monitor outside."
First of all, there was no way to fence in the parking lot. Vehicles had to park on either side of the business park's drive (this was a rented facility).
If there had been an outside monitor, then when the collision happened in the drive-through parking area, the monitor (Safety Team member, greeter, or other appointed person) could have called 911 and kept others inside with only certain persons allowed to check on the welfare of the driver(s).
Since an armed law enforcement officer was there, he could have gone to the door first to cover whoever might go out and would have seen the post-crash argument. He could have then stopped anyone else from going out. Then the gunmen could have been stopped when he pointed his weapon at someone. With the officer holding his gun in the ready position and shouting at the suspect to stop and drop the gun, the armed driver would likely turn around. In that case, he'd better drop the gun or else, because the officer already had the drop on him.
Conclusion
Random incidents may happen outside our churches. We should be prepared to respond and take precautions in case someone involved is violent.
Training Notes
Training - both instruction and practice/drills - prepare us to respond to (or even prevent) violence at church. The Safety Member Certification program with eight training modules (classes) is designed to do just that. Each Church Safety Team is encouraged to use this program to train all its members. Each member taking and passing all the classes will be certified for two years.[1]
There are three training formats: Team Certification (church-hosted classes), Individual Certification (self-paced online instruction), and Online Events (live Zoom classes).
Team Certification is ideal for training the entire team at one time, such as when starting a team and renewing certifications. It has the advantages of:
the whole team learning the same thing together,
in-class interaction,
questions and answers,
live demonstrations, and
scenario (role-playing) sessions.
Churches in some locations may be able to bring in an instructor from Sheepdog Church Security's Certified Onsite Instructors. There are five individuals and a couple from five states: Arkansas, Maine, Minnesota, New Jersey, and Wisconsin. Some go to other states. When using an onsite instructor, two or more small churches can train together, sharing the cost.[4]
Individual Certification is perfect for new members to an existing team. They can begin training right away instead of waiting several months or more than a year to train with the team. This is also good for a member who has to miss an in-person or Online Events class.
Online Events is open to both individuals and groups. Zoom classes combine some of the advantages of in-person and online training. The 2022-2023 school year is now in its third quarter (Q3). The next class, on February 19, is "Protecting Children from Abuse." The class related to this article - "Active Shooter Response" - will be on April 2. The next school year will likely begin in September. A student enrolling now can continue until all the classes are completed.
| | | | |
| --- | --- | --- | --- |
| Color coding: | Related to Article | Completed | Next |
| | | | | | |
| --- | --- | --- | --- | --- | --- |
| | Q1 | Q2 | Q3 | Q4 | Training Module |
| 1 | Sep 11 | Nov 13 | Jan 29 | Mar 26 | Safety Team Fundamentals |
| 2 | Sep 18 | Nov 20 | Feb 5 | Apr 2 | Active Shooter Response |
| 3 | Sep 25 | Dec 4 | Feb 12 | Apr 16 | Deescalating Disruptive Persons |
| 4 | Oct 2 | Dec 11 | Feb 19 | Apr 23 | Protecting Children from Abuse |
| 5 | Oct 9 | Dec 18 | Feb 26 | Apr 30 | Basic Use of Force Laws |
| 6 | Oct 16 | Jan 8 | Mar 5 | May 7 | Arson and Fire Safety |
| 7 | Oct 23 | Jan 15 | Mar 12 | May 21 | Storms and Disasters |
| 8 | Nov 6 | Jan 22 | Mar 19 | Jun 4 | Mass Trauma Emergencies |
Additionally, there is the option of auditing (taking a class, but not for credit). Certain persons in the church may audit a class because it pertains to their role in the church. For example, those working with children and youth will benefit from taking "Protecting Children from Abuse," and ushers and custodians would benefit from "Arson and Fire Safety."
Related to training is the Church Security Guide with nine articles. The last article is "Church Safety Teams and Active Shooter Training." It can be used to prepare for taking the class and later to briefly review the subject.[5][6]
Up Next
The next article is "Preparing for Medical Emergencies" (Introducing Church Emergency Consulting). This is based on Kris's interview with Terry Berringer on a videocast and a podcast. Of special interest is their discussion of evacuation cribs.[7][8]
References
Sheepdog Church Security Resources
News Stories