Lesson Learned from a Church Shootinge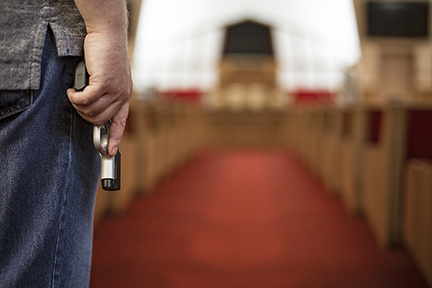 Based on the training module "Active Shooter Response" in the Safety Member Certification program.[1]
From the Bible
The earth also was corrupt before God, and the earth was filled with violence (Genesis 6:11).
... my refuge, my saviour; thou savest me from violence. ... thou hast delivered me from the violent man (2 Samuel 22:3b; 49b ).
Deliver me, O Lord, from the evil man: preserve me from the violent man (Psalm 140:1).
Introduction
Violence in society has been a problem ever since the second generation of the human race when Cain killed his brother Abel. Genesis says that before the Flood "the earth was filled with violence."
Throughout the Old Testament are incidents of criminal violence, even with gangs in cities and bands of robbers in the countryside. When Jesus told the parable of the Good Samaritan, people were not surprised to hear about a traveler being robbed and left for dead on the road from Jericho - that route was notorious for violence.
Now we are concerned about rampant violence in our major cities. For some U.S. urban areas, criminal gangs have been active for decades. One of those areas is Richmond, California, where this shooting took place.
Videocast and Show Notes
This church shooting and its lesson will be discussed by Kris in a videocast on the YouTube channel Sheepdog Church Security Academy (the audio is also on a Church Security Roll Call podcast). Beneath the video screen is the link to the Church Shooting Lessons Learned Download. The Show Notes (article summary) for this article is available until the next Lesson Learned article and videocast are posted.[2][3]
Street Crime Comes Inside
It was Sunday morning, February 14, 2010. The service at the New Gethsemane Church of God in Christ in Richmond, California. While people were praying and Gospel music was being played, three young men in black hoodies walked in and strode down the aisle and back up. They looked at faces while walking back, then went out the front door. About a minute later, the middle man came in a side door holding a handgun. He fired at the people in a pew, hitting two teens, aged 14 and 19, then went back out the door. The three drove off.
Police came, and a search for the three hooded teens was initiated. After first hesitating, the two injured teens cooperated with police, who began looking for the three suspects, especially the 19-year-old shooter.
Within a week and a day, two teens were arrested. Police were still looking for the gunman, whom they eventually found. The three intruders were members of a street gang on the south side of Richmond. The victims were members of a gang on the north side. The intended victim was a brother of the two who were shot.
Aftermath
Members of the congregation came to the church on Monday, determined that it would still minister to the community. After police had finished collecting evidence in the church and interviewing witnesses, members repaired damage and cleaned the sanctuary. The next Sunday, it was services as usual, but with a watchful eye.
A year-and-a-half later, the shooter was convicted and sentenced to 40 years to life. Charges included felony assault with a deadly weapon, attempted murder, first degree burglary (unlawful entry with the intent to commit a crime), and willful disruption of a religious service. The judge said wanton disregard for human life justified the long sentence.
A year after the shooting, faith communities and the Richmond police were working together to address gang violence in the city, This also included police helping churches in planning for safety. The 2010 shooting at New Gethsemane COGIC was credited with bringing the community together for this. The faith communities also began reaching out to teens who are more likely to join gangs.
No specific security measures at New Gethsemane COGIC are named, but they are more watchful.
Lesson Learned: Watch and Lock
This simple safety measure is basic and critical. Keeping a watch at the front door and locking all others means that someone intending to intrude during a service, classes, or some other activity has to come in where they can be watched and stopped (that is unless they launch an assault on a locked door, in which case those inside would go into lockdown and those defending would respond to the point under attack).
To be effective, those watching (greeters, ushers, safety team members) will be trained and practiced in observing people coming in. They would notice signs of ill intent. In a case like the New Gethsemane incident, with gang violence a general concern in the community, three young men/teens in black hoodies would raise immediate suspicion. Stopping and questioning them might have discouraged them. If they go to a car, and one of them gets something out of the car and turns back to the church, lock them out, call police. If the car can't be seen from the front door, monitor the surveillance cameras (have them covering all parking areas around the church, including the street and alley). With cameras, someone should see them approaching the church.
Here's a cue: keep the open door on close-to-lock status. When it is closed, it is locked. No fumbling for a key. No running to the lock-all button. No exposure to gunfire while locking the door. Just lift the door stop and get out of the way. Lock the front door after the service starts so you can control who comes in.[4]
For safe evacuation in case of an emergency, such as a fire, all locked doors need panic locks.
Conclusion
Be ready to recognize and respond to threats which are specific to your church's location. Keep a watch at the front door and lock all others. Lock that one during services.
Training Notes
Training and practicing/drilling are essential to knowing what to do when in an emergency situation, such as an active shooter incident. Each member of each Church Safety Team needs to be trained and certified though the Safety Member Certification program. Each training module (class) is followed by a certification test. After taking each class and passing its test, a student will be a Certified Safety Member for two years.[1]
The three formats for training are Team Certification (church-hosted classes), Individual Certification (self-paced online lessons), and Online Events (live Zoom classes).
Team Certification - This is perfect for training everyone at once, such as with a new team and for refresher training. With all learning together, they can discuss topics with each other and ask the instructor questions. There can also be group activities, such as role playing, enacting various scenarios, etc.
Individual Certification - This enables a new team member to get training right away instead of waiting several months or more than a year to take a class. Also, a member can enroll in one class if he or she cannot attend it with the others.
Online Events - Both teams and individuals can enroll in these classes. Quarter 4 is in progress. The next class is Deescalating Disruptive Persons on April 16.
| | | | |
| --- | --- | --- | --- |
| Color coding: | Related to Article | Completed | Next |
| | | | | | |
| --- | --- | --- | --- | --- | --- |
| | Q1 | Q2 | Q3 | Q4 | Training Module |
| 1 | Sep 11 | Nov 13 | Jan 29 | Mar 26 | Safety Team Fundamentals |
| 2 | Sep 18 | Nov 20 | Feb 5 | Apr 2 | Active Shooter Response |
| 3 | Sep 25 | Dec 4 | Feb 12 | Apr 16 | Deescalating Disruptive Persons |
| 4 | Oct 2 | Dec 11 | Feb 19 | Apr 23 | Protecting Children from Abuse |
| 5 | Oct 9 | Dec 18 | Feb 26 | Apr 30 | Basic Use of Force Laws |
| 6 | Oct 16 | Jan 8 | Mar 5 | May 7 | Arson and Fire Safety |
| 7 | Oct 23 | Jan 15 | Mar 12 | May 21 | Storms and Disasters |
| 8 | Nov 6 | Jan 22 | Mar 19 | Jun 4 | Mass Trauma Emergencies |
Up Next
The next article is about seasonal safety: "Fluffy Rain, Wet Blanket, Skating Rink" (Church Safety in Wintery Conditions)
References
Sheepdog Church Security Resources
News Stories