Equipped for Injuries and Medical Emergencies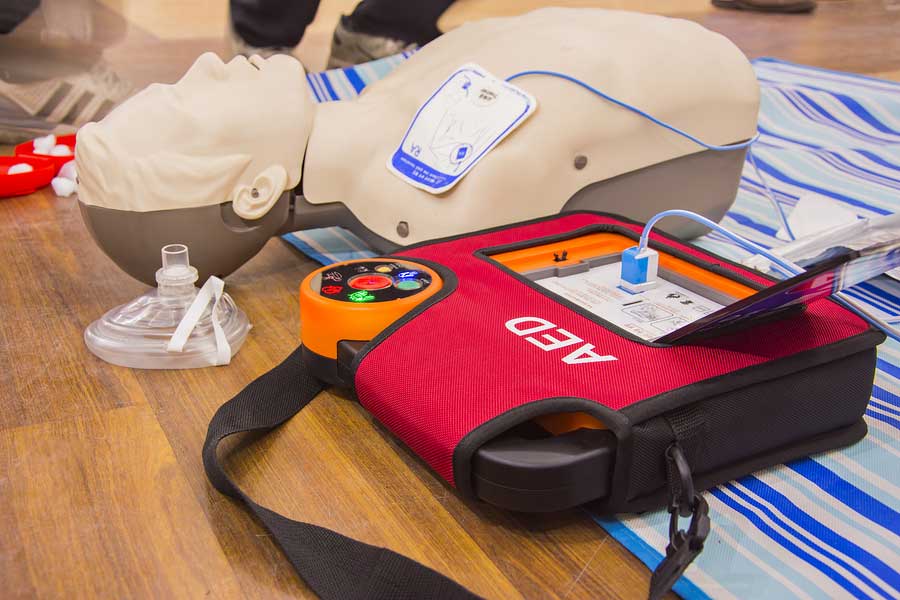 Responding to Code Blue in Churches
In the Bible
Is there no balm in Gilead? Is there no physician there? Why then has the health of the daughter of my people not been restored? (Jeremiah 8:22) ~ see also Genesis 37:25; 2 Chronicles 28:15; Jeremiah 51:8
Balm (balsam) is the resin of one or more species of evergreen shrubs grown in arid and semi-arid areas of Gilead (present-day Israel, West Bank, and Jordan) and Sheba (Arabia, and Yemen). It has been valued over thousands of years for its medicinal properties. Now the term has come to mean something soothing.
... and salve to put on your eyes, so you can see.(Revelation 3:18)
A number of medical products, including eye salve, were made in Laodicea in Asia Minor.
Then Isaiah said, "Prepare a poultice of figs." They did so and applied it to the boil, and he recovered. (2 Kings 20:70) ~ see also Isaiah 38:21)
Poultices are moist substances applied externally to treat skin ailments and underlying conditions by drawing out toxins and allergens and/or infusing beneficial compounds. The most common base ingredients are botanical - the bark, roots, leaves or fruits of plants.
He went to him and bound up his wounds, pouring on oil and wine. (Luke 10:34) ~ see also Isaiah 1:6
The Good Samaritan bandaged the robbery & assault victim on the Jericho Road, using cloth torn into strips. Oil and wine, together or separately, were used to clean the wounds. The wine was more for cleaning; it was partly antiseptic. It also would relieve pain - at least after the initial stinging sensation. After the cleansing, oil would protect the wounds from contamination. The bandaging followed the cleansing, and may have included splinting broken limbs.
... no medicine for your wound, (Jeremiah 30:13)
Several medicines, using natural ingredients, were available in Bible times.
And on the banks, ... all... kinds of trees ... Their fruit will be for food, and their leaves for healing." (Ezekiel 47:12)
Even today, many botanical substances, especially from leaves, are valued for their medicinal benefits.
---
Medical Treatment Supplies Then and Now
Throughout history, the treatment of injuries and illnesses has not been a hands-only effort. Certain items are needed, even by the most primitive tribes. Several means and items are named or inferred in the Scriptures, but there were many other healthcare products available then.
Today, we have so much more to work with. Some of these are modern developments of ancient tools and remedies. Others are totally new, reflecting our state of technology and materials development coupled with advanced knowledge of biology, physiology, and medicine. Among these are antibiotics, varieties of drugs, vinyl, plastics, mechanical and electronic devices, prostheses, new surgical procedures, optical aids (magnifiers, microscopes, endoscopes, etc.), X-rays, MRIs, ultrasound, and others.
What Does a Church Safety Ministry Need?
There are items needed for responding to an injury or medical emergency in the church or at a church-related event. Most needed are basic First Aid supplies. Of course, everyone should have some small bandages on hand for the inevitable minor cuts and bruises. But there are times we need more than Band-Aids™ (or their equivalent). What if this is a severe cut or burn? What if a person has a heart attack and CPR is not working? What if a church member or visitor goes into an anaphylactic shock (whole-body allergic reaction)? Are you equipped?
Any of us who has had training in First Aid and blood-borne pathogens knows the critical importance of protecting both the patient(s) and the responder from infection. These include anti-septic cleansers, disposable gloves, and safeguarded disposal.
Basic Med Response Supplies
The Church Safety Team should have a med bag with basic life-saving supplies. This bag can be taken to where the patient is. This way you can not only deal with minor injuries, but also keep the person alive and comfortable until the medics take over. What's in this bag? At the minimum, it should have:
Bandages and adhesive tape (including paper tape)
Triple antibiotic cream or ointment
Antiseptic wipes
Disposable gloves
Airway openers
CPR mask(s)
Tourniquet
Epipen(s)
Emergency blanket
It may also include:
Thermometer
Pressure cuff
Stethoscope
Pain relievers (aspirin, ibuprofen, acetaminophen)
Antihistamines
Not in the bag but kept on hand is an AED.
What Else?
The Safety Team needs up-to-date manuals for First Aid, Cardiopulmonary Resuscitation, and AED operation.
Where Do We Get These?
Sheepdog Church Security has an Amazon store [1] with a select number of supplies, including some for medical illness and injury responses. This does not include everything, but most of the items in the store have to be replenished periodically. At this time, there are seven items for emergency medical response:
LINE2design Latex Glove Pouch Red [2]

The design of the Latex Glove Pouch provides quick and easy access to your latex gloves. The 4"x 3" pouch holds 2 gloves and has a secure hook & loop closure. It is made with the highest quality nylon material for extreme durability and has a slim and lightweight design.

Nitrile Exam Gloves [3]

These gloves, produced by Safety Zone, are resistant to both punctures and chemicals. They protect the hands and the individual as well as the patient, preventing transfer of body fluids and contaminants. They are stretchable enough to fit several hand sizes. The surface is textured for a good grip.

Ergodyne Arsenal Large Medic First Responder Trauma Duffel Bag [4]

This large medic bag (19" Long x 12" Wide x 8.5" High) is made of reinforced 600 denier polyester. It has both a hand-hold strap and a detachable shoulder strap. It has a large center compartment and two smaller end compartments. Removable foam dividers make the organization of supplies flexible. It can be carried to the scene of an injury or medical emergency. It can also be taken to off-campus church events (such as a picnic).

C-A-T Resources CAT Combat Application Tourniquet [5]

This is the U/S/ Army's official tourniquet. A windlass strap provides quick and sure application. The time it is applied can be written on the grey strap so it can be removed in a timely manner.

Emergency Pressure Bandage (Israeli Type) [6]

Many of us remember First Aid instructions for stopping bleeding without a tourniquet: put a gauze pad or folded cloth on the wound and on the side blood comes from and apply pressure. The Israeli style pressure bandage is a combination dressing, pressure bandage, and tourniquet. It has the padding of a bandage, and the wide strap acts as a tourniquet. However, a pressure block puts the pressure directly on the upstream blood vessel instead of cutting off all circulation to the limb, making it a safer alternative to regular tourniquets.

Airway Kit - Nasopharyngeal Respiration Tubes [7]

These respirator tubes are designed to reopen airways, bypassing obstructions. They are lubricated and curved for easy insertion. A pack has tubes in five sizes so you can find the right size for the person being treated.

Rapid Care Wall Mountable First Aid Cabinet, ANSI/OSHA Compliant [8]

This wall-mountable First Aid cabinet is available in three sizes: 2-shelf, 3-shelf, and 4-shelf. It comes with an array of First Aid supplies: instruments, a CPR/AED/First Aid manual, peel-and-apply bandages, trauma pads. burn treatment, and eye treatment. As the supplies are used, they have to be replaced.
These are not terribly expensive items. The highest-priced is the wall-mountable First Aid cabinet ($71.98 for two shelves, $109.46 for three, and $139.14 for four), and it is a permanent item. One item no longer carried in the store is the AED. On Amazon AEDs begin at $1,275.00 [9].
Finding the SDCS Amazon Store
On the Sheepdog Church Security home page, find the "Training" button at the top, then click "Safety Equipment" on the drop-down menu. Medical and First Aid supplies begin on the second row of items.
Supply Maintenance
One of the tasks of a Safety Team is maintaining supplies. This means replacing expendable items which are used and keeping datable items fresh. Since small bandages are the most commonly used, they should be checked often. Make it a habit to look in the First Aid cabinet every week to see if some items need replacing. Less often, perhaps quarterly, check the expiration dates on items like medications, ointments, etc.
Have It When You Need It
It can be frustrating to not have what you need when you need it. In the case of life-threatening injuries or medical incidents, this is critical. Sometimes we can make do with what we have, but there are times we can't. Be prepared. Get the essential equipment and supplies before you need them.
There Is More
Other articles in this series cover the fact that injuries and medical emergencies do happen in churches, being trained to know what to do and how to do it, and mass-casualty incidents.
References